Opinion Outpost
Name: Opinion Outpost
Website: https://www.opinionoutpost.com
Price: Free
Owners: Survey Sampling, International LLC
Overall Rank: 50 out of 100
Opinion Outpost Overview
So what about Opinion Outpost? Can it make you money? Let's take a look at it. Opinion Outpost is a free survey site that you can sign up for and potentially earn money from. I will take a close look at this site to show you what kind of surveys are available for you to do, what it takes to earn money from this site and if it is truly worth your time.
I've reviewed a number of survey sites already and even made a best of article of some of the best survey sites that I've tried and reviewed this year. You can read about it here. Is Opinion Outpost a good survey site to make money from? Will you get rejected from surveys that you try out at this particular site?
Well if you stick with me, I'll certainly answer all of those questions. I'll even see if there is some kind of referral program at Opinion Outpost that can earn you even more money. Not all the survey sites I've tried have referral programs, but the survey site that I recommend more than any other does and so, in my opinion, you'll want to stick to survey sites that have a referral program. Without further ado, let's get to the main review of Opinion Outpost.
Signing up for Opinion Outpost
As I said above, signing up for Opinion Outpost is completely free. All you need to do to sign up is at the home page, fill in the information in the box directly under where it says SIGN UP NOW!. The only thing you need to fill in is your name, email address and confirm it, and then agree to the terms and conditions as well is their privacy policy.
If you don't want to join that way, there are a few other options. You can sign up through your Facebook account as well as through Linkedin. All you have to do is login on either account in a separate pop up box and then it will gather all your information from those social media accounts.
I decided just to create an official account there rather than going through my Facebook account. I usually just want to keep that separate from everything else. After I signed up, all I needed to do was confirm my email address by clicking the link in the email that they sent (don't worry, it's not a phishing email), and I was good to go. Now let's take a look at what's inside Opinion Outpost.
Opinion Outpost's Dashboard
This is what you'll see when you first log in to Opinion Outpost. The dashboard is laid out pretty nicely and it's to find the things that you want to do such as surveys, update your account and see how many points that you have and also if you can redeem them or not.
Speaking of points, that's what you'll be earning once you've completed surveys at this particular site. The dashboard will show you the amount of points you have in the middle of it so that way you'll always know whenever you log in to Opinion Outpost.
The other sections of the dashboard include rewards, news, and support. The rewards section will show you what you can redeem your points for which include gift cards as well as redeeming your points for cash. Each of those potential rewards will show you how many points are needed before they can be redeemed. I'll get more into that here in a bit.
The news section just basically shows you some of the site's blogs, but to be honest, there really hasn't been any recent ones as when you see it, you'll see that a majority of them go clear back to 2015. One interesting one that I read is names "The choice is yours". It basically tells you what you can do after clearing out of a survey, even the ones you don't qualify for.
The final section is called support and this is if you have any issues with the site. It will show you a FAQ, but if none of those questions and answers are what you're needing, you can submit a question by clicking the submit a question button on the left side of the screen or even calling the phone number that's listed below it.
On the left side of the scree, you'll a notice an area where you can edit your profile, change your password, check out your survey history or even cancel out your free account.
The Surveys
Surveys are the meat and potatoes of Opinion Outpost, meaning, they are the primary way to earn money at the site. Now it's very similar to Survey Junkie and Swagbucks in which you earn points for completing surveys which can later be redeemed.
Unfortunately, as with a great majority of survey sites that I've tried out, you'll be rejected from a good number of surveys that you try out. When I first signed up and was ready to go, I was rejected from the first two surveys I tried. This is why you'll never make large sums of money at these sites, because you won't qualify for each survey that you try.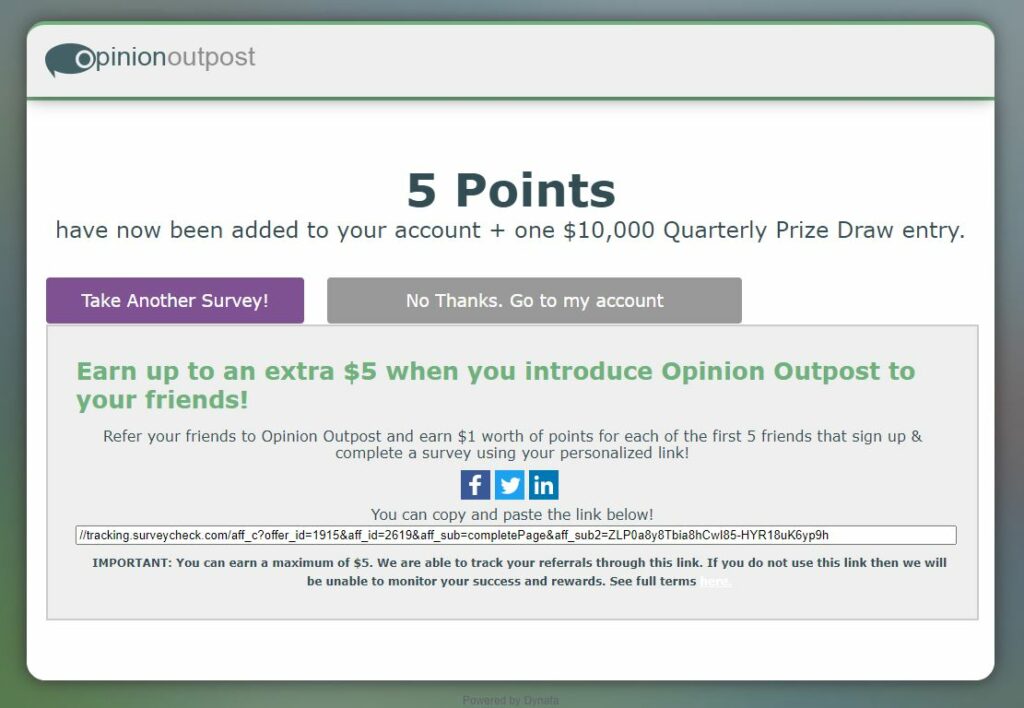 You also won't be compensated for wasting your time on trying to qualify for those surveys. That alone can make Opinion Outpost frustrating to try because of the time that's wasted trying to be accepted and completing the surveys. So far, there's only 2 I've completed in my short time there for a total of 10 points so far.
It doesn't say exactly how much those points are worth, but you have to reach 25 points before you can cash out at all. If you wanted to cash out through PayPal, you'll have to reach a $10.00 minimum threshold which is equal to 100 points. That might certainly take a while to reach since you'll be rejected from a number of the surveys you try out for.
You won't be rejected from every single one that you try out, but you might get frustrated by the number of surveys you do get rejected from so it might honestly be best to set a time limit on Opinion Post so that way, whether you get accepted or rejected from a number of surveys you try out, you won't waste a lot of time.
Is Opinion Outpost Worth Your Time?
First of all, I can tell you that Opinion Outpost is not a scam and while you can earn money at this survey site, it just may not entirely be worth your time. The reason I say that is because the surveys are not always easy to qualify for and you'll be rejected from a lot of them as I mentioned earlier.
In order to earn money from the site you have to earn enough points in order to redeem them for either cash, gift cards, or even donating to the American Red Cross. As I mentioned earlier, you have to reach certain thresholds in order to cash out. PayPal's minimum is $10.00 which is the equivalent of 100 points. Amazon you have to reach a $5.00 minimum which is equal to 50 points.
Is there a survey site that is worth your time? Absolutely, there are some good survey sites out there including a few where they will compensate you for being rejected from surveys. With that being said though, surveys aren't going to make you a lot of money online. Sure, you can make enough at times to have a nice dinner and possibly pay a bill or two, but you won't make the kind of income from to replace a full time job.
If you want to make a full time income online, then there is a place that will teach you to do exactly that and I've got a review of it that you can read here.
Have any of you tried Opinion Outpost before? If so, what has been your experience with it? Were you rejected from a lot of surveys at the site? Feel free to post your comments below.