I've talked some about the importance of saving money and two different types of savings accounts you can have. To refresh your memory, I talked about having a traditional one at a local bank or credit union and then I talked about having an online savings account.
Well today I want to talk about a specific online banking account that I use called Capital One 360. What is Capital One 360 you might be asking? Well I will certainly tell you in my personal review of it.
Capital One 360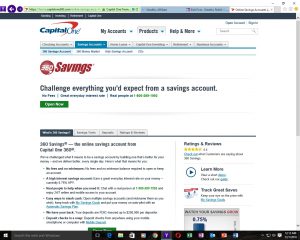 Overall Ranking: 85 out of 100
Price: Free
Owners: Capital One
Website: www.capitalone360.com
INTRODUCTION
Wouldn't it be nice to have money for unexpected emergencies such as car repairs or even a visit to the doctor? Maybe you're wanting to save money for a brand new car or there is a cruise you'd like to have money for next summer. A Capital One 360 savings account allows you to do all those things and more. I've talked about the differences between an online savings account and a traditional one at a bank which you can read about here.
PROS
No Fees or minimum balance for having a savings account with Capital One 360.

You can set the frequency and size of automatic deposits into your savings account.

You're able to have multiple savings accounts.

The APR (interest rate) is 0.75 which is generally higher than at traditional banks or credit unions.

You get $25 for opening an account with them
CONS
It can take up to 3 business days for the money to transfer to your checking account.

APR is not as high as it was from the company that originally started this online savings account site.

There is a maximum of 6 withdrawals a year.
WHO IT IS FOR
Capital One 360 is for anyone who has been wanting to find an easy way to save money, but not have easy access to it in order to avoid the temptation of taking money out for anything other than what you've created a savings account for in the first place.
I have 2 savings accounts, one at a credit union and one online at CO360. I haven't visited or used the savings account at the credit union in over 3 years. I'm not exactly sure how much money I have in it now as the last time I checked it was $20. I unfortunately kept taking money out of  it more for convenience since it was easy to do than to save money for something that was really needed. I knew I needed a better way to save money, something that was easy to put money away, but not necessarily easy access to.
My best friend a few years ago introduced me to this online site that allows you to save money and have a checking account too if you wanted one. Now at the time it was a different company called INGDirect. I liked it a little bit better when they owned it as they actually had a higher APR which I believe was around 1.25% which really is unheard of in the banking world for a savings account.
He showed me how easy it was to put back money and have multiple accounts for whatever I wanted to save up for. What I like is that it takes a few days for you to get the money should you need it for something, you just can't get it quick which is good so if you know you have problems with trying to avoid temptation to take money out of a savings account for something other than what you intended to save up for, this type of savings account is just perfect to avoid that.
This is also perfect for those who have kids and want to start saving up for them when it comes time to go to college. It can also be used to save up for them when they reach driving age and want that first car. Whatever it is you want for your kids, it is very easy to setup and save at Capital One 360.
SUPPORT
Should you ever need to contact Capital One 360 for any reason, it is very easy to do so. They have multiple toll free numbers you can call and speak to a representative. I believe I've called them only once in the time I've been with them and I don't even remember what the issue was over, but I do remember it was resolved pretty quickly.
You also reach them by FAX if you prefer or they even have an email address. If you are at their website, you just find where it says Contact Us and click it. It should bring you to another page where there will be a menu on the left side of the screen and just click one of the options you're needing to speak with someone about and a list of phone numbers will come up. Their service times are usually from 8AM to 8PM seven days a week.
PRICE
It is free to sign up at Capital One 360 and there are no fees whatsoever or a minimum balance which makes it nice when compared to a lot of banks that require you to have a certain balance in order for the account to be active and some do charge fees. You also get $25 for free just for opening an account!
FINAL OPINION/VERDICT
Capital One 360 is one of the best places to have a savings account. As I mentioned above, it is free, there are no fees, and there is not a minimum balance required. It's not perfect as nothing ever is and as I talked about before, the APR is not as high as it used to be when INGDirect originally owned, but the 0.75 APR is still better than what you'll find at traditional banks.
Some might be worried about the 2 to 3 business day wait to receive the money from your savings account. Here's what I do if an emergency suddenly comes up and I need to have the money right then and there.
I have 2 to 3 credit cards that I ONLY have or use for emergencies and that is what I suggest here. I've had a couple of times where my car had problems and I needed the money quickly in order to get it repaired. I used a credit card to pay for my repairs and when the money arrived from my savings account to my checking account, I just used it pay off the credit card. Not only is that a great way to have something in case emergencies come up, but it will also help build up your credit as you are able to pay off your credit card quickly with the money from your savings account.
Nothing beats the ease of saving up money and having it automatically deposit money into your savings account. Sign up with Capital One 360 today and start saving now! You get $25 for free just for signing up! Who doesn't want $25 for free?! Check out the demo video from their site below on how to sign up and access your account at Capital One 360.