Major Update, August 28th 2017: The price of Jaaxy is going to go up starting on September 4th. Pro monthly membership will go from $19 to $49 and Enterprise monthly membership will go from $49 to $99. They've updated this already excellent keyword tool with even more features to help your website get to number one on the search engines and see how the competition is doing.
If you join anyone one of those membership levels BEFORE September 4th, you will be locked in/grandfathered in at the original prices. If you've been on the fence about Jaaxy, now is the perfect time to join before the prices increase. Even though they are going up, Jaaxy is still well worth the membership, that's something I can definitely attest to!

I've talked about before using a keyword tool and the one that is provided at Wealthy Affiliate which you can read about here. I talked about what all the things mean when using that specific keyword tool and how it can help you get your content ranked on your website.
Well I'm going to be talking about another keyword tool that I actually use and why I prefer using that one over the one that's provided at Wealthy Affiliate. Without further ado, here's my review of Jaaxy.com.
Jaaxy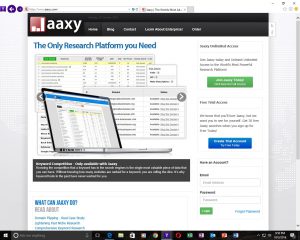 Overall Ranking: 97/100
Price: Free to sign up and 30 free searches ($19 for Pro and $49 for Enterprise memberships)
Owners: Co-Founder Kyle
Website: www.jaaxy.com
Introduction
When I first started at Wealthy Affiliate and started doing the lessons for the first time, I learned the importance of using keywords and why they were important to getting your content ranked so that you can get traffic in order to increase the potential of earning some money from your reviews or other products that are being promoted. So what is jaaxy.com and why use it?
Jaaxy.com is simply a little bit more of an advanced keyword platform to do keyword research. It offers some more things than what the WA keyword tool has, but overall keyword research is relatively the same between the two.
If you read my article, "What is a Keyword Search Tool For?", then you'll know what the main essentials are and what they mean when doing keyword research. The things I talk about in regards to using the WA keyword tool are competition, traffic, and article power. The essentials for Jaaxy, while named differently, mean relatively the same thing and I will talk about those shortly.
Pros
Free to join

You can save different lists of keywords

Pages or posts created with keywords that are used are able to be seen where they're ranked on Google.

Additional resources and even an affiliate program that can be promoted

Site rank can be viewed at Jaaxy
Cons
You are only limited to 30 free searches when you join for free

Two other membership levels
Overview
Here are the main essentials or important factors when doing keyword research at Jaaxy.com. As I said earlier, they are relatively similar to what you'll find when using the WA Keyword Tool (If you're a member of Wealthy Affiliate which is free to join).
Avg – All this means is the average monthly searches of any given keyword that you might use. An example would be a search of "Best First Person Shooters of 2016" using Jaaxy results in an average monthly search of 96. Now that does not mean that's how many people will come to your particular article should you use that keyword phrase it just means around that many people are looking for any kind of information on that particular subject.
Traffic – This is exactly the same thing in the keyword tool I mentioned above or any other keyword tool that you may use. It's simply the average amount of monthly traffic to your particular page or post of a particular keyword you might use. I talked about "Best First Person Shooters of 2016" having an average monthly search of 96, but the average monthly traffic for that particular phrase above brings in 17. Now of course any keyword you research can be higher or lower then that, it just all depends on what you search for and end up using.
QSR – This stands for Quoted Search Results and it means the number of competing websites ranked in Google for an exact keyword. It's essentially the same thing as Competition in the WA Keyword tool. The lower the number, the better your chances of getting your content ranked on the first page of Google under a particular keyword.
KQI – This is an added bonus here at Jaaxy and it stands for Keyword Quality Indicator. It really helps with the QSR as KQI uses different colors to help you determine whether the use of a particular keyword is good or poor based on the potential competition. Using the keyword phrase I mentioned above, the QSR comes in at a 41 which is not bad at all for number of competing sites using that particular keyword phrase and the KQI is green indicating that it is good to use that keyword.
Domain – This is something that makes Jaaxy so wonderful to use. When you search for a keyword and then click on Domain, you might see the words ".com, .net, or .org". It simply means that those domains could be available to use for that particular keyword should you choose to go that route.
Related – All this means is that it brings up a list of related keywords to the one you originally searched for. It can really be helpful if you're looking for something on a particular topic.
Brainstorm – If you are having problems thinking of which keywords to search for, this can come up with a list of different keywords you might be interested in.

Price
(The Price Is Changing! Please see the top of the review)
As I mentioned earlier there are three different levels of membership at Jaaxy. It is free to join, but you are limited to 30 free searches. I don't think that's necessarily a bad thing as you get a chance to see how Jaaxy works.
Next up you have the Pro membership which costs $19 a month. I certainly think that is a good price for that level and what comes with it is that you have unlimited searches, search history, domain availability though you'll have to click to see what's available, keyword competition and more. This is the level of membership I am at and it is well worth it.
Last, but not least we have the Enterprise level membership. This is the priciest of all memberships at $49 a month for the time being (It was $69 previously). The reason one would go to this level is that you're extremely comfortable and used to doing keyword research and want things to move a bit faster so to speak.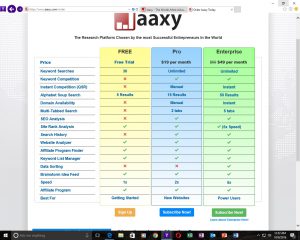 The benefits of being at the Enterprise level is that you get more instant results. Things load much faster such as QSR which comes up instantly. As the picture to the right says, this level of membership is for power users.
Oh yes there's something else I forgot to mention here. There's something available for the Free, Pro, and Enterprise memberships called the Alphabet Soup Search. Let's just say it is a great way to do research of any niche to find keywords. If you join Wealthy Affiliate and go through the training, you will learn about what the alphabet soup technique is and how to use it effectively to help create content for your website.
Final Opinion
Jaaxy is an excellent keyword tool to use if you want something a little bit more thorough as well as seeing how your pages or posts of your website are ranking. Plus if you have problems coming up with ideas or things to create content, this is a great place to come and do some research to help you along.
I'm glad I joined Jaaxy and I've had posts and pages of mine ranking on the first page of Google because of the keyword research I was able to do there. It even helped me come with a great name for a new website that happened to be available.
My suggestion is that if you are new to affiliate marketing and website creation and just recently joined Wealthy Affiliate, I would suggest using the free keyword tool there first so you can get used to doing keyword research and it is a great one to use as well.
Once you get the hang of it and want something a little bit more substantial and to see where you rank in the search engines, Jaaxy is definitely the way to go. You can join for free and do up to 30 searches to see if it is your cup of tea and if you find out that you really like using it, you can upgrade to one of the other membership packages. Give it a try, you just might like the results.