I've done a number of reviews of different survey sites, some decent, and others you just want to stay away from. You won't get rich from doing surveys at these sites, but you will earn some money depending on how much time you want to spend trying to complete surveys. I'm going to show case my pick of best survey sites of 2020.
Is there a survey site that I recommend above all others? The answer to that is most definitely yes and so I'm going to go down the list starting with my number 5 pick, going all the way to number one. Which survey site do I recommend above all others and why do I recommend it? Read on to find out!
5) – Vindale Research
Vindale Research is a major survey site and is also the very first survey site I ever earned money from online. It wasn't a ton of money, but I did get a $50 check from them and this was probably about 6 years ago. It did take some time to earn the $50, but they gave me $20 as a sign up bonus at the time.
Today, their structure is a little bit different, but they are still primarily a survey company. I put them at number 5 because while it's possible to earn a little bit of decent money with them, it's not easy. They do have a lot of surveys available that are worth $1.00 or more, sometimes up to even $5.00, but they are very hard to qualify for a lot of times.
I've been rejected from a number of surveys here recently, but the thing is, these surveys fill up very quickly and so if you're busy with other things and then try to do some of them later, odds are you won't qualify for them. You might be wondering why I'm putting Vindale Research into the top 5 if this is the case.
Here's the thing, if you accept it, Vindale Research will send you emails whenever a survey becomes available especially some that your most likely to qualify for based on your profile. If you check your email a lot and click on the surveys that are sent to you fairly quickly, you'll have a really good shot at getting qualified for those surveys. This has been the best method for me at Vindale, and the chances of being rejected decrease significantly although not completely eliminated. If you follow this method, it may actually be worth some of your time. I have a full review of Vindale Research that you can read here. Now it's time to move on to number 4!
4) – Survey To Earn
This particular site offers just surveys, but they are similar to Vindale Research in that they are very difficult to qualify for. There are a few that I have qualified for, but I honestly haven't spent too much time at this particular survey site as I've only earned a few dollars.
There's really not a whole lot to this site. There is an extensive profile you can fill out so that the site can try to tailor more surveys to you that you'll qualify for, but to be honest, it doesn't work as well as you'd hope. There are still a lot of surveys that I didn't qualify for.
Why do I have this in my top 5? For a similar reason that Vindale Research is number 5. If you check your emails often and see that you get an email from Survey To Earn, click on it as soon as you can so that you'll have a higher likelihood of qualifying for a survey and earning some cash.
There are some others that I know who have made $50 or more from this particular site, but I've spent very little time at this particular survey site as there are other ones that I prefer much more than this one. If you're looking for sites to earn money from just surveys alone, don't completely dismiss this one, but there are better ones out there and that's what I'm going to get into next. If you want, you can read my full review of Survey To Earn.
3) – Survey Junkie
I do like this particular survey site a lot more than the others I've talked about and I'll get to why here shortly. There is no referral system at Survey Junkie so the only way to earn money is just by doing the surveys. It's very easy to sign up and the site is simplistic and easy to find and attempt to do some surveys.
I say attempt because just like the other two survey sites I talked about above, you won't qualify for every survey. Now here is what I really like about Survey Junkie. At some of the other survey sites, you'll spend a lot of time trying to qualify for and complete surveys, but unfortunately, you'll be rejected from quite a few of them and will have wasted your time.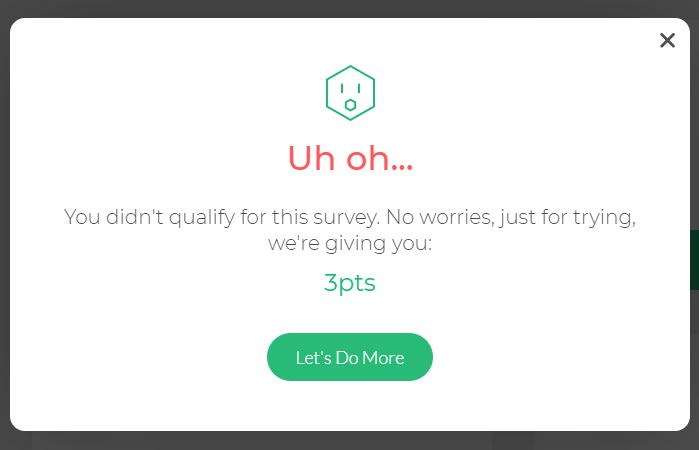 The people who created Survey Junkie know this and so they do give you something if you're not qualified for any particular survey. They will give you 2 to 3 points for every survey you're disqualified from so at least you'll get a little compensation. I do come back to Survey Junkie more often just because of this alone. While the amount of points you get for being disqualified from a survey may not seem like much, trust me they do add up quickly.
A point at Survey Junkie is worth a penny and so 100 points are worth $1.00. You just need to earn 500 points (which is $5.00) in order to cash out and you can cash out via PayPal or redeem them for gift cards. In my opinion, Survey Junkie is definitely one of those that would be worth your time if you like doing surveys. As I said, even if you don't qualify, you'll still earn some points which greatly help you reach the cash out threshold quickly. I do have a full review of Survey Junkie that you can read here.
2) – Crowdology
We are now down to number 2 of my best survey sites for this year. Crowdology strictly focuses on surveys and there is no referral system to this particular site either. There is an extensive profile section that you'll want to fill out to help decrease your chances of being rejected from a survey.
This won't guarantee you'll never be rejected, but at least it helps the odds. Now this might seem very similar to Survey To Earn and Vindale Research, but the truth is, even though I've been rejected from a number of surveys from this particular site, I've also been accepted to quite a few of them especially when I first signed up and tried it out.
I've also earned the most money from Crowdology than any other survey site I've participated in, over $200+. A great majority of the surveys offered at Crowdology are worth $1.00 and a decent amount are worth more and at times even up to $5.00.
The very first time I cashed out, I cashed out at over $140. It did take a little bit of time to reach that, I'd say about 2 months, but still, that's pretty good and that helped me pay a bill as well as go out to one of my most favorite restaurants. I haven't gone to this particular survey site as much as I have in the past, but even now, I still have around $50 that I can cash out at anytime. There are cash out thresholds that you have to meet, but they are pretty easy to reach and you can cash out via PayPal or Amazon Gift Cards. Check out my entire review of Crowdology.
1) – Paid View Point
We are now here at the number 1 survey site that I recommend above all others in 2020. I have not earned the most amount of money from this site as I did from Crowdology, but there are a couple of things that set this survey site apart from all others and because of that, I rank it number 1.
Here is what sets this survey site apart from all others. You will NEVER be rejected from a survey that you can participate in. Let me repeat that. You won't EVER be rejected from any survey at this site. With that being said, you won't earn as much per survey as most of the other sites I've talked about already.
When you first start out, your goal is to fill up what's known as your Trait Score. This shows that you're serious about taking surveys at this site and once you completely fill it up, you'll get access to surveys that pay more than just the standard pay out. A majority of the surveys that you'll take are worth $0.10. I know that doesn't seem like a lot especially when some of the other sites offer $1.00 or more for survey completion.
The thing is though, the more of the $0.10 surveys you complete, the closer you get to accessing some higher paying surveys. I have my trait score completely filled up and I get access to surveys that are worth anywhere from $0.20 all the way up to even $2.00 though receiving a $2.00 survey is very rare.
Paid View Point also has a fairly nice referral system where you can earn some more money by referring others to the site. I've got a few referrals and I've earned a little bit more money already because of that. The more active they are, the greater the chance you have to earn money, at least up to $25 per referral. Here's my full review of Paid View Point.
Final Thoughts
Now that you know my picks of the best survey sites of 2020, you can take action to earn money yourself. The top 3 survey sites listed are your best bets to earn the most amount of money. My number one pick of course is Paid View Point and I highly suggest you sign up for that one first.
Like I said earlier, you'll never be rejected from any survey that you receive from Paid View Point. You won't have as many to take as the other sites, especially when you first sign up, but if you're persistent by completing them when they're offered, you will get the chance to take more of them as well some of the surveys being worth more later on.
Crowdology offers what I believe are the most highest paying surveys that will allow you to accumulate more money quickly when compared to the other survey sites, but you won't be accepted from every survey that you try out. Still, it has been well worth my time to give Crowdology a try.
Survey Junkie will give you points for being rejected from a survey which makes this particular survey site worth your time. 2 to 3 points may not seem like a lot for being rejected from surveys, but I like I said earlier, they will rack up faster than you think and will help you reach the cash out threshold faster.
For now, start with Paid View Point by signing up here. Next you'll want to sign up for Crowdology and finally Survey Junkie. While the potential is there to earn a little bit of decent money from all three, it is not a long term solution for making a full time income online. These survey sites are good for short term money and if that's what you're looking for, these sites will definitely give that to you. If you've already signed up to some of these sites and have experience with them, please post your comments below.