MAJOR UPDATE! Folks, major changes have happened at Crowdology and my account there is no more. It appears they've changed it to where only residents of the UK can participate. This is definitely disappointing considering I had been a member of them for awhile and had made around $300 from the many surveys I've completed. If you are outside of the UK and had an account with Crowdology, even if you had money from surveys you completed, your account will be closed. This was one of the few survey sites I originally highly recommended 🙁
Update: Below is a video showing what the inside of Crowdology is like. You'll see what my current earnings are as well as attempts to take a survey and see various other aspects of Crowdology.
Crowdology
Name: Crowdology
Website: www.crowdology.com
Price: Free
Overall Rank: 65 out of 100
Crowdology Overview
Crowdology is a survey site where you can take surveys to earn money. It has surprisingly been a good one for me so far. Unlike some other survey sites though, there is no affiliate program with this so you can't earn money by referring others to it. Nevertheless, I still think it is one that is worth your time.
First off, I will tell you that in general, it is not a highly reviewed survey site meaning it does not have a lot of positive reviews. Nevertheless, it is free and since I saw a YouTube video talk about it, I decided to give it a try. If it doesn't work or isn't worth my time, then that is ok.
When you first come to the website, you'll see on the front page a nice looking layout and a little description saying that you can earn up to $10 per survey that's completed. I will tell you though I have yet to see a survey that offers $10 for completing it. The highest I have gotten paid for survey completion is $5. Some might be turned off by that and say that this is just another bogus survey site with outrageous claims. Read on though as I'm not going to say that about this survey site.
Signup Process
The signup process to Crowdology is pretty easy. All you do is provide your first and last name, your email address, select whether you're male or female, your zip code, and then accept their terms and conditions. You'll also want to choose a pretty good password.
Once that is done, your account will be setup after you click the signup button. The next thing that will happen after your account is setup is that you'll be brought to the main dashboard of the site. This is where you'll go immediately after logging in. What you'll see on the dashboard is some rectangular boxes towards the top that will show you total surveys available for you to take, the percentage of your profile that's completed, the total amount of money you've made under rewards, and your account.
There's also a section on the left side of the dashboard that will show your first name as well as the number of surveys you've completed and also the level you're at which is dependent on the number of surveys you've completed. I'm currently at the platinum level with a total of 140 surveys completed so far. You'll also see how many surveys you'll need to complete before unlocking the next level.
Surveys
Now we're getting to the fun part which is the surveys themselves. In the middle of the dashboard, you'll see an area that says Latest Surveys. In that section you'll sometimes see a list of surveys that you can choose to complete and other times there won't be any surveys listed at all, but you can click a button called Find a Survey if you're wanting to try to complete some.
I will have to mention that you will not qualify for every survey that you try out. A lot of times they are looking for certain people and demographics to complete surveys, but the more complete your profile is, the better the chances are that they will send you surveys that will more closely match your profile and can qualify for.
It will get a little frustrating at times because there might be several surveys in a row that you might not qualify for, but don't give up. Just keep trying and I promise you will come across one that you do qualify for and each survey has a different payout. The lowest I've seen is $0.50 while the highest I've come across is $5.00.
There will be many ranges of surveys such as politics, grocery shopping, technology use, food, drinks, sports, household activities, tv viewing habits, health, travel, and more. I've done many of these kinds of surveys and the time length to complete them varies. Some last from 5 to 10 minutes, but can also be longer and sometimes up to 30 minutes. Usually though if a survey takes up to 30 minutes to complete, it'll be a decent payout for it.
Payout
Let's talk about how you get paid. You do have to reach a certain threshold before you can withdraw rewards you've accumulated, but the good news is that it doesn't take too long to reach that threshold. I know a lot of people might not like having to reach thresholds in order to get paid, but Crowdology doesn't have the thresholds very high and with the amount of rewards you accumulate from each survey that's completed, you'll feel that it didn't take long at all.
There are 3 different methods you can choose from in order to get your money. Two of them I'm familiar with, but the third I have never used. You can cash out using PayPal, Amazon, and what's called GCodes. I'm not familiar with GCodes at all and what I also find a little bit interesting is that in the FAQ section of Crowdology, it mentions nothing of choosing that particular payout method.
What I ended up finding about GCodes after doing some research, is that it has to do with gift codes. If you want to learn more about them, you can check it out here. Personally, I prefer using PayPal. I like that I can use my PayPal address and it sends it right to my account whenever I'm ready to cash out. It can take anywhere from a day or two to reach my PayPal account.
Getting back to payment thresholds, you just need to reach $8 to cash out through PayPal and $10 to cash out through Amazon which will be a gift certificate to use at Amazon. There is something I find a little annoying though when you're ready to receive payment through PayPal. Apparently, you can only cash out $12 at a time so if you have let's say $60 and you're ready to cash out, you can't do it all at once, you'll have to do it multiple times. I don't quite understand why they do it this way, but in the end, I still get the total amount that I've earned.
Is Crowdology worth your time?
My answer to this question is yes. Believe it or not, Crowdology ranks as the highest in terms of getting paid the most from any survey site I've ever tried. I've never had any issue receiving the money I've earned thus far and I've never had to contact their customer service for any reason.
I've earned over $100 though it took a little while to achieve that, probably around a month and a half to two months, but that was $100 I didn't have before. I was able to pay part of a bill with that and go out to a restaurant that I hadn't been to in awhile so it was definitely worth my time.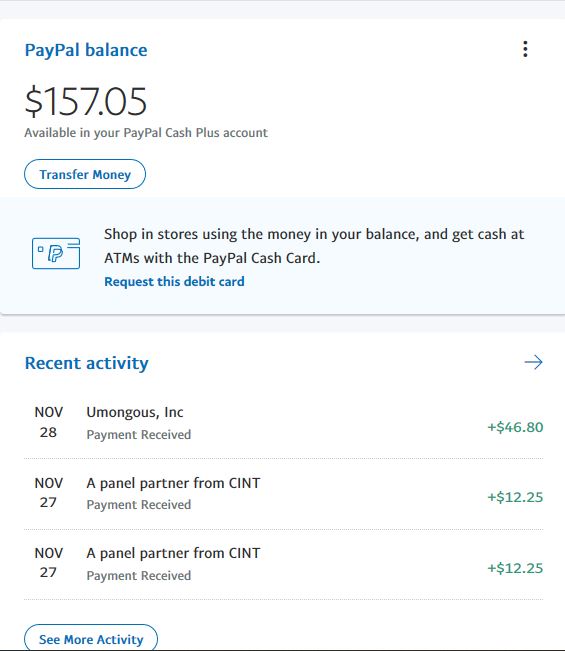 The only reason I don't give Crowdology extremely high ratings is because it is not a long term way to make a full time income. It's great for earning a little extra money here and there for some pocket money or saving up for something, but as far as sustainable long term income, this is not the place to do that. As I mentioned earlier, there's not even an affiliate program to refer others for some more money and you won't qualify for every survey. There's a survey site out there though in which you will qualify for every survey they send you and always get paid for completing it, but they payouts aren't as high and the payment threshold is a bit higher. If you want more information about that particular survey site, check out my review.
With that being said, you can't beat earning something for free and using a little bit of your time so if you're looking for a little extra money to help with a bill or maybe going out for entertainment purposes, this is something that can help with that. If you're wanting to earn a scalable, long term income that will eventually allow you to quit your job and do the things you've always dreamed of, there is definitely a place I recommend for that and you can read my review of that place here.