To affiliate Marketing is one of the best ways to earn money online. What better way to make some money than reviewing products that you like or even don't like in any given niche and earn some money from the sale of those products? Let's say you've definitely chosen To affiliate Marketing as your path, you've chosen a specific niche, and you've got a website setup. Now all you need is content, but more importantly, content that will rank and get you traffic. The kind of traffic that will earn you revenue. In order to do that, you'll need to learn how to find keywords for website ranking and I'll talk about how to do just that.
You'll need a Keyword Tool
Now that you've got a website up, you need to give it some life by adding great content to it. You'll need to ask yourself, "What are people looking for in my niche?", "How can I solve their problems?", "What questions are people asking in my niche?", "What are the best products in my niche?".
If you can answer those questions, you'll be well on your way to having a successful online business in To affiliate Marketing. You're going to definitely have to do research in your niche in order to help answer those questions, but don't think of it as something that is difficult because it's really not. It does take some time at first, but once you do it consistently, it'll become easier to you and you'll be quicker at it.
A Keyword tool is a specific program or even planner that will show you statistics of certain words that people are searching for in the search engines such as Google. Let's say I target open world video games and I want to find what people are searching for in regard to a specific open world game such as Grand Theft Auto V.
In the keyword tool, I might type in "Best weapons to use in Grand Theft Auto V" and the tool will give me a rough estimate on the averages of that particular long-tailed keyword being searched for in a search engine and how much traffic it might generate. A good keyword tool will also give you a number of how many other posts or sites are ranking under that keyword phrase as well. The lower the number, the better the chance you have of that keyword specific post/content ranking number 1 in the search engines. I will talk about some different keyword tools you can use.
Jaaxy Keyword Tool
In my honest opinion, Jaaxy is easily one of the best keyword tools out there. There's just so much you can do with it. Now I won't go into a ton of detail on it as you can read my full review of Jaaxy. I've used Jaaxy for a number of years now and I can definitely say that without a shadow of a doubt, that it works.
Now that does not mean that every keyword I find in it and create content around is always going to rank number 1 on the search engines especially Google. It depends on a number of factors as well as the competition you're going against, but if you're consistent with your content and the search engines deem your content authoritative, meaning your content helps people and you know what you're talking about in your niche, you'll have more content ranked on the first pages of the search engines and that means free traffic and traffic that can easily lead to revenue.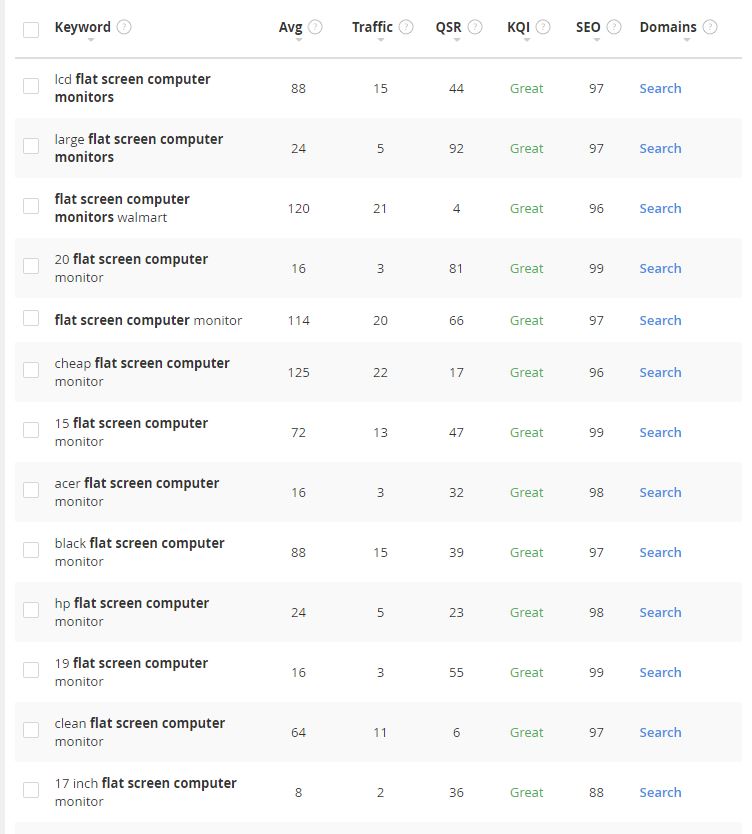 With Jaaxy, you can find domain names that can be centered around keywords in any given niche, you can always check the rank of your overall site in the main search engines, you can create lists of keywords so that way you can always go back to great keywords you've found and create content around them later, you can check search analysis of different keyword centered posts in your website and so much more.
Jaaxy is free to try as they'll give you 30 free searches to see if it's to your liking. After that, there are two main memberships which are Pro and Enterprise. Pro will cost $49.99 a month while Enterprise will cost $99 a month. It is well worth whatever membership you choose if you choose to go with Jaaxy. If you're a member of Wealthy Affiliate (premium member), you'll get to use Jaaxy there for free though you want have access to everything that a full membership gives you, but you'll get to do unlimited keywords searches.
Answer The Public
If you don't want to spend any money on keyword tools right now, you still have other options. There's another keyword type of tool out there that I use in conjunction with Jaaxy that helps me out immensely and I've actually talked about it before. It's called answerthepublic.com.
I have notices though that there are some changes to it, and it is no longer fuller unlimited in the free version. You still can use it daily, but you're limited to a certain amount of searches each day and they'll only notify you when you reach that limit.
With that in mind, it is still worth using. You can type in its search engine what ever you want to check out in your niche specifically. I'll give you an example. Let's say you're in the video game niche, but more specifically your're targeting game systems by Sony and you want to see what kinds of questions or terms people are typing in the search engines. In the search box, I'll type in "PS5" and in a few moments, it'll give me a while of different things people are searching for in regard to the PS5.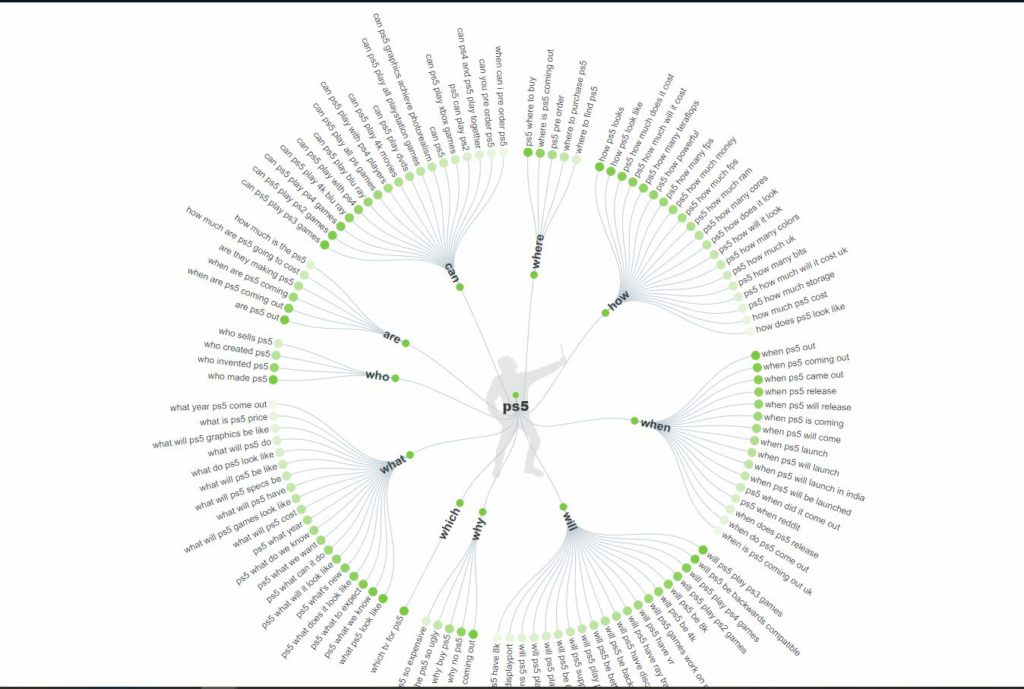 "How much is the PS5?", "When is the PS5 coming out?", "Will the PS5 be backwards compatible?" are just a few of the questions and keywords that people are putting in the search engines. Since you're given a certain amount of searches each day at answer the public, you might as well use it to your advantage.
The Alphabet Soup Technique
There's another free way to find content and popular keywords. Wealthy Affiliate teaches you to utilize what's called the Alphabet Soup Technique and it's typing in Google a specific keyword such as money and then immediately after it, typing the letter a (since it's the first in the alphabet) and Google automatically give you a list of keywords or terms that people are searching for under money. An example of this would be money app, money all around me, money affirmations, etc.
You just go down the alphabet and it will continue to give you keywords and terms people are searching for. Of course, you won't get all the numbers associated with those keywords like monthly averages, expected traffic, or competition, but it will help you come up with great ideas for content for your website that will help get rankings.
I use the alphabet soup technique a lot and it does help me with ideas for content. You can use it for so many things in all kinds of niches that it is really easy to come up with ideas for great content.
Multiple Options for Keyword Research
As you can see from what I talked about above, there are multiple options for keyword research. There are some limited free methods as well as paid methods as well as different search techniques all of which will help you develop great content to get your website ranked.
Using all of these methods will definitely be very beneficial to you and there are a few other places you can try out as well. Going to dedicated question sites such as Quroa will help you find even more questions that people are asking in any given niche and want answered.
What's nice about that is you can answer those questions and you can include a link to content that will be beneficial for them. You just can't post direct affiliate links, which is fine because you want people to see that you have the answer to their question and if they like your answer, they will read what you have to say, trust you, and possibly even buy from you with whatever you recommend.
It's easy to create an account at Quroa and begin searching for questions people are asking in your niche. Depending on what you list as being an expert on, you'll even have people search you out because they only want you to answer a specific question. I've had that happen before in another niche site of mine and it's just wonderful to know that people only want you at times to answer their questions.
The sky is the limit when it comes to keyword research, what sometimes makes it difficult is just the act of searching for them because people tend to want find the best keyword possible with the best possible rankings and the lowest competition that will rank very quickly. Low hanging fruit, as it is known is what you want to start off searching for, which means finding keywords that don't have a ton of competition, but will start bringing you in traffic, but not lots of it at first. The more you focus on them though, the more your traffic will start to build and the easier it is for your website as whole to rank high in the search engines. If you join Wealthy Affiliate, which I highly recommend after reading my review, you'll definitely learn more about this.