Update: I've posted a video at the end of this article that gives a little bit of an overview of what the inside of Wealthy Affiliate is like. While it shows most what you get as a premium member, I've included some of the things you'll get as a free member. Check it out!
I've talked a lot about Wealthy Affiliate in the past and with good reason. It's just such an excellent place to learn how to create a long term online business. In my review of Wealthy Affiliate, I talk about the benefits of becoming a member especially if sign up as a premium member. Some might be wondering or asking, what is the Wealthy Affiliate Starter Membership and is it worth joining?
I'm going to actually be focusing on the starter membership, what all you get with it, what is free for life if you choose to remain with a starter membership and if you can actually make any money with just the starter membership alone.
The First 7 Days
If you decide to give Wealthy Affiliate a try and sign up under starter or free membership, you'll get full access to all of Wealthy Affiliate for 7 days. What's nice about that is you have 7 full days to see all the ins and out of the place. You'll have access to all the training (there's no way you'll get through it all in 7 days. There're just lots of stuff!), and you'll even get to see some of the past video trainings which are usually done live on Fridays.
My suggestion to you is to start the training, more specifically, the Online Entreprenuer Certification. You can get to that by clicking on "Getting Started" in the upper left-hand corner of the page. If you're fast enough (make sure you understand it though), you can get through the first 10 lessons before the trial period is up.
You'll have access to the chat which is on the main page after you log in. A lot of times you'll see a lot of people asking questions here to get help or better understanding of things and usually they'll get a response from other helpful members here. I do utilize it a lot and I do like to help others also as I want to see others succeed.
The next thing you'll have access to is the blogs people post here from their account. I love reading these because people talk a lot about their success that appear alongside their journey to making a thriving online business. I have some blogs which I've shared with others here about some of my past successes as well.
Blogs are very important because you get to see members journeys, what they struggle with, what they've overcome and how they continue to push through. It gives myself and others the motivation to keep going because if they can do it, I and others can do it too.
As I've mentioned before, there is training at Wealthy Affiliate. TONS AND TONS of it! It can sometimes be overwhelming if you don't know where to go, but you'll definitely want to get started with the OEC as that will get you where you need to go to get your online business started. You can search for different topics you're interested about as other members here have created their own training to help out others. If you want to learn about email marketing, how to leverage social media, how to choose a niche, how to make your website visually appealing, you can find all of that here. You'll even have access to the keyword tool which is known as Jaaxy.
After 7 Days
Once the 7-day trial to all of Wealthy Affiliate is over, you'll have very limited access to certain things in Wealthy Affiliate. You'll have access to the first 10 lessons of the Online Entrepreneur Certification course as well as the first 10 lessons of Wealthy Affiliate bootcamp.
Access to 2 websites of your own creation will also be available though I will stress that these won't be of the traditional kind as in www.mywebsite.com. Instead, they will be what's called siterubix.com in which case your website name would be www.mywebsite.siterubix.com. These are almost like subdomains but they are still viable websites and you'll be able to have 2 of them.
You'll have access to the first 10 lessons of Online Entrepreneur Certification and the first 10 lessons of the Affiliate Bootcamp as well. I will list them and give a brief description of them so you'll know or have an idea of what they consist of as well.
OEC:
1) Getting Started – The first lesson here is to get you rolling into what you'll be learning at Wealthy Affiliate and gives you an overview of how the building of your business is going to grow. There's a nice welcome video from Kyle, one of the original two founders of Wealthy Affiliate.
I like this because it gives you an idea of what to expect going forward if you feel that Wealthy Affiliate is for you. I think that you'll most likely decide that it is for you especially after watching that first video. You'll also learn how to create your profile as well as other benefits of Wealthy Affiliate.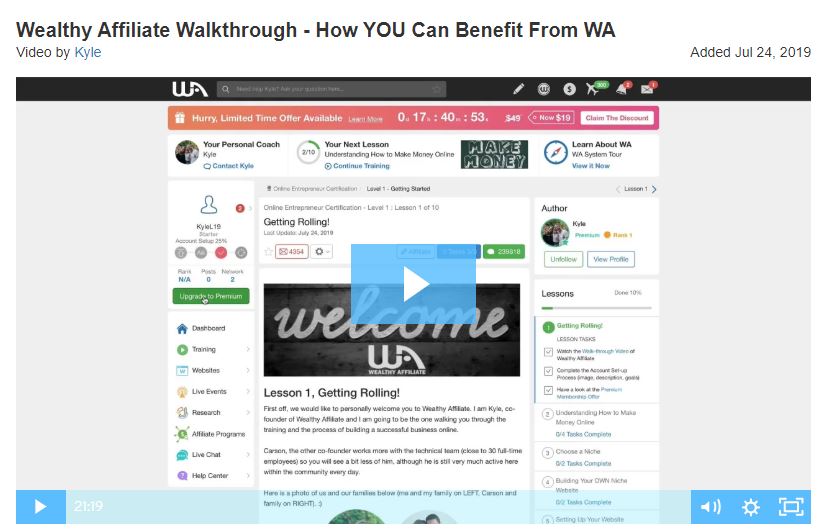 2) Understanding How To Make Money – The second lesson is really key because it will talk about the key aspects of making money online. This is not something that will happen overnight or even 1 month from now, but with continued work and focus it will eventually happen. This is one thing I like about WA, they don't lie to you and say you will make tens of thousands of dollars almost instantly and without any kind of work.
The truth of the matter is that you do have to put in the time and effort in order to make money just like you do with a traditional brick and mortar business. The good news though is that it doesn't cost anywhere near the amount to start an online business as it would a traditional business. It will take time, but you will learn exactly what it takes to make that happen here so this lesson is a big one.
3) What's My Niche – A lot of people that first start here find this is among the most difficult thing to do because they feel that there isn't a niche that either interests them or that they know a lot about, but if you just do some research, you'll find that there's a lot you really do know about and can talk a lot about. Don't doubt yourself because you can really do this.
Let's say you choose a niche and then later on you really do find it's just not something you're truly interested in and it isn't going how you expected. That's not a problem as you can ALWAYS choose other niches. As you'll here Kyle say, there are millions of niche ideas out there that you can choose from and certainly at least one you're bound to be very successful in.
This lesson will talk about the best ways to choose a niche and how to go about researching that niche. Even if you don't know something about a niche, you can always do research and find out a lot of information about it as long as you're willing to learn.
4) Building Your OWN Niche Website – A lot of new people can find this as intimidating as trying to find a niche because they think their website has to look the absolute best and do so many things to grab your attention. They also feel you have to have a lot of technical knowledge such as knowing HTML in order to build a website. The good news is that it's not necessary at all. In fact the website builder and editor known as WordPress really simplifies it for you.
Kyle will tell you all about how to build a website as well as choosing a domain name for it. It's really much easier than you think. Something that's still fairly new that you couldn't do just a few years ago is that you can now have your domain name and website all hosted here at Wealthy Affiliate.
It used to be that you would have to purchase and have hosted your domain name at a third party site such as goddady.com and then have the servers pointed here so that your website could be up and running since the wordpress editor is here. I'm so happy that now you can do all of that under one roof.
5) Setting Up Your Website – Now that you've got your website up and running, all thanks to the previous lesson, now it's time start setting up the meat and potatoes so to speak, of your website. What that means is setting up pages and posts which is where your content will be going. This is where you want your traffic to go once they start coming to your website.
Don't worry, Kyle explains exactly how to do all of that in his step by step tutorial as well as the video that's provided. Trust me, it didn't take long for me to understand how to get my pages and posts setup and once that was all explained and understood, it was easy peezy from there on out.
6) Getting Your Site Ready For Search Engines – This is where you're going to start to get traffic, free traffic and this is what could help sustain your business for years to come. You'll learn what it takes to get your website ready for the big search engines, especially Google.
Trust me, once you get that down pat and start producing content on a regular basis, you'll be quite surprised how easy it is to get your content indexed on Google and other search engines. The biggest thing you want though is for your content to be featured on the first page of the search engines.
If you can get this to happen, and you'll be taught how to make that a reality, you'll be well on your way to generating great amounts of traffic and then the revenue streams can begin.
7) Creating your initial Website Content – Lesson 7 shows what your first type of content should be such as creating an about me page. You'll learn why it's important to give readers a face to the content that you're providing. This will go a long way to earning trust and in turn, would be more willing to spend money with products that you recommend and stay away from those that you don't.
Once you put the things you're interested in and why you're doing what you're doing in regard to your website, then you'll likely start to get more traffic that will respect what you have to say. As long as you show them something of benefit or value and not that you're just out there for the money, you'll be on your way to success. Always remember that you're doing this to help people first.
8) Creating Custom Menus On Your Website – Once you start getting good traffic to your website, you want to make it to where it's easy to navigate your site as possible. Lesson number 8 will teach you how to do that. Some people think creating menus and customizing them to their liking can be quite hard to do.
The good this is that it is not really as complicated as one might think. Word Press really makes it easy to create custom menus. Menus can be added on different areas of your site, but a really good place to put them is on the front page as you might have a main menu layout on the front page that will lead to other individual pages within your site.
Not sure if I'm explaining correctly, but you'll understand what I mean when you go through that lesson. On one of my websites, when you hoover over one of the links to another page on my site, a menu will pop up containing posts on that page that you can click on instead of going to that main page itself and then searching for that post and clicking on it.
9) Understanding Keywords, The Start Of Your Content – This one is a very important lesson because you'll learn how you're going to attract traffic from the search engines to your posts. This is where you start creating posts based on a specific word known as a keyword that can help get you ranked.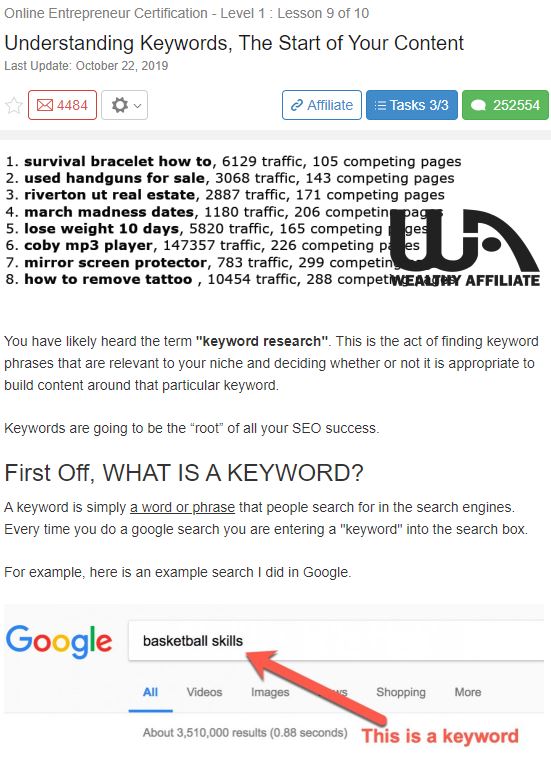 An example of this could be "Best Hiking Trails in Kansas". As you create a post, you're going to center your content on that specific title which is the main keyword. You'll learn how to find the best keywords that can help get your content ranked and onto the first page of Google so that you can get free targeted traffic that can lead to revenue.
The more keyword specific content you create, the greater your chances of getting your content ranked on the first page of the search engines and the greater the chance that people will visit your site and even be willing to purchase whatever it is that you recommend. With continued work and persistence, it will be just a matter of time before your website will be ranked on the first pages of the major search engines.
10) Congratulations And Your Next Step – You'll want to congratulate yourself here because you've already come a long way. You've got your first site up and running and now have a great idea of how your website can start generating revenue. This is not the end of learning everything though as there's a lot more to it, but with the first 10 lessons you get the gist of what affiliate marketing is and how it can benefit you.
It's up to you to decide where you want to go from here. You can definitely stay as a free member and always have access to the first 10 lessons as well as have access to your 2 free websites or you can upgrade to premium and go through the rest of the Online Entreprenuer Certification course and learn even more of how to build a thriving online business. If you do decide to go premium, it will be well worth it as you'll have full access to everything on Wealthy Affiliate.
Affiliate Bootcamp
The Affiliate Bootcamp is another major training course that differs a little bit from the OEC. Let's say for example you've gone through all the options to try and find a niche that you feel comfortable with and nothing sounds good to you. There is another option and you can actually promote Wealthy Affiliate.
This may seem odd to some because they think about why would you promote something you just started and haven't seen yet if it really works or not? Well, you have to start somewhere and if choosing a niche has been a difficult endeavor for you, this is another good option. You'll learn exactly what needs to be done and how to build a website where you can promote WA.
What's nice about going this route is there is a great incentive here. Not only will you get commission for each sign up especially if they upgrade to premium, but if you get 300 sales, you'll win a trip to Las Vegas where you can meet the Wealthy Affiliate crew and discuss what made you successful and what are some things that can be added to Wealthy Affiliate to help ensure that others succeed. It may seem daunting, but if you're determined, follow the training and take action, it is definitely doable.
1) Getting Started – Kyle introduces himself and welcomes you to the Affiliate Bootcamp. He is committed to your success and promises that if you're committed to the training, he will definitely be committed to you and ensure that you succeed. Kyle also talks about the WA Affiliate Program and why it's awesome.
I'll have to admit that it definitely has me intrigued because of the income potential and while you can definitely earn from people who sign up under the starter membership, it goes up quite a bit if they go premium and anyone can earn a full time income very easily from this.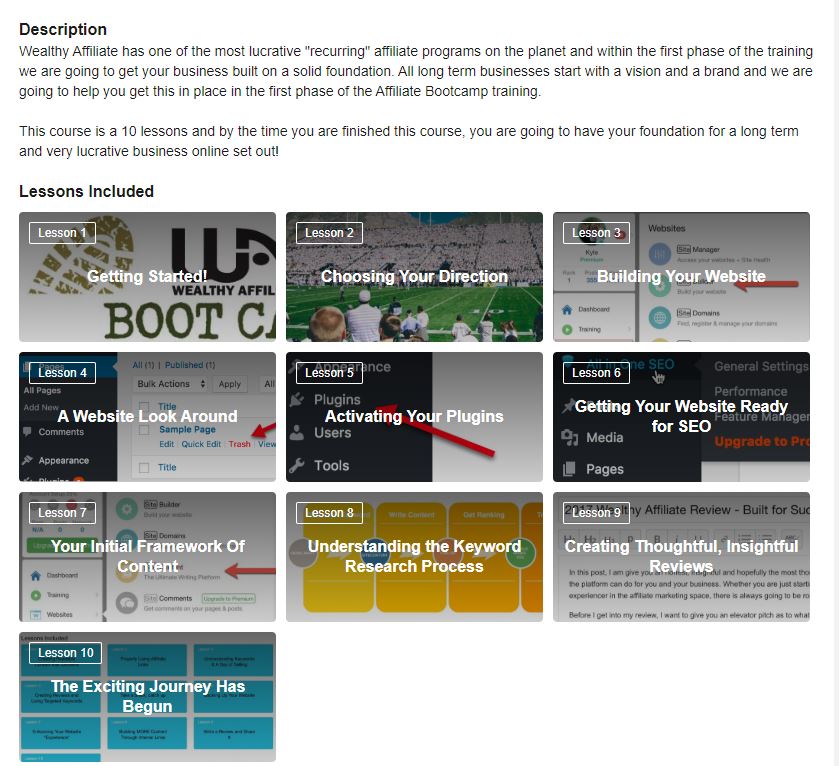 Kyle explains all the different aspects of the Wealthy Affiliate program so that you can get a better understanding of it such as seeing all your referrals or even tracking your affiliate links. You'll get to see the commission structure here as well which should be a motivation booster for you.
2) Choosing Your Direction – This lesson is not like the one in OEC where you decide what niche is best suited for you. What this one talks about is your potential target audience when promoting Wealthy Affiliate and there is a nice tutorial that you can read about it.
Kyle mentions that there are many different directions you can head in terms of target audience and that is certainly true. Just doing a simple online search of home based businesses can yield a lot of opportunity or just typing in how to make money online. You don't have to overthink it and you can even visit social media platforms to get ideas from there. Places such as Facebook and even Quora are great places to look.
3) Building Your Website – You're probably already familiar with this as it's very similar to the one in the Online Entrepreneur Course. The lesson here teaches you how to choose a website theme, registering a domain name, and the hosting platform that Wealthy Affiliate has.
I'm so glad that Wealthy Affiliate now lets you host your domain name and website fully and you get great perks with it that would normally cost you extra at other domain and hosting sites. SSL security is a great and must needed feature for websites today and Wealthy Affiliate gives you that for free. This is a great lesson for website building and it's much easier than you think.
4) A Website Look Around – Now that your website is up and running, you'll learn in this lesson the back office part of it which is the website editor known as WordPress. I've mentioned it earlier when I was talking about the first 10 lessons of the OEC. WordPress is by far one of the best website editors out there and you'll love the intuitiveness of it.
The video that Kyle provides in this lesson gives you a good visual of everything WordPress. He'll show you how to get rid of what's called the dummy page and posts. You'll know what he means when you see your first created website after you choose the theme/design.
5) Activating Your Plugins – This lesson is awesome because it teaches you about plugins which are enhancements for your website. They can do different things for your website such as adding social media buttons so that visitors can share an article via most social media outlets, make your website SEO ready, give you unlimited use of your sidebar (you'll find out what a sidebar is as you go through the lessons) and even more.
I do use plugins on my website, but I also have a warning about them. You don't want to use too many of them because they can actually slow down your site and if they are not regularly updated, they can also be security risks because of vulnerabilities that may be exploited, hence the reason for the updates.
There's not much need to worry though as this lesson will show you the essential plugins that you really need for your site and thankfully it's not a lot of them. Adding a few plugins once in a while is not always a bad thing but just choose carefully and make sure it's something that can make the experience better for your visitors.
6) Getting Your Website Ready For SEO – This lesson is basically identical to the one in the OEC so there's really not a lot to say here. SEO stands for search engine optimization and this is essential for getting your website ranked on the search engines so that you can get free traffic that can lead to revenue.
SEO scares many people, but the lessons here break it down so that you can understand it and once you do, you'll realize that it really is a piece of cake and is nothing to be scared of. Once you start building out your website with content and that content starts ranking, you'll get really excited about the potential and where your website is going. This will lead to great things in the future.
7) Your Initial Framework of Content – The word content scares many people because they feel you have to be the best writer on the planet. That simply is not true, you just need to speak to whoever your audience is in your own words. It's very easy to get excited about something such as a brand new phone or other product that you find has been worth your time and so you want to communicate that to the world and you most certainly can do that.
Just like everything, it takes practice but the more you do it, the better you'll get at it. On my very first website I look at my very first posts and compare it to my most recent posts. The difference almost seem like night and day because my first post were short and not as confident sounding as the more recent posts and that's ok. You're just starting out so your content probably won't be very long at first.
Again though, once you get enough practice, learn how to do proper keyword research as well as learning as much as you can in any given niche (in the case of the Affiliate Bootcamp, the make money online niche), you'll be very confident in your abilities and it'll take you no time to pump out informative, quality content.
8) Understanding The Keyword Research Process – If you've already taken the OEC course, you'll be very familiar with this lesson as it talks about keywords. Kyle will mention that there are billions of keywords out there and he is certainly correct and there are many more added each day since there are always new products and information being released each day.
This lesson talks about the importance of keywords to your business because it will be how you'll get ranked in the search engines. I've had some of my posts on other websites rank on the first page of Google because of the keyword I centered a post around.
It's great to learn how to properly use keywords in a post because you don't want to over use it in an article and trust me, Google will know that your post is just keyword stuffed rather than being informative and helpful to a particular audience. In the earlier days of search engines you could probably get away with this but not today.
9) Creating Thoughtful Insightful Reviews – Reviews of products are good, but insightful and informative reviews are even better. The more information a reader has as to why or a product is great or not, the more likely they'll trust you and may even be willing to buy from you.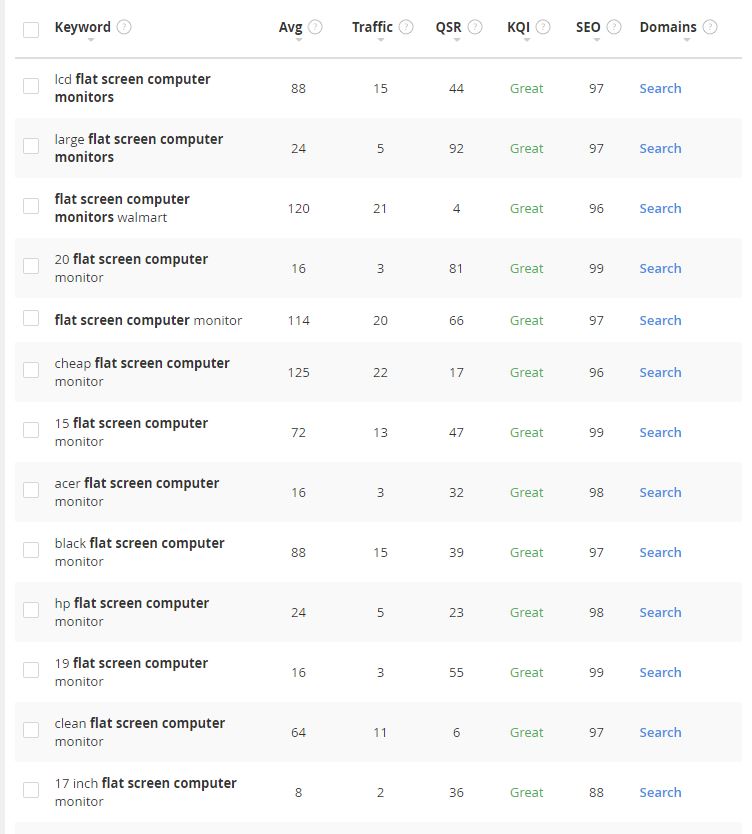 People are searching for reviews all the time online because they want to make sure that whatever they're getting is worth their money and time. I'm sure there are times you've looked for reviews on something and you wanted to read as many informative reviews as possible to see what other people experience. Once you get this nailed down, you'll have no problems creating reviews that people will want to read.
10) The Exciting Journey Has Begun – Kyle lets you know that you've made great progress in the 10 lessons that you've gone through. Believe it or not, you've taken the first steps to creating a long term business that can always be scaled. It's completely up to you on where you decide to go from here, but as a free member you'll always have access to the first 10 lessons of the Affiliate Bootcamp as well as the OEC.
It didn't take me long before I decided that I wanted to continue you on as a premium member and I have never regretted it. Kyle gives you an idea of what a realistic journey could look like if you are consistent with building your business. He shows you the potential of what 1 month could look like clear up to 5 years. It is achievable and you can definitely become an authority in this particular niche.
Taking Action in Starter Membership is Key
I want to take a moment to say something very important here that I've mentioned a little bit already. If you decide to join in the starter membership, I would immediately start either the OEC, the Affiliate Bootcamp, or both if time permits it for you. Don't hesitate to look around at Wealthy Affiliate for the 7 days you have full access to it.
There are so many great tools and very helpful people here that you might start to understand why Wealthy Affiliate has been around as long as it has and why there are a lot of people seeing success here. The key to it all is to take action, even as a starter member.
Go ahead and build up your 2 websites so that you can see the great potential that lies ahead of you. Heck there are some members here who have even made money with just the 2 websites and access to the 10 lessons on each side. You never know what you're capable of until you try.
There are people that will start this and then stop immediately and then say that Wealthy Affiliate is a scam and like all the others that won't make you any money. This is a business and you're going to get out of it what you put into it. If you treat this as a hobby or something to do just casually, you're just not going to get the success out of it that you want. You're going to have to devout time to this each day, but the more you action you take, the greater your chances of seeing success. Like I said earlier, what I like about Wealthy Affiliate is that they don't lie to you and say that you're going to make tens of thousands of dollars overnight with just one click. No, they tell you that it is going to take time and effort, but you have the training and the tools available here to make you successful. It's all up to you on whether you succeed or not. I certainly believe that anyone can.
What is The Wealthy Affiliate Starter Membership? You Now Know
I've laid out what all is included in the starter membership, what you'll always have access to, and the keys to seeing success at Wealthy Affiliate even with the free membership. Remember what I stated above, take action! That is always the important thing and don't be afraid to step out of your comfort zone.
Kyle and Carson had to step out of their comfort zones in order to make Wealthy Affiliate what it is today and they never gave up. They want to see others succeed and they are giving out the training and the tools to do it. If you're ready to move forward, go ahead and click here and fill out the form to get started!