If you've searched for different ways to make money online, you may have come across the terms, freelance or freelancer. A freelancer simply means that you search for work online to be hired by an individual or company to do a specific type of work for them. It's not a traditional full time job as you're just a contractor basically and you get no benefits like a regular job does. The big difference here is you can work from the leisure of your own home or from anywhere.
You might be wondering what type of work people are wanting to be completed online and would there be enough of these kinds of jobs or tasks available to make it worthwhile. The answer to that is a resounding yes! People and companies are definitely in desperate need of people to complete certain things in a very timely manner and don't want to go through the traditional route of hiring someone and having to deal with the expenses of that.
You're probably thinking, well gosh! Where do I go online to find these tasks that people are willing to pay money for? One of the best places tailored specifically for that online is a site called Upwork. What is Upwork.com about? Read on to find out and see if it's right for you!
What Upwork is About
Now I mentioned above what freelancers are and about people and even companies desperately looking for those kinds of people. You can easily be one of those as you might have a particular skill that could be of great benefit to someone who is willing to pay for your skill to be put into action.
You could go to Google and type in freelance jobs and see what pops up, but Upwork is a site dedicated for freelancers and people willing to hire them for specific tasks and projects. Let's say for example, you are great at creating videos and editing them. All you have to do is search jobs on video/video editing and a whole slew of them will pop up, from newest to oldest.
Upwork started in 2015 and was formerly known as Elance-oDesk. They're headquartered in the United States, more specifically, in Mountain View, California. It's estimated that there are over 20 million users of the site spread out in nearly 200 countries. That should give you a good idea of its popularity.
If you go on YouTube and search for videos on how to make money online, you'll probably find that some of those videos will talk about places to go to where you can earn money and a lot of them will say to go to Upwork. There are other places as well and I'll talk about them in future posts.
How to Earn Money At Upwork
Ok, let's say you're interested in what I've said so far about Upwork.com. You know you've got some skills that can be beneficial to people there and would like to get paid for putting those skills to use. How do you do that at Upwork? It's actually pretty easy to get started.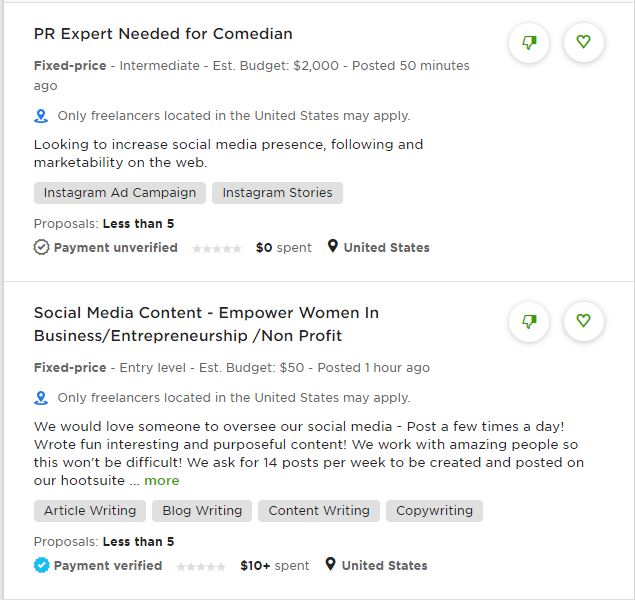 It is free to join so you don't have to worry about spending any money signing up for it. To get started, you need to type in your full name and whatever email address you prefer to use. They'll send you a confirmation email and all you have to do is click the link in that email to confirm and from there you'll start setting up the rest of your account.
You'll want to set up your profile and be as detailed as possible. If you've had traditional jobs, you'll definitely want to list those and the roles and responsibilities that you had during those times. You can also put in your educational history and any certifications that you may hold. Putting in your skills is required as this will help you in being accepted if you submit a job proposal. Up to 10 different skills can be listed and Upwork has an automatic list that you can choose from.
Make sure you upload a profile picture so that people can put a face to your name and profile. This will help greatly when you apply for a freelance job. It's also helpful to list languages that you can speak which can range from your native language to whatever else you can speak. Being bilingual will also help your chances of being accepted. You'll also want to make sure you put how you'll be available from week to week. My profile has 30 hrs or less per week.
After your profile is fully setup, you'll be ready to start seeking out freelance jobs and apply for them. Now I do want to give you some warning here. You won't be able to apply for an unlimited amount of freelance jobs as you're given what's known as 60 credits each month for your free account. Usually when you apply for a project, it costs you 2 of those credits.
There's also a lot of competition out there and applying for a job will not guarantee in any way, shape, or form that you'll be accepted. The good thing though about this is that when you see a job that interests you, you'll be able to see the number of job proposals that have already been submitted to that job. The lower the number of proposals, the better chance you'll have of being accepted for a job.
What will also greatly help you is getting positive reviews from other job posters. They'll be more willing to accept your proposal if you have a very high and favorable rating. When you find a job that interests you and you feel like you'll have a good chance of being accepted, you'll come up with a proposal and sent it in. You'll create a cover letter and add anything else that might be of benefit to the person going through those proposals.
Now let's say you do get accepted and are eager to complete the work so you can get paid. You might be wondering what exactly you'll get paid for completing the work. The amount of pay can vary depending on the type of work that needs to be completed as well as what you might decide you want to be paid per hour. Sometime you'll be able to negotiate pay with the job poster, but other times they'll have a fixed price they will pay out for the work.
Once that person is satisfied with your work, they'll usually pay with agreed terms of the proposal. The money will go to a special escrow account which you'll have access to after a few days and from there you can transfer it into your PayPal account. Something I want to mention though is that Upwork will get a percentage of that pay so say you get paid $12 for completed task, you'll end up actually getting $9 or $10 when all is said and done. There are many different kinds of freelance jobs offered on the site with different kinds of pay so you should be able to find something that will pay what you want.
My Experience with Upwork
Some of you reading this might be wondering if I've personally made any money at Upwork. The answer to that is yes, but I haven't utilized Upwork very much as I've focused a lot of my attention elsewhere, but the time I did give it a try was successful a few years ago.
I wanted to dabble into creating articles for websites for other people and I got a chance to do that. Three different times I was able to create a certain number of articles for a website that had to do with certain Nintendo games. The person requiring those articles wanted certain keywords for those articles and I knew how to search for great ranking keywords that would help get an article ranked highly in search engines.
The person was very satisfied with my work and left me very favorable reviews. I am planning on returning to Upwork at some point as it is a great way to earn some revenue especially if you need money for bills or other unexpected things that come up.
If you are interested in giving Upwork.com a whirl, don't get discouraged if you're not immediately accepted for some of the freelance jobs that you apply for. Since you are a new person, it's going to take some time to build up your reputation and trust, but if you are persistent and keep pushing through, it will eventually happen. Like I said, there is a lot of competition at Upwork, but there are also good videos on YouTube that can walk you through on how to create a great cover letter as part of job proposal that will increase your chances of getting selected.
How Wealthy Affiliate Can Help You with Upwork
When I first heard that Wealthy Affiliate can help with you getting freelance jobs at Upwork and other freelance sites, I thought that was kind of crazy at first. What does Affiliate Marketing have to do with freelance jobs? It actually makes perfect sense though if you think about it.
You learn quite a bit of things here to help your Affiliate Marketing business. You're taught how to create a website, how to get your site and content ranked, how to use social media for your business, finding the best keywords, etc. That's a good number of skills right there that you learn all at Wealthy Affiliate and people at Upwork are needing people who know how to do those things.
That's why I wanted to try creating articles for others and it was a successful endeavor the brief time that I did it. There are many other things at Upwork you can try to besides article creation or SEO if that's something you're not interested in doing for other people. There are free software online that can help you create logos for free so that is something else you can try at Upwork.
You no longer have to ask what upwork.com is about because you now have plenty of information about it. If you want some ways to try to earn some income a little bit faster, Upwork is definitely a great place to try out. Don't get discouraged if you're not accepted in some of those job proposals. Just keep trying and you'll start landing some of those freelance jobs.