Swagbucks
Name: Swagbucks
Website: https://www.swagbucks.com/
Price: Free
Owners: Prodege, LLC
Overall Rank: 50 out of 100
Swagbucks Overview
It's time to take a look at another make money website and see if it really does make you some decent money or is a time waster. Today I'm going to be taking a look at the site Swagbucks. So what is swagbucks.com? Well, for starters, they offer different ways to earn some money on their site, but you earn what's called swagbucks.
If you earn enough swagbucks, can you either redeem them for gift cards or cash that can be sent out to your PayPal account. Some of the ways that you can earn swagbucks is by doing surveys, watching ads, shopping, playing games, trying out different offers, and even doing some small tasks. What's kind interesting here is that you can also buy swagbucks if you ever feel like you're not earning enough as fast as you would like or you want to get closer to redeeming them for a certain gift card that's available. It is kind of nice to have that feature, but for me I'd much rather do the different things available to earn swagbucks. Well, time to get into the meat and potatoes of swagbucks.com and take a closer look at what you can do there to earn some money.
The Sign up Process
The Sign up process for Swagbucks is pretty easy and straight forward. When you head to their homepage for the first time, you'll see a small form where you can sign up pretty quickly. There are two different ways to sign up and they are both quick and easy.
The first way is that you can sign up the traditional way, by providing your first and last name, and your email address. They will then send you a confirmation email and all you have to do is click the link in the email in order to confirm your email address and your account will be fully set up.
Now the second way to sign up for Swagbucks is through your Facebook account. If you decide to go this route, you'll have to click the Facebook button and then it will take you to your Facebook page to make sure you're logged in, if you're not already, and then Swagbucks will get your information from Facebook and open your account. You still will probably have to go to your email address in order to do a confirmation. Once that is done, you're all set to start using the site. It's time to take a closer look at what's available in Swagbucks.
The Dashboard
After your account is fully created, you'll be taken to your dashboard page. You'll see a number of things on screen and if you look to the left side of the screen, you'll see a list of things such as Answer, Shop, Discover, Watch, Search, and Play. All of that is under a section titled "Earn Your SB". In order to earn swagbucks, these are the things you'll want to do.
The next section under that is gift cards. This where you'll go if you want to redeem swagbucks for gift cards, buy gift cards, or even buy SB (swagbucks). I know, it does sound kind of crazy, but why would you want to spend money to buy SB when all you're doing is trying to earn them for free so you can redeem them for cash or gift cards? Well, let's say you're fairly close to getting enough SB to redeem them for something you want. You might be tired of doing surveys or the other things that are available and so you just want the points or dollars quickly that will push you to the amount needed to redeem.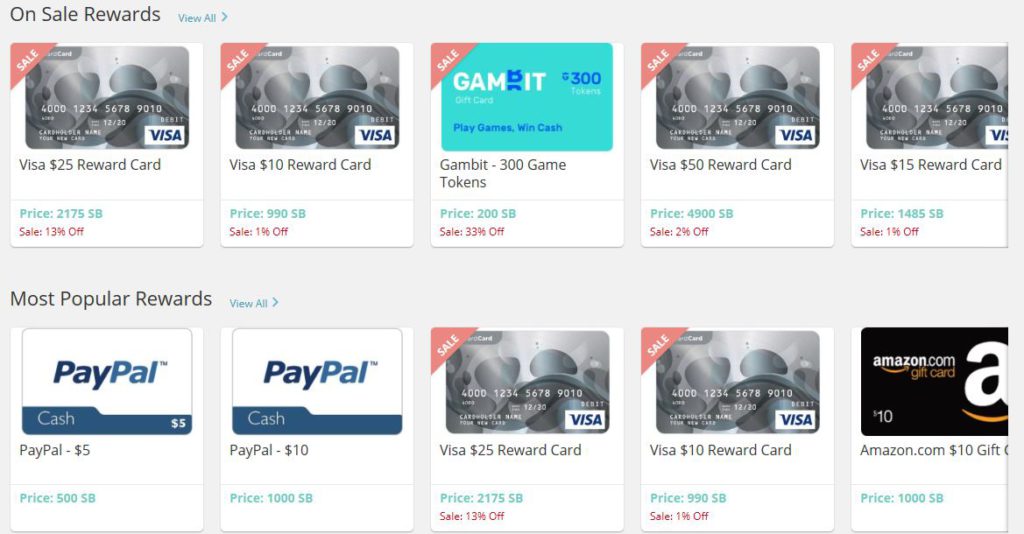 The good news is that it really does not cost a lot to buy swagbucks. You can buy 200 for $2.99, 500 for $5.99 and even 2,000 for $21.99. That's not too bad of a deal honestly and it's a way to earn some SB faster for just a little bit of money. It could come in handy when you get rejected from some of the surveys that you try out.
Up next is what's called the promotions section. Now I don't have really any experience with this area, but one of the first things I've noticed is what's called member recognition. In order to qualify for that, you need to accumulate over 250 SB during your lifetime at the site. I haven't used this site very often and I've just recently started accumulating swagbucks, but not quite to the 250. It looks like there are different levels too, but I'm currently at a level called Quartz. Once I get to 250 SB, I will let you know if anything changes and what type of recognition that I could end up receiving. Now, let's take a look at some of the ways to earn swagbucks.
Answer
This will probably be one of the best and easiest ways to earn swagbucks and also probably one of the most frustrating. Answer is the survey area of this website. There are usually a lot of surveys available and the best ones for you to do are the ones that say they are 1 to 2 minutes long to complete.
Now for the frustrating part. I've reviewed other sites where you take surveys such as Crowdology, and unfortunately just about all of them will have surveys that you won't qualify for or be rejected from. Swagbucks.com is no different, mainly with the longer surveys. I've even tried one that was 8 minutes long and still didn't qualify for it.
This is what I call one of the biggest downsides to taking surveys online. Yes, you can make money from them, but it will definitely take you time and you won't make a lot from them just for the simple fact that you won't qualify for a big chunk of them. There's only one survey site that I recommend above all others and I've already reviewed it and will be talking more about it in the future.
If you do end up qualifying for some of the longer surveys, they do pay you a good amount in swagbucks. I see one of them offering 550 SB for an hour long survey. Not sure what the qualifications are for that survey, but if you do end up qualifying for it, you'll certainly be rewarded nicely.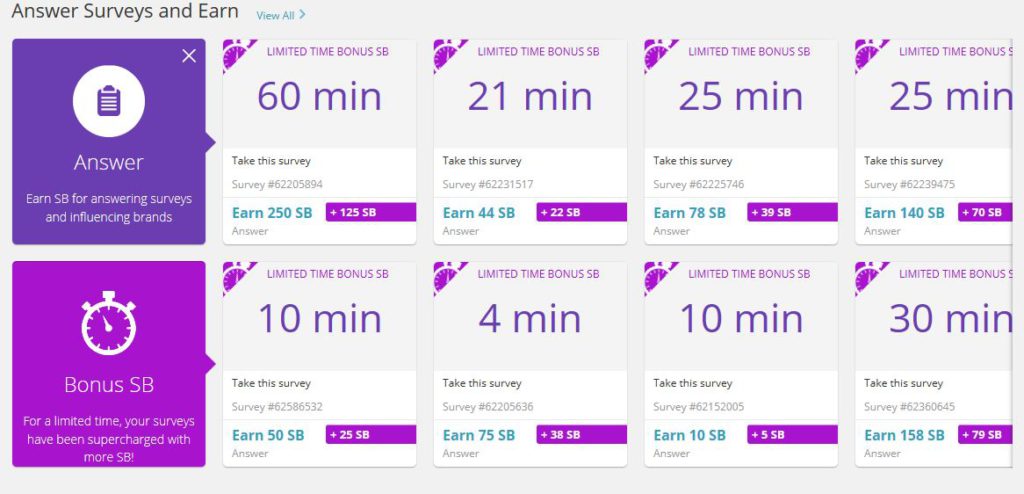 I'm glad that the surveys are not the only way you can earn swagbucks, but I think they are the ones that offer the most amount you could potentially earn and for free. Some of the other methods I'll be talking about allow you to earn swagbucks too, but in some cases, you'll have to spend money in order to earn some. More on that shortly.
Shop
This particular section of Swagbucks is just like it sounds. You shop in order to earn SB. In this particular case, if you buy products at the featured stores (online only), you'll end up earning SB. Now you won't generally earn a lot of SB for shopping, but if it's something you do online regularly, why not earn some SB while doing it?
Some of the online retailers that you can earn SB from are Kohl's, CVS Pharmacy, Disney+, Walgreens, The Home Depot, eBay, Lowes, and more. The offers tend to be anywhere from 1% to 12% cash back, which in this case means SB.
There are a few options if you really prefer shopping in store (though that might be tough today with what's going on). Some deals such as Maurice's, will let you earn 2 SB per $1 that you spend. In order to be qualified for that, you need to link your debit or credit card to your SB account and there is a section where they show you how to do that. From there, you just need to read the details of the offer and make sure you follow what they say and you'll be qualified to earn swagbucks.
If you want to shop in your area, there are even more deals that are localized for you. For example, using my zip code, it shows me a coupon deal for All Star Sports (a small outdoor theme park) where you can earn up to 49% off and earn 48 SBs. They'll also show you other deals available to businesses in your area where you can potentially earn a decent amount of swagbucks.
There are other deals in the shopping area you can check out as well such as savings at popular stores, featured coupons & promo codes, favorite cash back stores, recently added stores, and more. If shopping online is a big thing for you, this would be up your alley and you'll get rewarded for shopping through swagbucks.com.
Discover
Whenever you venture to this section, you'll see that it's loaded with offers which can earn you a significant amount of swagbucks, especially when you see what you can earn from the featured offers.
One example is an offer from a place called Revenue Universe. If you complete that offer, you'll earn a whopping 10,000 swagbucks. There's a catch though! Upon clicking on that offer to see what it's all about, I see that Revenue Universe has a bunch more offers inside of it that swagbucks themselves will reward you for completing these offers. If you complete all of them within in Revenue Universe, you'll earn all the swagbucks from those offers as well as the 10,000 swagbucks for trying out Revenue Universe.
This is where you need to be very careful though and this goes for a lot of the offers available in the Discover section of Swagbucks. A lot of these offers require subscriptions that can end up costing you money or have requirements on how long a particular app must be on your smartphone as well as actively used before you'll get those SBs.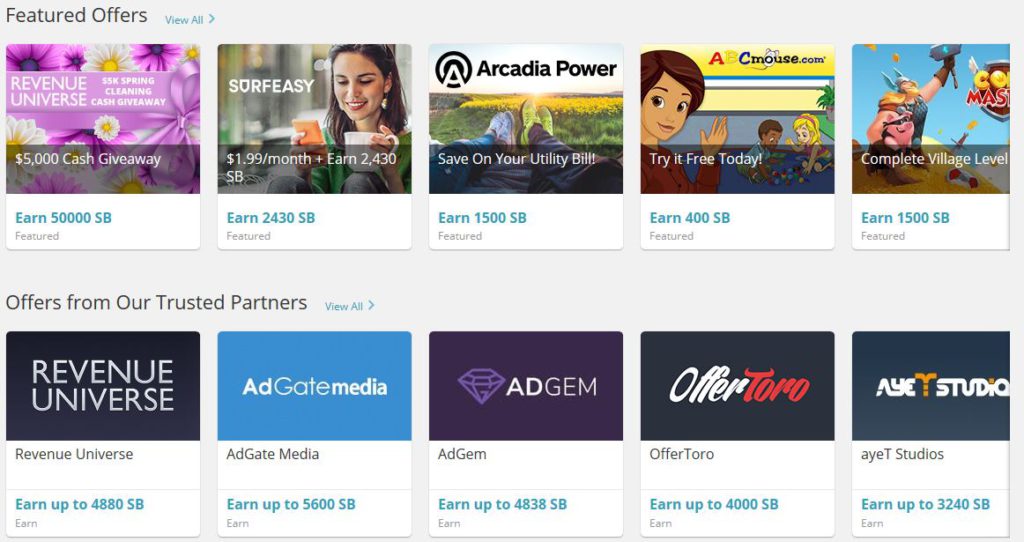 I've never been a fan of offer walls on sites like these because while you can earn a lot of points or money from them, you'll a lot of times end up spending money on what sometimes can be costly subscriptions. Sometimes there're more offers inside of offers that must be completed in order to get the reward and it honestly is just not worth it. If signing up for offers and trials is something you like to do, then this would be for you and the potential for you to earn a lot of swagbucks is high. For me personally, I tend to steer clear of offers.
Watch
This section I would say is another one of the easiest ways to earn SBs here, but you won't earn a lot of them. The most you'll earn is generally 1 to 5 SBs per section that you click.
This is basically the click to get paid area as you're shown ads or websites that you have to stay on for a certain amount of time in order to get rewarded. I don't mind doing these as usually you have to stay there for about 7 to 15 seconds and then you'll earn some SB.
I'm never obligated to try out or join anything that they are promoting, I just have to see what's being offered or shown and then get rewarded for it. There's nothing more to it and it's just something to pass the time and get rewarded for it. There's only a certain amount of these available per day so it's not like you can do hundreds of them, but even earning 1 or 2 SBs can help things add up quickly so I would definitely say this is an area you'd want to participate in.
Search
When you go to this area, you'll be taken to Swagbuck's search engine. There's nothing too special about it, but you can earn a few SBs here and there just by searching for things, much like you would do with Google.
I tried once recently and earned 1 SB just for typing in something to search. This won't happen all the time, but once in a while you'll get some earnings for just for doing what you already do at the bigger search engines. Swagbuck's search engine isn't entirely bad, but I still much prefer Google's.
Now they give you an option of making this your default search engine on most browsers so that when you click open a browser, Swagbuck's search engine will automatically pop up and it's a way to start earning some SB's quickly without having to go directly to the website.
Something I will have to say though about this particular search engine is that in a way, it can help you with research if you have an online business that you're running, in particular, a website. If you've read some of my other articles such as "Selling Printers Online", you'll have read about some of the techniques you can use to do research for that particular niche. One of the things I talk about is what's using the "alphabet soup technique" which means typing in the main item you're focusing on, let's say for instance an HP Printer. Then immediately after, you type the first letter of the alphabet and stop. Most search engines, especially Google, will then have a list of pop up of things related to the searching of HP Printer that start with an A. An example would be, HP Printer app, or HP Printer assistant. You get the idea. You can then go down each letter of the alphabet which will help you come up with content for your website.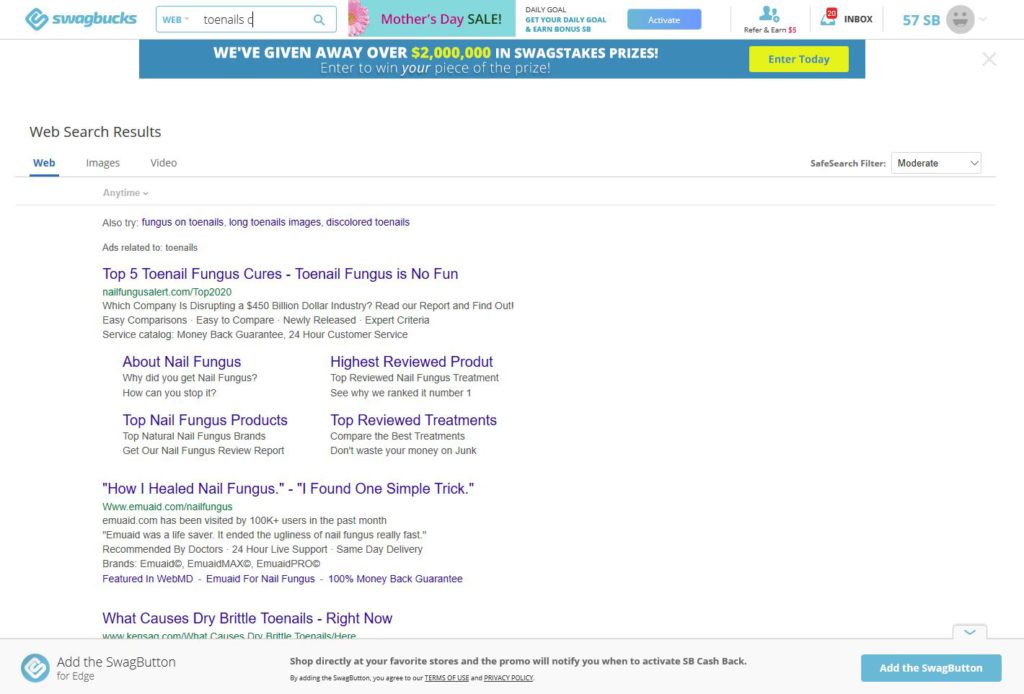 The reason I'm mentioning this is because Swagbuck's search engine allows you to use this technique as well and can be very helpful in that aspect. It won't give you as many options as Google's search engine, but still, the fact that it's there, make using their search engine useful and you can get rewarded for using it. In my opinion, that's a win-win situation.
Play
Last, but not least, we have this section called Play. It's where games are available that you can play on your computer or smartphone and earn some SBs.Some of the games are different types of Solitaire, to memory games, a version of Angry Birds, puzzle games, and more.
I have noticed though that some of them will only allow you to earn SBs for every dollar that you spend in the game. If you already spend money on in game purchases, this won't be a problem for you, but if you're one that doesn't like to do that, you're pretty much out of luck on earning SBs for those particular games.
Swagbucks.com does offer a few games where you can earn SBs without spending any of your own money in the game. One of those games is called Swag Memory and says you can earn up to 10 swagbucks. I'm sure you have to complete certain objectives in the game in order to get rewarded with the SBs, but it sure beats having to spend your money on in game purchases in order to earn them.
Is Swagbucks a Scam?
You no longer have to ask "what is swagbucks.com?", as I thoroughly explained what's inside and how you can earn and with that, I can say that Swagbucks is definitely not a scam as there are different ways you can earn swagbucks and then redeem them for gift cards or cash that can be sent to your PayPal account. Swagbucks.com is like other sites of this nature and you usually won't earn a lot of money. You might earn enough in a month to pay for a dinner or maybe even a bill if you're active with getting referrals.
As far as making a long term income that can replace a 9 to 5 job, that is something Swagbucks is not going to give you. It's only really good for earning a little bit of money in the short term and you have to spend a good amount of time at the site if you want any hopes of getting more than $20 or $30.
The surveys are hard to get qualified for and while they earn a generous amount of swagbucks, there's just no guarantee that you'll be able to do the surveys in order to get those larger rewards. Your best bet is to do the shorter surveys, in terms of length of time to complete, in order to get rewarded. They won't earn you as much, but they are much easier to qualify for and they don't take as long to complete.
If you're looking for something where you can build a long term business online, one that will allow you to live the lifestyle you've always wanted and where you can also leave a stressful day job that you might have, then there is a place that will allow you to do just that by teaching you and giving you the tools needed to make a thriving online business. You can read my review of that place here, and then sign up for free. Feel free to post your comments below and if you've had a lot of success with Swagbucks.com