Survey Club
Name: Survey Club
Website: https://www.surveyclub.com
Price: Free
Owners: Survey Club.com (Out of Denver, CO)
Overall Rank: 40 out of 100
Survey Club Overview
It's time to review another survey site and see if it's worth your time or is just like many other survey sites where you get rejected from a lot of surveys.
Survey Club's main specialty is surveys as its name suggests. They do have a lot of surveys available to take even when you first sign up, but the big question is will you get rejected from many of the surveys that you try out for. The surveys available have different monetary amounts that you can earn.
In this review, I will take a closer look at this site to answer the question, what is survey club about? I will take a look at the surveys available that you can participate in, the sign up process, how quickly you can earn money, seeing if there is a referral system, and more. First up though, we're going to take a closer look at the sign up process. Is it free to sign up or do you have to pay any money? Read on to find out.
The Sign Up Process
Signing up for Survey Club is easy and it is free to do so. If there is ever a survey site that you come across and it says you need to pay in order to participate in their surveys, then you certainly need to steer clear of it as it's most likely a scam. Is Survey Club a scam? Well, I will get to that in a bit.
Now when you first get to Survey Club's website and are interested in signing up, all you need to do is go to where it says "Create Your Account for Free and Start Making Money" and then type in your first name as well as your email address, agree to the terms and conditions and then click the "Join Now" button.
Once you do that, all you need to do is get their verification email, click the link in it, and then you're good to go. It really is that easy to sign up. Is there anything else to do as a beginner? Well, you'll want to make sure your profile is up to date as possible to try and ensure that you'll receive more surveys that are tailored to your interests.
After you get all of that done, you're now fully ready to participate in all that the site has to offer. We'll now look at the type of surveys that are offered and what type of rewards or money that can be earned at this particular survey site. Will it be worth your time or is it just like other survey sites out there? Read on to find out.
The Surveys
There are a few options to choose from whenever you log in. There's an option for you to see how survey club works, survey panels, available studies, take a survey, and refer a friend. If you want to jump right in and start doing surveys, you can click the take a survey option, and it will immediately take you to a survey that you can try out for.
If you want to see what surveys are available to take, you'll want to click on the available studies option. That will take you to a large list of surveys which will let you know the type of surveys available as well as the potential length of them and how much you could possibly get paid for taking them. Not all of them will list a potential amount, but they usually have a general time length for the survey.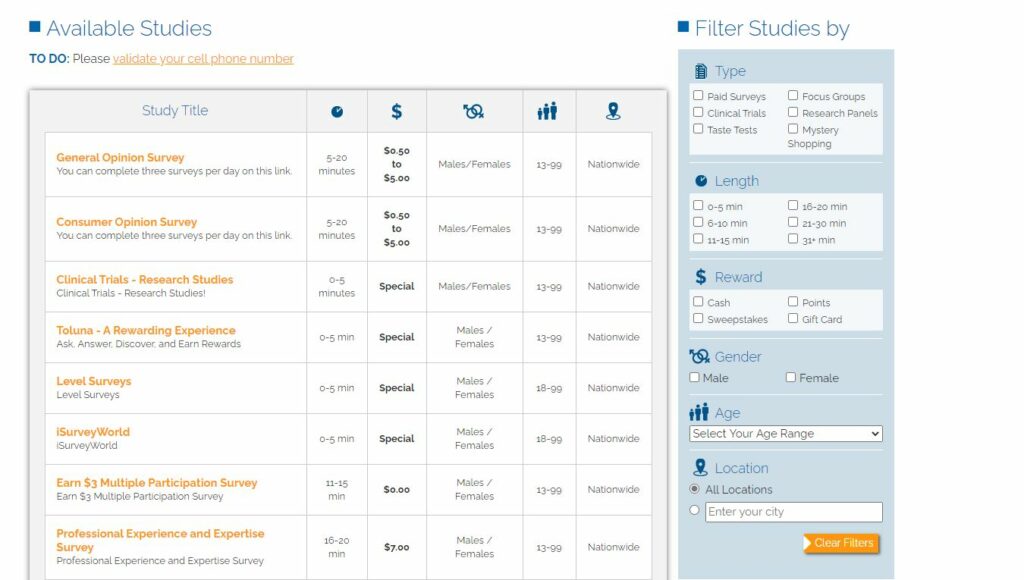 Some of the surveys available do have certain requirements. For example, there are some that want you to use a desktop or laptop only and do not want you to use a mobile device. Others have an age requirement and some are even for clinical trials or research studies. It's up to you to decide which one is best for you. You'll usually have a number of them to choose from, so if one doesn't work out, you can always choose another.
This brings me up to my next point with the surveys available at Survey Club. A lot of the surveys available are similar to the ones at other sites such as Survey Junkie or InBoxDollars and what I mean by that is that a lot of the surveys you try out for, you won't always be qualified to complete them. This tends to be the downside with most survey sites out there. You might get a ways into the survey, answering a number of questions, only to find out you're not qualified to proceed any further. Sadly, Survey Club does not give you any compensation for the time you gave to that survey and ended up being disqualified.
Now you might be asking, "Well what about the ones I do get qualified for? How much can I get paid and what threshold do I have to meet before I can cash out?". Those are good questions and I'm going to get into that next.
Earnings At Survey Club
Now as for what you can potentially earn at Survey Club, it depends on what kind of survey you take and even the length of it. You could earn a few dollars for a completed survey or $0.50 which is probably the lowest amount I've seen at that site.
In order to cash out, you need to reach a $25.00 threshold. It may take awhile because it depends on whether you get qualified for a survey that you try out for as well as how much you end up getting paid for completing the survey. Remember, the lowest amount is $0.50 and this also seems to be the most prevalent amount you'll get paid for completing surveys.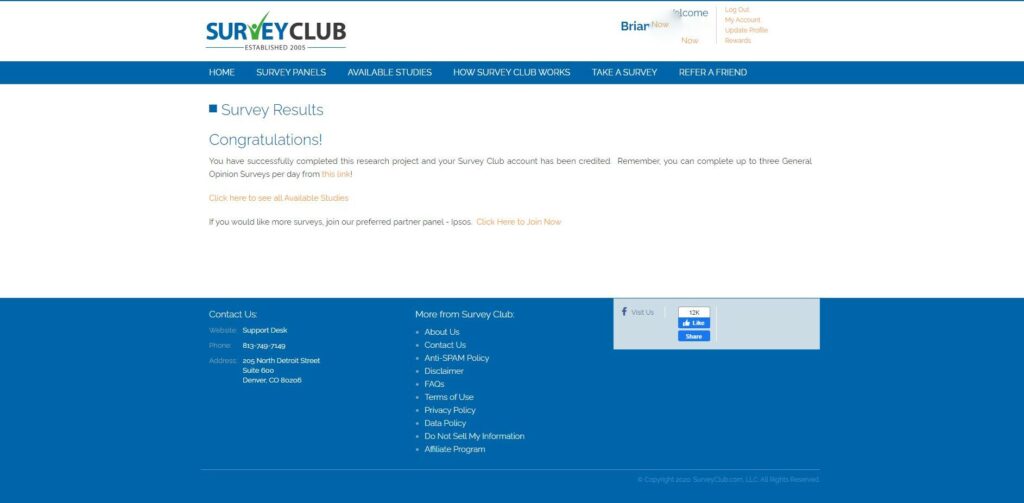 If you're able to reach the cash out threshold, it seems that the only way of redeeming cash is to turn them into Amazon gift cards. I have not seen anything to where you can send it to PayPal or even your bank.
Survey Club does also give you the option of trying out other third party research panels where you can earn cash, gift cards, be entered for drawings and more. Personally, I prefer to just focus on the surveys that's available at Survey Club. I think it just gets tedious when you try to do too many survey panels, but to each their own.
Is Survey Club Worth The Time Or Is There Something Else That's Better?
Survey Club is just like a lot of other survey sites. You'll end up spending a lot of time trying to complete surveys only to find that on quite a few of them, you won't be able to qualify for them. This will be a big time waster in my honest opinion. You won't be rejected from each survey that you try and having your profile completed will certainly help increase the odds that you'll qualify for one.
As I said earlier, the lowest amount you'll be paid for completing a survey is $0.50 and those type of surveys do seem to be the most abundant at Survey Club. There will definitely be a few that will be worth more, but it also depends on the length of the survey as well. The longer the survey, the greater the potential to earn more money.
With all that being said, Survey Club is definitely not a scam, but you won't earn a lot of money from it and you'll end up wasting a lot of time trying to complete the surveys and end up being disappointed at being disqualified from a lot of them. Are there any other survey sites out there that are better? The answer is yes and you can read a recent article of mine where I list my top survey sites.
One of those survey sites will actually give you a little compensation for being rejected for any survey that you try out and therefore, makes it far better than Survey Club.
There is one survey site that I rank above all others and that is Paidviewpoint.com. You'll never be rejected from a survey there and each survey will always pay you. A majority of them though pay $0.10, but the more surveys you participate in, the higher the likelihood you'll get access to higher paying surveys.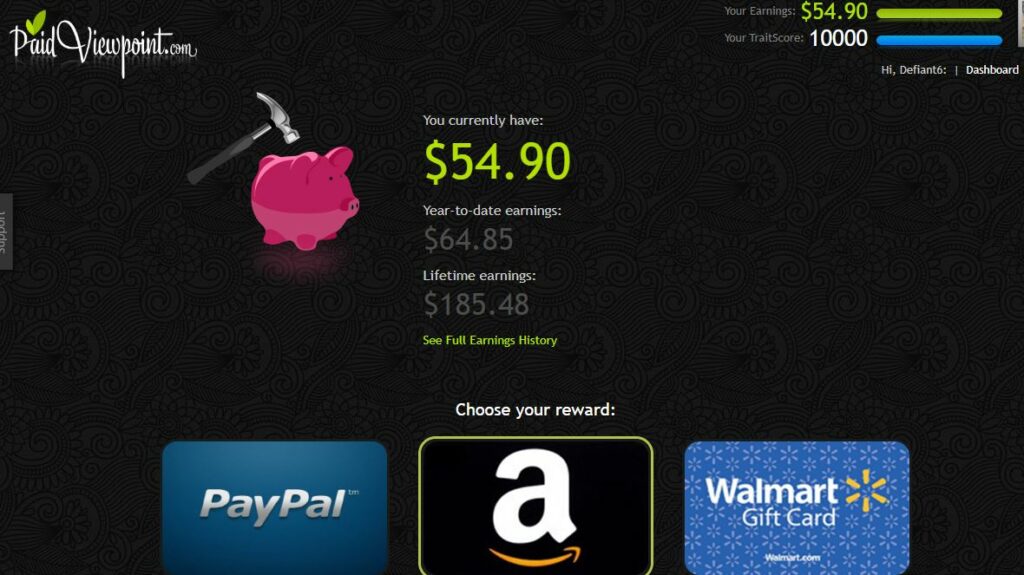 I've earned nearly $200 to date and they have a pretty decent referral program where you can earn more money. This is the survey that I recommend above all others.
Will Survey Club and other Survey Sites make You Wealthy?
A lot of people might be wondering if you can become wealthy or develop a long term and scalable income with survey sites. I can tell you a quick answer to that, and it is definitely no. In order to earn money from these survey sites, you have to spend time to complete them, you can't make money in your sleep from the survey sites if you're not participating in them.
This might bring up another question of whether or not it is possible to make a decent income online at all, one where it can give you the potential to quit your job. The answer to that is definitely yes. One of the best ways to make that happen online is to participate in what's called Affiliate Marketing.
Affiliate Marketing will give you a long term income that can always be scaled and also gives you the great potential to earn money while you sleep which is something that a lot of people dream of.
The concept of Affiliate Marketing is simple, but it does require you to put in the work and the time in order to be successful at it and build a long term and full time income. The nice thing about Affiliate Marketing is you can put in the work early on and get paid for it later.
One of the best places that will give the tools and the training on just how to do all of that is called Wealthy Affiliate. In my opinion, it's possibly the best place online to learn how to build up an Affiliate Marketing Business. Go and read my review of Wealthy Affiliate and sign up, as there is a free version and you'll get full access to everything for 7 full days. Trust me, you'll be glad you took a look at it and what it has to offer.
Check out the video below for a more visual presentation of Survey Club. If you've tried out Survey Club before, feel free to post your comments below.