InboxDollars
Name: InboxDollars
Website: https://www.inboxdollars.com/
Price: Free
Owners: N/A
Overall Rank: 55 out of 100
InboxDollars Overview
I'm back and ready to review another free make money online site to see if it's worth your time. So, is InboxDollars a scam or legit? That's what I'm going to answer today. InboxDollars is similar to other sites such as Swagbucks in that there are multiple ways to earn some money.
You can earn money from doing surveys, watching videos, playing games, completing offers and even from referring others to the site. There are even scratch and win games which are very similar to scratch off lottery tickets except here, the cash prizes are a bit lower. In fact, when I signed up, I immediately got to play one where I ended up winning two cents. As you can see, at least right off the bat, you don't win very much, but I'm sure as you get more usage from the site, the cash prizes might increase in value.
We're going to be taking a look at the sign up process, what it takes to get surveys that you'll more than likely be able to complete and are less likely to get rejected from, as well as take a closer look at some of the other ways I mentioned you can earn money from and see if they're actually worth your time. Without further ado, let's get into it!
Joining InboxDollars
Signing up for InboxDollars is completely free and should be the first thing you do when you go to their home page. All you need to do is first provide your email address and then choose a password and confirm it. Once you're done with that, you just need to click the Sign Me Up button, which also confirms that you've read the terms and conditions, and then you'll just need to confirm your email address, by clicking the link in the confirmation email that they send you.
After you confirm your email, you're ready to fully set up your profile. This is very important because of the surveys that are offered here and you want to be sent surveys that you're likely to be accepted to completing instead of being rejected from them. This unfortunately is the sad reality of a lot of survey sites. They do offer a lot of surveys, but quite a few of them you'll end up being rejected from.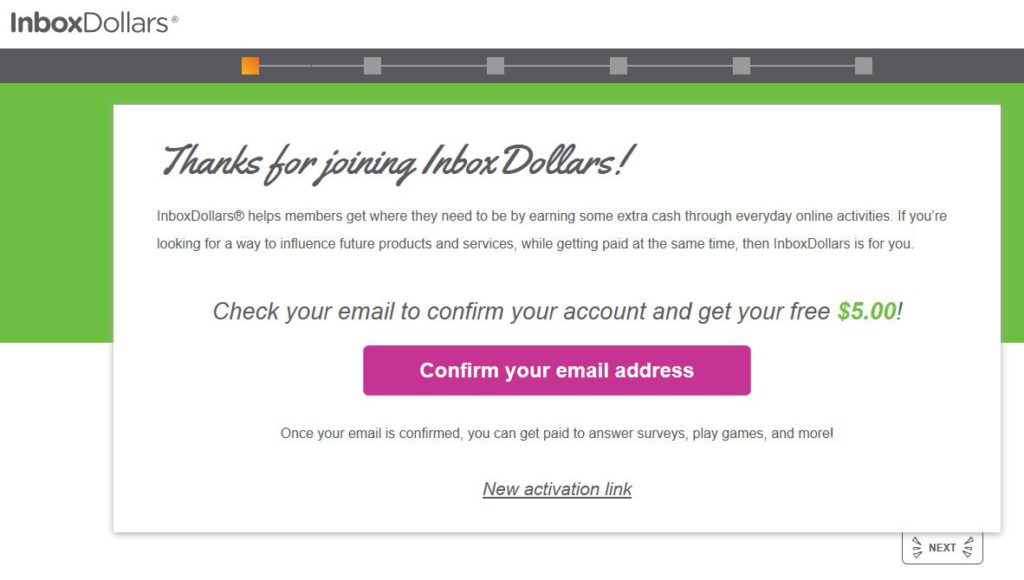 You will get a free $5.00 bonus for signing up to InboxDollars which will help you towards reaching the threshold needed before you can cash out. What's nice about InboxDollars is that you earn actual cash and not points that you'll have to accumulate in order to turn them into cash. I recently reviewed SurveyJunkie and while they are just mainly a survey site, they offer a point system in which each point is worth a penny and every 100 points is equal to $1.00. That's fine and all, but I'd rather just earn straight up cash.
Now that we've gone over the sign up process is time to take a good look at the insides of InboxDollars as we want to see what exactly you can do there to earn money. Can you earn hundreds of dollars or is it more realistic to earn a few dollars here and there? Let's find out!
InboxDollars Dashboard and Surveys
If you decided to give InboxDollars a try and have completed the sign up process, you're ready to move on to the earn money stage. Once you log in to your account, you'll immediately be taken to the main dashboard page. At first glance at the top, you'll notice a list of things to do from left to right which can earn you some money.
Right below that you'll see some surveys tailored specifically towards you that might be available. You won't earn a ton of money for completing surveys here as a majority of them will earn you $0.25 a piece. Some will earn you $0.50 and a tiny few will be higher such as $1.00 to $1.50. So far, I haven't seen anything available that's higher than $1.50.
You can click surveys at the very top of the dashboard and it will bring you to the specific survey section of the site where you'll see more surveys that are available for you to try out. It's always being updated and they try to send you surveys that are geared towards you, but there's still the chance you can be rejected from taking them as I said earlier.
I've done only a few surveys so far and they've lasted about 15 minutes each. I ended up earning $0.25 for completing them. Other than that, there's not much else to the survey section of InboxDollars. The surveys will be among the easiest ways for you to earn money, but could also be the most time-consuming. There is another section that offers a much greater potential to earn a lot more than what the surveys offer, but there's a catch too and we'll take a look at that next.
Offers
This section has a wide range of offers for you to choose from, some that are free and others where you'll have to become a member or pay a monthly subscription in order to get the cash rewards. If you're just starting out, you'll more than likely want to give the free offers a try first just to get your feet wet so to speak.
The free offers will generally earn you anywhere from $1.00 to $5.00 or more. A lot of the free offers will let you try free samples of products and usually don't cost you anything. There's even an offer where you receive free McDonalds samples and it will earn you $1.50.
There are some offers there that say you can get a $1,000 gift card of some kind after completing a short survey, but I would be a bit leery of those. They may say it's free, but usually you'll have to complete another set of offers to get that gift card and those offers could actually end up costing you some money as they might be similar to the other offers at InboxDollars where you have to have a subscription of some kind.
Outside of the free offers, there's those that offer much more such as Varo bank, which is an online bank and if you open an account with them, you'll earn $15.00. There's Liberty Mutual where if you open an auto insurance policy with them, you'll earn $50.00. These are just some examples and if you don't mind spending some money trying out these offers, they can be very lucrative in what you can earn.
Videos
When you visit this section of InboxDollars, you can earn some money just by watching short videos. I will tell you though, you won't earn very much from watching them as each video generally offers no more than a penny or two. If you do decide to watch these videos, you need to make sure that you have a pop blocker disengaged as the videos will pop up in another tab.
The type of videos that are available to watch do vary, but they range from different ads, to things about travel, cooking recipes, and more. Some of the videos do require you to watch more than one of them before you're credited and there's usually a timer that will count down before you can proceed to the next one.

The first time I tried watching one of them I had to proceed through 9 different videos and ads before I would get paid and all I earned was one cent. In my honest opinion, the video section is not worth your time. If you want to collect pennies for watching them, that's up to you, but in my opinion, the surveys are better because at least they're generally worth a quarter and they add up much faster.
There's usually about 15 to 20 twenty videos available at any given time so it's up to you if you want to go through and watch them all. You'll always want to check back into this section each day as they will usually add more of them.
Shopping
If you love to shop online, this section is for you! There are a lot of retailers that they have available where you can shop at and you'll usually get some cash back for shopping with them. I personally haven't used this method as I don't shop online a lot, but it's nice to know that they have this option available.
Some of the retailers they have available are Macy's, Best Buy, JC Penny, Advance Auto Parts, Barnes and Noble, AT&T and more. A lot of them will offer at least 2% cash back, but some do offer a higher amount. FTD flowers will give you 15% cash back, up from 10%.
In some rare cases, retailers will sometimes give you back a more specific cash amount. I've just noticed that AT&T internet and TV will give you back $39.25 while their wireless portion will give you up to $37.50 cash back. It probably all depends on what type of services you sign up for with them, but I don't think that's too shabby.
I have noticed that there are a few retailers from their list that are not offering cashback. Not really sure why this is, but the few I've seen are Target, Barnes and Noble, Sam's Club, and Sears. Still, if you like shopping at those retailers online, you certainly can, just don't expect to receive anything back from shopping at those places.
Coupons
This section lets you print a number of different coupons that you can use whenever you go grocery shopping. You can earn up to a quarter a day just by printing and using the coupons. As you can see, you won't earn a lot here, but hey, who doesn't mind using coupons to save when you're out grocery shopping?
They usually have a lot of different coupons available and it will let you know much in available savings from these coupons are available. On the day that I checked out this section, they had over $183 in savings from those coupons. Depending on the product, you can save anywhere from $1.00 up to $4.00. I saw a coupon recently that allows you to save $3.00 when purchasing Right Guard Xtreme Defense and Dry Deodorant.
Some of the other coupons I've seen had to do with Aleve (headache medicine), Garnier, Gold Bond, Drano, Tylenol, and more. They usually add coupons daily and there's a whole list of them so you can definitely pick and choose which ones are right for you, based on what you like to buy.
The Rest Of The Dashboard
There are a few other things available that can earn you some money. There are games available for you to play, and there are leader boards for a lot of them as well, but it doesn't say how much, if anything, you can actually earn playing those games. I usually shy away from those as I feel they just aren't worth my time.
Next up we have what's called Easy Cash and this section just basically has the easiest things listed for you to complete in order to earn money. Usually these are offers available and mostly the free offers, but there are a few of them that aren't free, but shouldn't end up costing you a lot of money. They also have a list some of the videos you can watch to earn a tiny bit of money.
There is a search option on the dashboard, meaning you can search for things online, much like you do with Google, and earn a little bit of money that way. It varies how much you can earn and when, but it's something at least. It seems very similar to the one that they have on Swagbucks.
Last, but not least, we have a section called Refer Friends. This is the area where you can refer others to InboxDollars and get paid for it. You have multiple ways that you can refer others such as social media, email, a direct affiliate link, and a few other ways. As long as the people are active, you can earn up to 30% of their lifetime earnings. This might be another way to earn some decent money, with even the potential to earn a little bit more than the activities themselves inside InboxDollars. It does depend how active they are on the site though.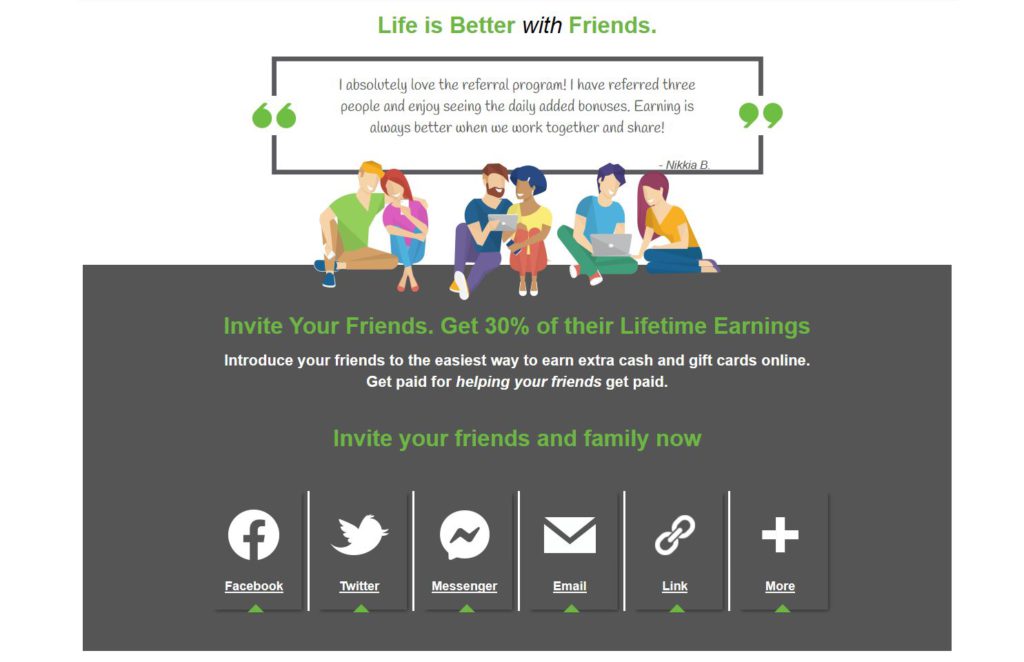 Now in order to cash out what you've earned on InboxDollars, you need to reach a $30 threshold. This can be quite easy to do if you just do some of the larger offers available or it could take a bit longer if all you do is the surveys, shopping, and watching videos. The refer friends section can definitely help you out depending on how good you are at referring others to the site.
Is InboxDollars a Scam?
Is InboxDollars a scam or legit? I can definitely tell you that it is not a scam and you can earn money at this site. I will tell you though that if you are hoping to use this site to try and earn money to where it can replace a full time income from a traditional day job, you're going to be very disappointed.
InboxDollars is good for earning a little bit of money in the short term as you usually have to trade up time to earn money here and depending on how much time you spend there, you might earn enough each month for a nice dinner or to help pay a bill, but that's about all.
If you're looking for something to where you can earn a full time income online, you're better off staying away from sites like InboxDollars. There is a place online that I highly recommend which will teach you how to build a thriving online business to where you can live the lifestyle you've always wanted and which will allow you to eventually leave a full time job. You can read my review of that particular place here and then sign up for free.
I've posted a video below that'll give you a more visual overview of InboxDollars. Have any of you tried out InboxDollars? If so, feel free to post your comments below and tell us about your experience with them.