It has been awhile since I've talked about phishing scams, mainly the ones you receive in your email's inbox. Believe it or not, I hadn't received any for quite awhile. That all changed a few days ago when I was on a small vacation and happened to check my email and so I wanted to go over the latest examples of phishing scams.
I noticed that I had what appeared to be official emails from a certain company that deals with the exchange of money. My mental red flag alert though started engaging when I read the titles of those particular emails. I will go over those emails, what to look for, how to avoid them, and then how to report them.
PayPal Phishing Scams Return
Believe it or not, it has been quite awhile since I've received an email from PayPal. Let me rephrase that. It has been awhile since I've received a PayPal phishing email scam. The last time I had received any, at least in my official Inbox and not in the spam folder, was all the way back in June.
Now I've talked about a number of other PayPal Phishing scams that I've received in the past such as what to look for when determining the email is fraudulent, why you should never click on any links in the email, and what you can do to actually notify the real company of phishing emails that are going around. You can read about how one of those phishing emails nearly got me by clicking here.
It's very scary how many of these type of scams are circulating through email and even scarier when a lot of people end up becoming victims of these scams which can be damaging to them financially or even have their identity stolen. That's why I try to go over these type of email scams as much as possible so people know how to spot them as well as avoid becoming a victim. Now let's take a closer a look at a few of the PayPal phishing emails that I've received this month.
PayPal Phishing Email Number One
I had received this particular email back on September 4th. What made me suspicious of this email was the title of it and it says that my account information has been changed. It also had other, weird information in brackets in the email title and then said that for security precautions, they need more informations from me. Keep in my mind, I haven't even gotten into the body of the email yet and there are already things that have set off internal alarms of this email being a scam.
I'm now ready to take a look at what the main part of the email says and already I see the PayPal logo inside, but I still know that this is definitely not from PayPal. Here's what the email says:
"Dear Client,
Suspicious Activity on Your Account
Your Account information has been changed. [ Billing or Shipping Address ] As our security precautions, we need more informations from you. Your account has been limited until you provide some additional information.
PIease login into your Account and review your activity by clicking link below:
https://paypal.com/login?
Your action is required to help us to protect you PayPaI account securely."
I took away the actual link from inside that email because I don't want anyone clicking on it as it definitely WON'T take you to PayPal. It will most likely take you to a site that is designed to look similar to the real PayPal site, but I can definitely assure you that it is not PayPal.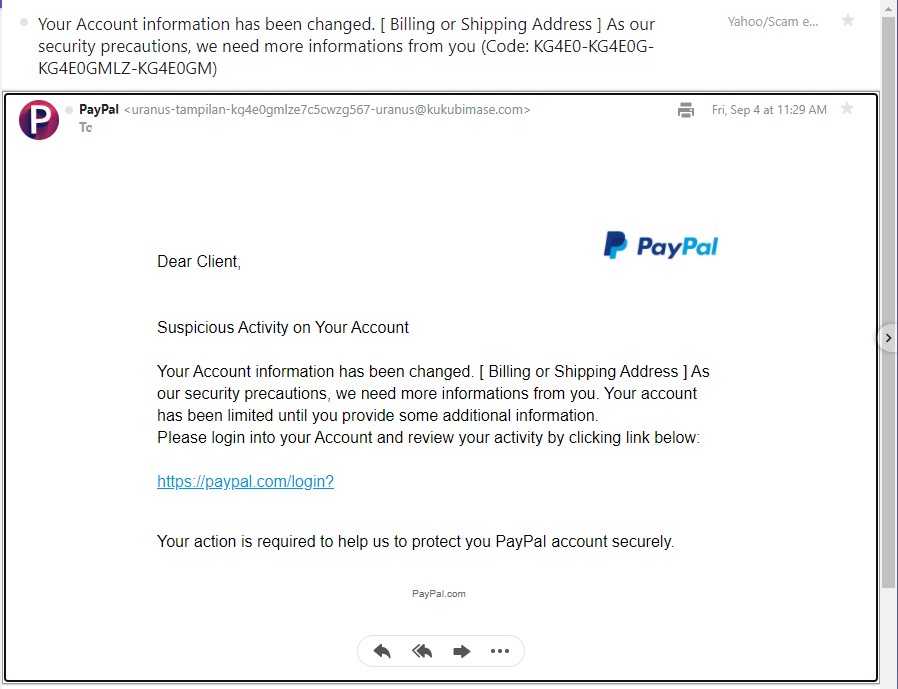 What can happen if you try to log in to that fake website with your real PayPal login credentials is that they will likely record that information, log into your real PayPal account and then start doing some damage to your account especially since it can be linked to your bank account or debit card.
As for the main part of that email, did you spot anything that could alert you to the email being fraudulent? If not, don't worry as I will go over that here shortly. Now it's time to take a look at a second phishing email that's also supposedly from PayPal.
PayPal Phishing Email Number 2
This second email that I received was actually in my spam folder, but I will tell you that this one can be a little tricky because it uses something that PayPal (service@paypal.com) actually does and sends to you usually when there is a transaction of some sort on your account.
The best thing to do in this instance is to try to remember when you last did a transaction on your PayPal account and if you're not sure, you can always log in to your account and check the date of the last transaction. In this case, the heading of the email is what alerted me that the email is more likely a scam.
The heading said that my account has been suspended. The reason that a lot of scammers use that heading is because they want you to panic or start worrying about why your PayPal account is suspended and while you're in that mode, you are more than likely not going to notice certain things that should alert you to the email being a scam.
Now I know I hadn't done anything for my actual PayPal account to be suspended so I knew immediately it was a scam. Still, I wanted to see what the body of the email actually said and when I read it, I immediately laughed because what the email said was definitely not true. Let's take a closer look at that email.
"𝖣𝖾𝖺𝗋 𝖢𝗎𝗌𝗍𝗈𝗆𝖾𝗋,
𝖸𝗈𝗎𝗋 𝖯𝖺𝗒𝖯𝖺𝗅 𝖺𝖼𝖼𝗈𝗎𝗇𝗍 𝗁𝖺𝗌 𝖻𝖾𝖾𝗇 𝗍𝖾𝗆𝗉𝗈𝗋𝖺𝗋𝗂𝗅𝗒 𝗋𝖾𝗌𝗍𝗋𝗂𝖼𝗍𝖾𝖽. 𝖶𝖾 𝗁𝖺𝗏𝖾 𝖿𝗈𝗎𝗇𝖽 𝗌𝗎𝗌𝗉𝗂𝖼𝗂𝗈𝗎𝗌 𝖺𝖼𝗍𝗂𝗏𝗂𝗍𝗒 𝗈𝗇 𝖼𝗋𝖾𝖽𝗂𝗍 𝖼𝖺𝗋𝖽𝗌 𝗅𝗂𝗇𝗄𝖾𝖽 𝗍𝗈 𝗒𝗈𝗎𝗋 𝖯𝖺𝗒𝖯𝖺𝗅 𝖺𝖼𝖼𝗈𝗎𝗇𝗍. 𝖸𝗈𝗎 𝗆𝗎𝗌𝗍 𝖼𝗈𝗇𝖿𝗂𝗋𝗆 𝗒𝗈𝗎𝗋 𝗂𝖽𝖾𝗇𝗍𝗂𝗍𝗒 𝗍𝗈 𝖼𝗈𝗇𝖿𝗂𝗋𝗆 𝗍𝗁𝖺𝗍 𝗒𝗈𝗎 𝗈𝗐𝗇 𝗍𝗁𝖾 𝖼𝗋𝖾𝖽𝗂𝗍 𝖼𝖺𝗋𝖽.
 
𝖳𝗈 𝗆𝖺𝗂𝗇𝗍𝖺𝗂𝗇 𝖺𝖼𝖼𝗈𝗎𝗇𝗍 𝗌𝖾𝖼𝗎𝗋𝗂𝗍𝗒, 𝗉𝗅𝖾𝖺𝗌𝖾 𝗉𝗋𝗈𝗏𝗂𝖽𝖾 𝖽𝗈𝖼𝗎𝗆𝖾𝗇𝗍𝗌 𝗍𝗁𝖺𝗍 𝖼𝗈𝗇𝖿𝗂𝗋𝗆 𝗒𝗈𝗎𝗋 𝗂𝖽𝖾𝗇𝗍𝗂𝗍𝗒.
𝖠𝖿𝗍𝖾𝗋 𝗒𝗈𝗎 𝖼𝗈𝗆𝗉𝗅𝖾𝗍𝖾 𝗍𝗁𝖾 𝗋𝖾𝗊𝗎𝖾𝗌𝗍𝖾𝖽 𝗍𝖺𝗌𝗄, 𝗐𝖾 𝗐𝗂𝗅𝗅 𝗋𝖾𝗏𝗂𝖾𝗐 𝗍𝗁𝖾 𝖺𝖼𝖼𝗈𝗎𝗇𝗍 𝖺𝗇𝖽 𝖼𝗈𝗇𝗍𝖺𝖼𝗍 𝗒𝗈𝗎 𝖺𝖻𝗈𝗎𝗍 𝗂𝗍𝗌 𝗌𝗍𝖺𝗍𝗎𝗌 𝗐𝗂𝗍𝗁𝗂𝗇 𝟧 𝗐𝗈𝗋𝗄𝗂𝗇𝗀 𝖽𝖺𝗒𝗌.
𝖳𝗁𝖺𝗇𝗄 𝗒𝗈𝗎 𝖿𝗈𝗋 𝗒𝗈𝗎𝗋 𝖺𝗍𝗍𝖾𝗇𝗍𝗂𝗈𝗇 𝗍𝗈 𝗍𝗁𝗂𝗌 𝗉𝗋𝗈𝖻𝗅𝖾𝗆."
I will have to say, after reading that email, it definitely looks like it could be legitimate as there aren't any of the red flags I will talk about here in a bit, that would alert you to this message being fraudulent. Now with that being said, something gave it away specifically for me that this email is definitely not from PayPal.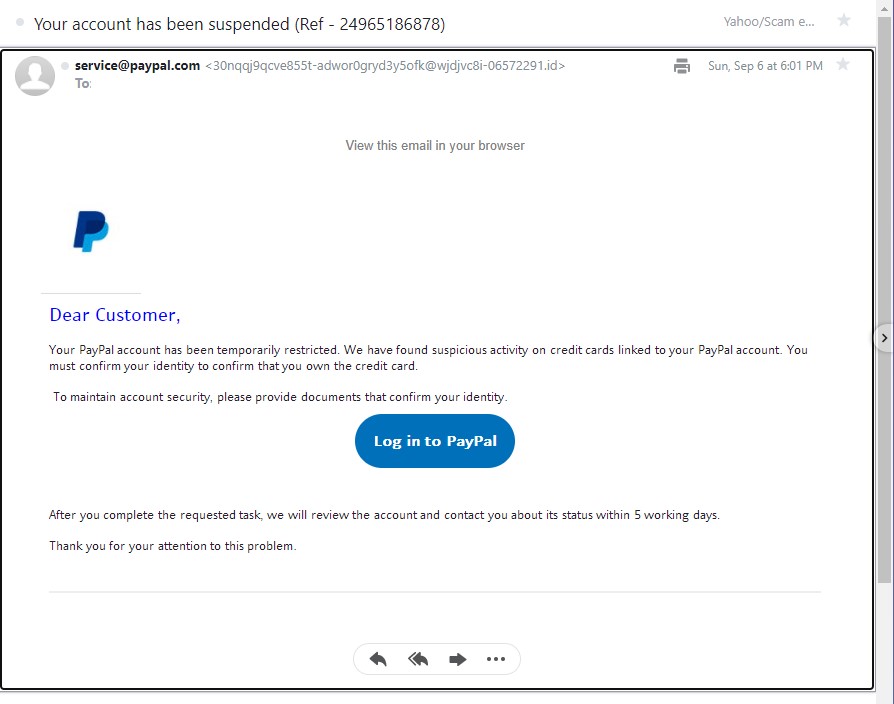 It says that they found suspicious activity on credit cards linked to my PayPal account. This is what caused me to laugh because I definitely don't have any credit cards linked to my PayPal account so because of that, I knew it was a scam.
Red Flags Letting You Know The Email is a Scam
There are warning signs or red flags to look for that will let you know whether an email is a scam or not. In regard to the first email, what gave it away were spelling errors. The title of the email said that they need more informations from me. Notice how they spelled information? They added an s at the end of it which doesn't make any sense. Keep in mind that this is just the title or header of the email.
Going into the body of the email, you see that once again, they say that they need more informations from me. Why would you continue to make the same spelling mistake? The scammers are just making it more apparent that this is a scam email and that they are trying to get your valuable PayPal login information.
Now as far as the second email is concerned, there aren't any spelling errors of this kind and so it might be a bit tougher to tell that the email is no good. This email also uses a PayPal logo to make it seem like it is legitimately from PayPal. There is one thing though that will almost always let you know whether an email is fraudulent or not especially if there are no grammatical or spelling errors.
You'll always want to check the email address of where the email came from. I know I've talked a lot about this in my past articles of phishing emails, but it is always important that I put a major emphasis on this because I don't want anyone to become a victim of these type of emails. Here's the email address of the first email:
"uranus-tampilan-kg4e0gmlze7c5cwzg567-uranus@kukubimase.com"
Does that look like a legitimate email address from PayPal? No it doesn't, not even remotely close to looking like something from PayPal. A legitimate email address from this company will almost always have @PayPal.com in the email address. Let's take a look at the email address of the second phishing email:
"30nqqj9qcve855t-adwor0gryd3y5ofk@wjdjvc8i-06572291.id"
As you can see, it's almost similar in length to the email address from the first email, but it still does not have @PayPal.com in the address. This should always be your first line of defense when it comes to phishing emails. The email address that an email comes from will almost always give away an email being a phishing scam.
Another thing to look for in an email is how it is addressed to you. A legitimate email should generally address you by your name. In this case, none of those emails do. They either address me as Dear Customer or Dear Client. You'd think that a company you have an account with would actually address you by your first name.
How To Report Phishing Emails
There is a way to report phishing emails to the actual legitimate companies that these emails are mimicking. That way, those legitimate companies can try to take action against these fraudsters and to protect their clients from becoming victims of these emails.
You'll usually be able to forward these phishing emails to a specific email by PayPal. To learn more about what PayPal talks about and how to take action when coming across phishing emails as well as suspicious sites and even texts, click here.
Now that you know some of the latest examples of phishing scams and what to do if you come across an email that doesn't seem legitimate, you can protect yourself from becoming a victim and sending them off to PayPal if you actually receive PayPal phishing emails. Other major companies such as Netflix, Apple, and Amazon have similar things setup so that you can also forward fraudulent emails to them. Don't be afraid to share this information with others as well as we want to protect as many people as possible from becoming a victim. Do you know of someone who has fallen for these fake emails? Feel free to post comments below.