Survey Sheep
Name: SurveySheep
Website: https://www.surveysheep.com/
Price: Free
Owners: Unknown
Overall Rank: 20 out of 100
Survey Sheep Overview
Survey Sheep is a website a little different from other survey sites out there. Instead of giving you a list of surveys to try out for yourself and get paid at the site, they instead give you a large list of different survey companies that you can click on, sign up, and then get paid for doing and completing surveys at those sites.
This won't be a big review like some of the other survey sites I've reviewed in the past. I'll take a closer look at the sign up process as well as what's available at the site and whether it really is worth your time. Can you get paid a lot from this site? Read on to find out.
What Survey Sheep is all About
Survey sheep is basically a site designed to give you a list of different survey sites out there on the internet that you can sign up for individually and get paid at that particular site instead of Survey Sheep itself. I personally thought it was going to be like other survey sites such as Survey Junkie or Crowdology, but it's not.
The sign up process is easy, but a little strange. You just fill out your first name, email address, choose a password, input your date of birth and then you'll click the sign up button. They'll then send you a confirmation email, but you'll have to copy and paste the address they give you inside the email because it's not clickable.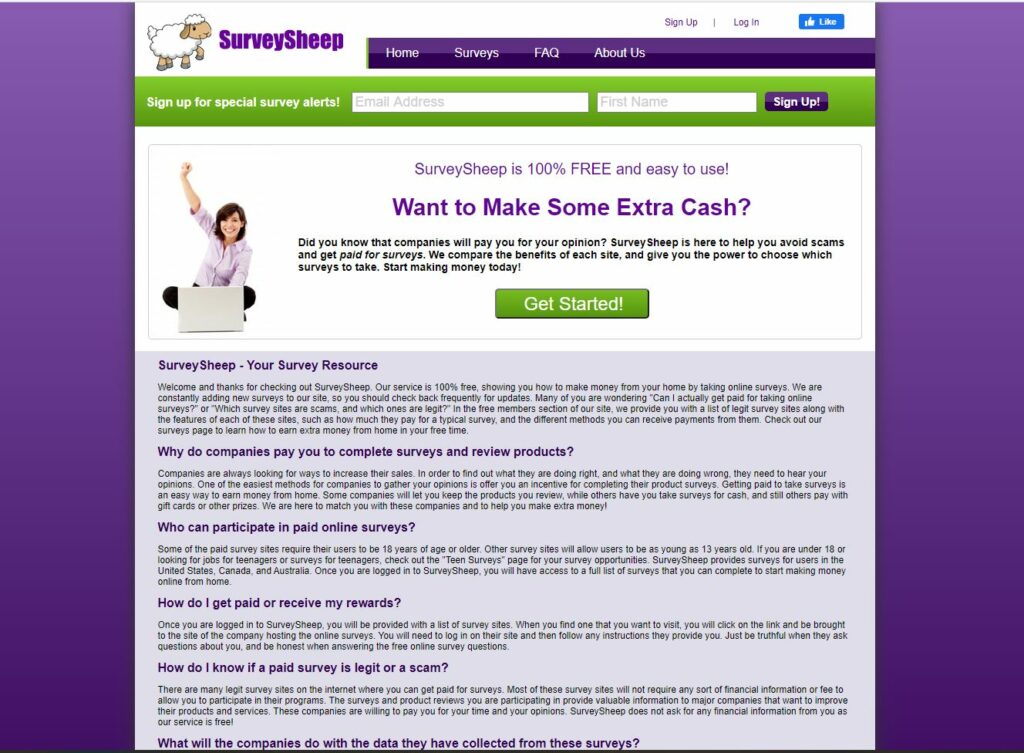 Once that is done, you can update your profile, but here is why I say it's a little strange. Survey sheep says that they'll send you survey panels that will best fit you according to your profile, but all your profile consists of is just your email address and your first and last name. There's no where to put your interests or hobbies. I don't quite understand this especially since they say they want to best match survey panels that will fit with you.
You'll have to go back to survey sheep itself once you've completed and updated (your practically nonexistent) profile. After you log in, you'll see three different sections at the top that say Top Surveys, New Surveys, and Popular Surveys. Again, these aren't actually surveys themselves, they are actually lists of different survey panels you'll have to sign up for individually.
Lists of Survey Panels
Like I said above, Survey Sheep only has lists of Survey panels/sites that you sign up for and participate in surveys. The site of Survey Sheep doesn't actually have surveys at its site to complete.
Some of the survey panels listed, I've reviewed before such as Survey Junkie and Inbox Dollars. There are other ones with names such as eSurveySeeker, Survey Voices, Survey Queen, iSurvey World, eSurvey Seeker, Nielson, and more. I have not tried any of those survey panels, but may do so in the future just to see what they offer and if they are worth your time.
I do like the idea of different survey sites available in more of a centralized location as there are lots of them out there and it seems like Survey Sheep does try and update their list with any new survey panels that might pop up as well as have the most popular ones listed.
Now I don't know for sure how often these lists are updated so you might just want to check back from time to time to see if there are any new ones listed and what the popular ones could be in the future.
Will Survey Sheep Be Worth Your Time?
I can't say with any certainty if Survey Sheep is worth your time or not because it all depends on the amount of survey sites or panels that you sign up to and the payout rate of each of those sites. As I said earlier, some of them that are listed there, I'm very familiar with. I've tried and reviewed Survey Junkie and rate that one a pretty decent survey site.
Some others though may not be as good as Survey Junkie and the reason for that is because nearly all survey sites that I've come across does not pay out a lot and that's mainly because you won't qualify for every survey that you try out at each survey site. There's only been one exception to that rule that I've come across, but for the most part, you'll end up not qualifying for quite a few surveys.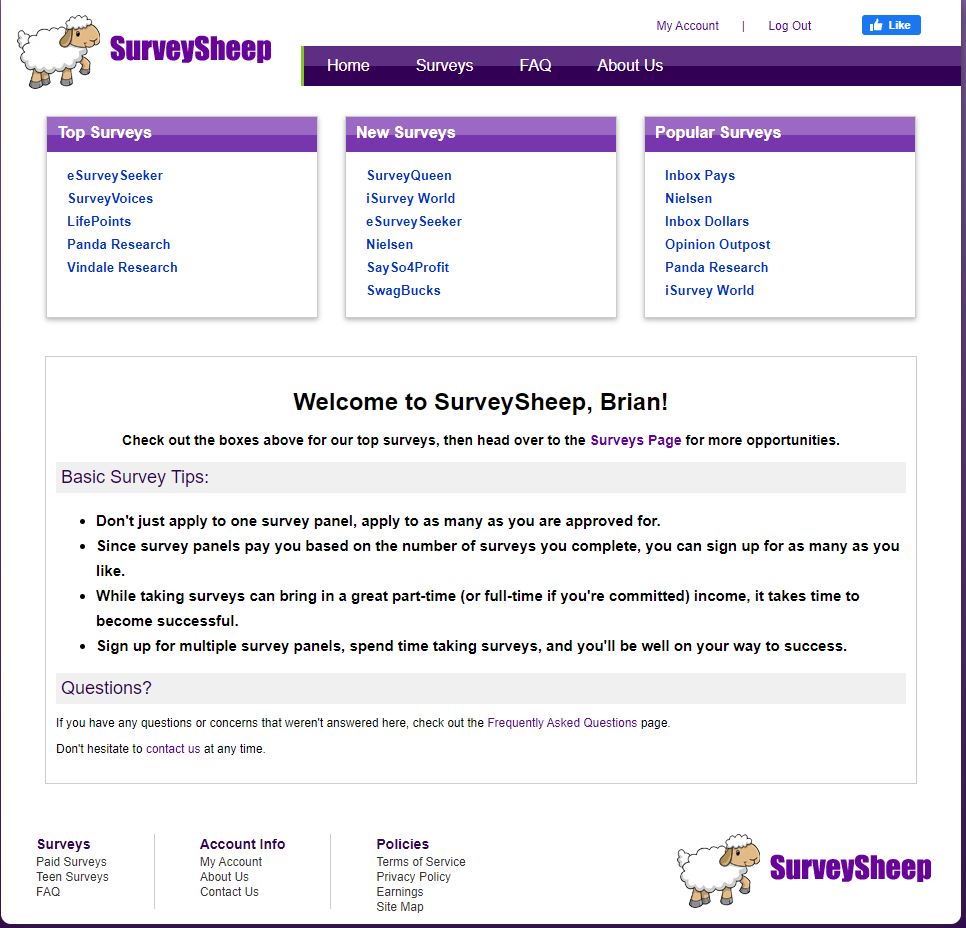 What makes it frustrating is the fact that you might spend 5 to 15 minutes with a survey only to find out that you won't qualify and then you usually don't get any compensation for the time that was wasted trying to complete and qualify for a particular survey.
If you're adamant on making money for surveys and want try out as many different survey sites as possible, then Survey Sheep is definitely for you. With a large list of survey sites, there is a good chance you'll find a few that might be to your liking, but don't expect to get rich from these sites as they usually don't offer a ton of money to complete surveys. If you're willing to be patient and not cash out early, it could definitely be worth your time in that instance.
There is one survey site though that I have not seen listed there (so far) that is my number one recommendation and you can read my review of that survey site, here. Have any of you tried out Survey Sheep before? If so, have any of the survey sites listed been worth your time? I'm very curious to see what some have said about some of the survey sites listed there as there are quite a few that I hadn't heard of before or tried out. I will probably try some of the out very soon to see if they are really worth your time or not.