Welcome back to my continuing case study of building a thriving online business through Wealthy Affiliate. Last time, I had talked about signing up for Wealthy Affiliate for the first time and what you'll see when you first log in. I had mentioned that it might seem overwhelming at first especially since you may not know where to go, but I showed some of the different aspects of WA and what they are and do. Now I'm going to be focusing on the training aspect of WA, more specifically, the Online Entrepreneur Certification.
This is the one that you want to go through if you have a specific niche in mind that you want to build an online business around. There are five course lessons in the Online Entrepreneur Certification and each of them have lessons. We're going to be focusing on the first course and the first two lessons which I will talk about next.
First Two Lessons
The first lesson in the OEC is simple and pretty straight forward. It just pretty much welcomes you to Wealthy Affiliate and praising you for beginning a new journey. In the beginning, it tells you that there are four main steps to build a successful online business.
The second lesson focuses on how you will make money when building an online business with a website as the foundation. It will talk about the specific method of making money through this business model which is Affiliate Marketing. Kyle, one of the co-founders of Wealthy Affiliate, includes a diagram of a five step process to Affiliate Marketing. He even includes a short video explaining this diagram.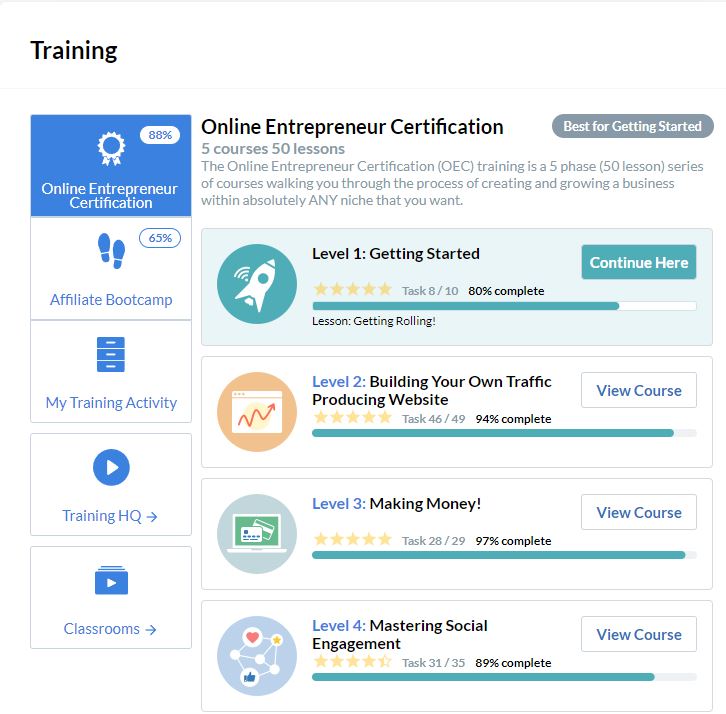 One thing that I want to mention is that most of these lessons do include videos and it is important to watch them all the way through. They are very visual and informational and will give you a good grasp on what to do next. Another thing I wanted to mention is that each of these lessons will have tasks that will need to be completed before you move on. This is to ensure you understand what is being taught.
These first two lessons are designed to get you excited about your new journey at Wealthy Affiliate and to give you the confidence that you made the right choice. Next I'll be taking a little bit of a closer look at Lesson One.
Welcoming You To Wealthy Affiliate
The first lesson is a welcoming one letting you know you've made the right decision by moving forward with Wealthy Affiliate. They know that creating an online business can seem like an extremely daunting task, but it can be done and WA has laid it out step by step so that you don't have to feel lost or unsure of what to do next.
I really like the first video you see in this training as you are fully introduced to one of the main co-founders of Wealthy Affiliate which is Kyle. He explains a little bit about his beginnings and how he has gotten to where he is today and that you too can create a thriving online business in Affiliate Marketing.
The video is also designed to help you navigate around Wealthy Affiliate and the various tools that are inside once you log in. He also talks about the support system within WA and how it will greatly help you if you ever get stuck with anything. I can tell you also that I've reached out to tech support here and they've been able to fix and resolve any issue that I ended up having with my website that I created here.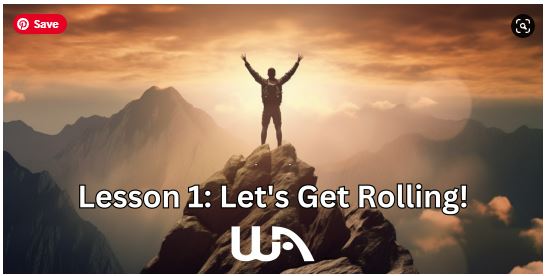 My suggestion to you is to explore Wealthy Affiliate and see all the different things it has to offer. You meant be pleasantly surprised at what is there and you'll see all kinds of training especially training that people have created to help members inside of WA. A lot of it is helpful and compliments a lot of the main training, which is fine, but definitely make sure you do main training before anything else. There are also weekly live classes which are usually every Friday evening and it's definitely something worth checking out as the person who conducts them, Jay, shows very informative things on improving your business. Now let's take a closer look at the second lesson.
How To Make Money
In the second lesson of the first course, Kyle explains how you will make money with your online business and that is through Affiliate Marketing. He explains the process of Affiliate Marketing pretty well especially through the use of a diagram. Here's what it says:
Build a niche website

Put affiliate links on your website

People come to your website and click on your affiliate links

They buy something from the merchant website

You earn a commission ranging from 1% to 75%
That list above does seem like it is easy to make money through Affiliate Marketing and if you do things right, it really is that simple, but it is going to take time to reach all of that especially step number five. As I've said before, the whole purpose of a website is to help people in whatever niche you choose. If there are products in that niche that you know can help people especially if it solves their problems, they are definitely going to trust you and be willing to buy through you.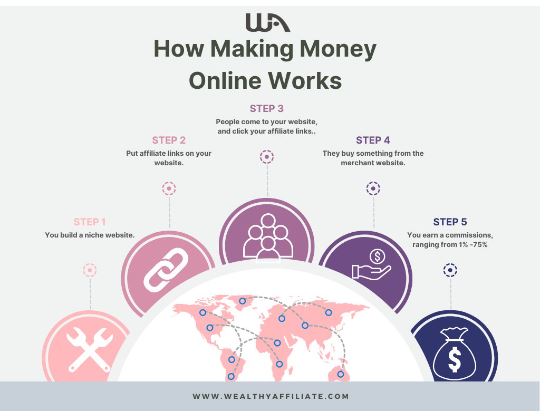 Something else I do want to mention is that yes, you do put affiliate links on your website, but as we delve deeper into the training you're going to see that you need to be fairly strategic on when you use affiliate links, especially if you're trying to get rankings on Google. The search engines do not like what is called Affiliate Link stuffing meaning you put affiliate links all over your posts and pages and Google will see that and it will look like to them that you are doing it just to get sales and not more for helping people and your rankings will suffer.
Don't worry though, Kyle will teach you exactly when to you use affiliate links and the best ways to get people to them without link stuffing so that you'll still be able to rank high in the search engines. It's time to talk a little bit about building your foundation which will be your website.
Building Your Foundation
Here at Wealthy Affiliate, building a website is essential to having a thriving online business. I've said this before, but having a website is your own piece or real estate online. You can add whatever you want to it and if you're persistent with it and keep adding useful content, it will definitely become very valuable and you can even sell at some point if you so choose.
I have more than one website and in this case study, you're going to see me build one completely from scratch as I go through the training here and you'll get to see the entire process. You used to have to know HTML code in order to build a website and I can even remember taking a class in college for it a long time ago, but with the advancement of technology, that is no longer necessary as they now have easy to use website editors and all the code is automatically done in the background.
It is now so easy to create pages, add posts, create menus, add images, add videos, and even add plugins that can enhance your website though you need to be careful with those. Too many plugins can actually slow down your site so you want to limit how many of those that you use. The training inside Wealthy Affiliate will let you know which plugins are really essential for your website when you're beginning this journey.
As you build out your website, you'll likely become proud at what you've created so far especially when it starts to generate traffic. That's definitely the most exciting thing to see at first is when traffic starts to come to your website. There are tools and things through Google that'll you want to use to monitor the statistics of your website. For example, you'll see a lot of times where the traffic is coming from, how much is coming on a day to day basis or a monthly basis depending on which you choose, and even which pages and posts are generating the most traffic. Time to wrap things up.
What's To Come
I'll have a video below that will give you more of a visual of the first two lessons of course one, but at least now you're seeing what some of the WA Training is like, especially the Online Entreprenuer Certification. The first two lessons are just designed to get you excited about WA and starting your new journey and the method that you're going to be using to make money with your new online business.
What's coming up next is choosing a niche for your business as well as the best ways of finding a niche, especially one that you may be very knowledgeable about, being creative with it, and not being afraid to fail. What I mean by that is you're going to stumble along the way. The only way to truly fail is to completely give up. You can always get help so don't think you're alone in this and I can be there to offer any help I can should you need it.
There's a lot of exciting stuff coming, especially once you see how to choose a niche and then soon after start the process of building out a website in a chosen niche. I've actually got a niche chosen and you're going to see me unveil what that is as I get further into this case study. It's going to be an exciting time and I hope you're beginning to see the potential of what Wealthy Affiliate can offer you. Check out the video below and don't forget to comment.