Lately, I've been talking about ways to avoid becoming a victim of certain scams as well as ways you can make money in specific niches online in the affiliate marketing business. There's cryptocurrency scams I talked about, which sadly are quite prevalent, and then I've also talked about how you can make money in the health and wellness niche as well as the candle niche.
The reason I talk about this here on my site is because I want people to avoid becoming victims of scams which can cause you to lose your hard-earned money, and I also want to show you how you can legitimately make money online so that eventually you no longer have to rely on a traditional 9 to 5 job. This is why Wealthy Relief exists, to help protect your money and to make more so that you can achieve your financial goals and dreams.
I've decided to try out something new for me which involves a case study. I've never done one before, but I want to show people what you will really be going through when creating an online affiliate marketing business. I know you can read reviews and people can tell you how something has worked for them, but unless you really see a lot of it in action yourself, you still might remain skeptical or figure it's a waste of time. I will be doing a video case study for anyone who asks "Does Wealthy Affiliate Really Work?". I will talk about what this case study will involve next.
Why Wealthy Affiliate?
I know there are many make money online programs out there, some legitimate and some of them not legitimate or don't work well. I've been a member of Wealthy Affiliate for quite some time now and Wealthy Affiliate has been around for awhile and keeps getting better with time.
Wealthy Affiliate started out as nothing more than a keyword research platform in the early 2000s and has evolved into much more since. It really is a one stop shop for all of your affiliate marketing needs today. There's no need to go to a separate site to register your domain name or go to a separate website builder to build out your website. All that can be done in one area now inside Wealthy Affiliate.
I'm creating a video series where I will show you a lot of the ins and outs of Wealthy Affiliate which include the training, building of a website, choosing a niche, keyword research, how to utilize the community for any help you might need along the way and so much more. You'll see my successes at Wealthy Affiliate as well as my struggles as I build an online business from scratch.
My goal is to show you how Wealthy Affiliate can help you reach your financial dreams and leave the traditional job world so that you can be in control of what you really want to do in life. One thing that I am going to tell you is that this is not going to be something that will make you lots of money in a short period of time. Wealthy Affiliate even tells you this. This isn't something that's going to make you tons of money overnight with just a few clicks and a couple of posts added to your website.
This is going to take time, consistency, and a willingness to learn. A lot of people when they join Wealthy Affiliate for the first time, they usually ask how long it takes before they start making money. That really depends on the person and the niche they choose. Wealthy Affiliate gives you all the tools needed to be successful, but it is up to the person to use all those tools in order to be successful. If there is consistency and you put into practice is what is taught in the training, on average, people will start to earn some kind of revenue in 3 months or least get rankings in the search engines. Now that's not a guarantee as some people have earned revenue faster, while others it took a lot longer. Now you're going to see firsthand what it's like to build an affiliate marketing business from scratch through my upcoming video series.
Choosing a Niche
When someone decides to build an online business in affiliate marketing, sometimes a person might spend a lot of time trying to choose a niche that will make them the most money. That's not always a good idea especially if it's not a niche you're well versed in or knowledgeable about. Now don't get me wrong you can always learn quite a bit about any niche, but the point is that you want to be a knowledgeable person about that niche so you can help people with whatever problems they're having in whatever niche you choose. If the knowledge you provide is helpful, you will gain their trust and the money will soon follow.
This is why it's best to choose a niche you're passionate about or knowledgeable in. As for the case study I'm going to be doing, I've already got a niche in mine and it is one that I do have some experience in including scams that are involved in this particular niche and I also plan to talk about how to avoid them
If you're undecided on a niche, Wealthy Affiliate does have a niche finder tool that's powered by AI which you can use (premium membership or higher) that can help you out. You can also promote Wealthy Affiliate if you so choose as there is an Affiliate Bootcamp that will teach you how to do just that.
In my honest opinion though, I would hold off on that until you build an online business in the niche of your choosing that way when you have some experience getting it up and running and earning some revenue, you'll be able to better promote Wealthy Affiliate based on your experience. One of the main things that Wealthy Affiliate teaches you is how to build a foundation in your affiliate marketing business and that will be through website creation which is what I will talk about next.
Building a Website
In my upcoming case study, you'll be watching me build a website from scratch. A lot of people might get intimidated by that because they think they have to know a lot of code such as HTML in order to build a website. The good news is that you don't have to know any of that and it is easier than ever to build a website these days with a website editor and WordPress is by far one of the most popular ones out there and is included within Wealthy Affiliate.
Why build a website? Because it is your own piece of real estate online. Similar to having a physical building to house a traditional business, a website is where your business will be housed online but cost no where near what a physical building would. The good news about that also is if you get your website to where it is thriving and pulling in a lot of revenue, you could even sell it for quite a bit as there people who do that.
In this case though, I plan on building out a website so that you can see what it's like and that it is actually much easier than you think. You just have to move forward with it and put into action what the training teaches you. You'll see me add things such as menus, a side bar where you can add a sign up button, adding pages and posts, putting in images, adding videos and even more.
It's important to think of this as an exciting journey, not a chore. After all, you're going to be in business for yourself and so you control the outcome of how successful it will be or not. It's not always going to be an easy journey and there will be some days that you just don't want to work on anything, especially if you don't see the results you were hoping to by a certain time. I will tell you though that persistence is key and if you stay persistent with it, you will see results. I almost completely gave up on my first website until I saw a little bit of revenue for the first time from an ad network I had joined. Someone had clicked one of the ads and I earned just a few cents from it. I know that isn't a lot at all, but it was the first time I earned anything and it had me excited!
Be excited when you first start to earn something no matter how small it may be because that will give reassurance that what you're doing is working and if you keep at it, a snowball effect will happen. Now I did back off of my first website because I just lost interest in the niche and really didn't want to focus on it anymore. It happens and so I decided to focus my efforts in other niches and one of which is promoting Wealthy Affiliate because I have earned some revenue from what was taught and had I remained consistent with my first website, I know I would've made a lot more. This is why I want to do a video case study. I want to show you what is possible with what is taught there and being consistent.
The Training
The specific training that I'll be doing at Wealthy Affiliate is the Online Entrepreneur Certification since I've chosen a specific niche for this video case study. That's the training you want to use if you're not promoting Wealthy Affiliate at this time. I will tell you that both the Online Entrepreneur Certification and the Affiliate Bootcamp are similar in what they teach, especially when it comes to building a website, but the Affiliate Bootcamp then moves on with promoting Wealthy Affiliate in the Make Money Online niche.
My video series will go through the OEC from the very beginning so you're going to see me put into action exactly what is taught there. It will talk about getting started, understanding how to make money online, choosing your niche, building your own website, and more.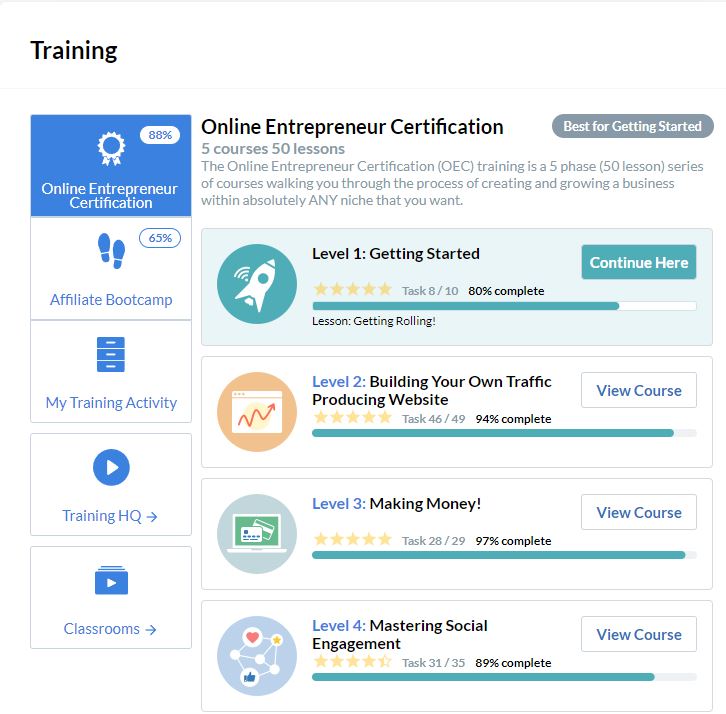 Now I'll be going through the training as a premium member meaning that I will have access to the full amount of training in this course. If you're a free member, you'll only have access to the full amount of training for seven days. After that you'll have access to a very small amount of the OEC training as well as the Affiliate Bootcamp.
If you don't want to spend the money to a higher membership level at this time at Wealthy Affiliate, this case study will be a good thing for you to check out so you can see firsthand what it will look like if you did move forward. My hope though is that you actually do move forward with Wealthy Affiliate after you see what is possible for an average joe such as myself, building an affiliate marketing business online.
Showing You What's Possible
As I mentioned above, my goal is to show you what's possible at Wealthy Affiliate and why I believe it's one of the best places online to build an affiliate marketing business even if you never heard of it before. Anyone can learn this and with enough time and persistence, they can become successful. There's always going to be fear and doubt and I want to put those at ease with this case study.
You might say how can someone such as myself become successful when there are so many sites and ways to get information online. There's just too much competition. Kyle, one of the founders of Wealthy Affiliate put it this way. There are 8 billion people in this world and at least 5.5 billion of them are online in some fashion. If you can reach or help just a tiny fraction of all those people, you'll be successful.
Don't let competition scare you away. Is McDonalds the only fast food burger chain? Nope, not by a long shot and there's so many restaurants of just McDonalds alone all over the world that are successful as well as other burger chains so don't let competition scare you away. If what you offer is helpful to people, they will see that and want what you offer. I hope that my new video series will answer the question of "Does Wealthy Affiliate Really Work?" Below is my first video in the series where I show you what the homepage of Wealthy Affiliate looks like as well as what it looks like on the inside once you log in. Don't forget to comment.