Major Update! (2/21/2020) 
Clixsense has been bought out by another company and has now closed, but another site that is very similar to it has opened up in it's place called ySense. The good news is that this company also owns and operates other survey sites such as InBox Dollars and Survey Swag.
The bad news though is that if you previously had an account with Clixsense, you'll have to create a brand new one at ySense. The new site is setup very similar to Clixsense though there have been some changes. I will create a brand new review of the new site and post it very soon so definitely check back for updates. In the mean time, you can access the new site here.
Clixsense
Name: Clixsense
Website: http://www.clixsense.com
Price: Free
Overall Rank: 50 out of 100
Clixsense Overview
Lately I've been reviewing a few different survey sites. My last review which was about Paid View Point, was favorable in my eyes because when there were any surveys that were available to complete, you didn't have to worry about not qualifying for them. They don't pay a lot usually when completing them, but they do add up whenever get to complete a number of them.
Vindale Research is another survey site that I prefer most people stay away from because it's not easy to qualify for surveys there. Years ago I hard-earned some money from them, but not a lot and they offered some other ways to get money other than just surveys. That is no longer the case and it's difficult to qualify for a lot of their surveys.
Clixsense is a site where you can earn money in multiple ways. It does include surveys, trying different products, playing games, completing simple tasks, and referring others to the site. I will take a look at each of these aspects and the potential of making money with them and let you know if they are worth your time.
Surveys
At Clixsense, surveys are one of the biggest areas of the site to try to earn some money. When you click in the survey section, you'll be greeted with a various number of surveys. It might look like a lot at first and it might get you excited because it will seem like there's a lot of them you can complete and earn some money fairly quickly.
Unfortunately though, this is just not the case. If you remember my Vindale Research review, I talked about the difficulty of qualifying for the surveys offered there and Clixsense is not much different from that. In fact, at least for me, it seems even harder to qualify for surveys than at Vindale Research.
Just today, I qualified for my very first survey and got paid for it which was 67 cents. This was after I not qualifying for three others I tried before it. I will say though that the survey I took was actually interesting and more enjoyable than anything I've taken at Vindale Research and even Paid View Point. I got to watch a three-minute clip of a celebrity working at a well-known hotel in Las Vegas and share my thoughts about the video by answering the preceding questions.
What also made this particular survey unique is that during the video, I could click on either the lower left or right part of the screens if I liked a certain part of the video or disliked it. I would certainly like to do more kinds of surveys like that again, but it will be hard to tell if I'll qualify for something like that again because of the track record I've had for qualifying for surveys since I've been a member of Clixsense which hasn't been that long.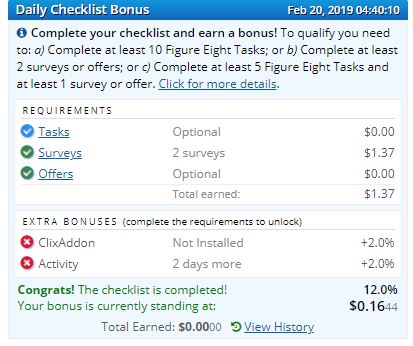 There are lots of survey choices you can choose from every day so there will be no shortage of them, but just don't count on being able to qualify for all of them. Now when you are in the survey section and you are looking through the surveys that are available, you might notice some with red flags on them. That simply means you won't be paid right away for completing them and it may take up to 30 days before you see payment. I try to avoid those as much as possible.
If completing surveys is something you enjoy in your spare time and you like getting paid for completing them, you'll just have to persistent and keep trying until you find a survey or two that you do qualify for. You do get to see how much you get paid for completing any one survey as well as the general length of time it will take to complete it so that you can decide if it will be worth your time. As I mentioned earlier, surveys aren't the only method to make money at Clixsense and I will talk about another method below.
Games
From what I can see, this is just a section used to pass the time as there are a number of simple online games you can play, but I don't really see any method here where you can earn any money, but I haven't used this section much or played any of the games extensively.
The only game I've played is zoo pinball as I really like pinball games. It's a fun little pinball game to play and you pretty much use the mouse and keyboard in order to play it. There's one section of the Games page that's called Games of The Day which have six different games available for any given day. That's how I was able to find zoo pinball. You'll also notice a Most Played Games section which has a number of games that a lot of members at Clixsense play a lot.
Some of them seem interesting to try out, but again, I just haven't spent a lot of time in this section and haven't played most of the games there. If you're looking for more specific types of games, there is a menu on the right side of the screen with different genres of games to choose from such as action, adventure, arcade, racing, and more. There should be plenty of games available for your preferences.
Tasks

The tasks section at Clixsense is another area where you can make money here. It won't be a ton of money, but they are relatively easy and short tasks to complete. I haven't tried any of the tasks yet, but from what I've seen of them, they are pretty similar to tasks I've done at another site and will really take you no time at all to complete.
What kind of tasks am I talking about? Well for starters, you'll have to sign up for a separate account with a site called figure eight in order to complete these tasks. Don't worry, it's free to sign up and create an account. Now I really haven't given this a try yet, but you'll earn just a very little amount of money from these tasks.
It's pretty common to see tasks here that pay a penny on up to 24 cents or more, but usually they are just a penny. Some of the tasks that are available here are things such a categorizing images and drawing boxes on products. As you can see, these are very simple and easy tasks hence the reason they are just generally worth a penny or two to complete. Another one might have you see if an audio clip contains a certain phrase or words. One of these tasks I saw was worth three cents if you completed it. A lot of times you'll have to take a small quiz to make sure you understand task that agreed to complete. If you pass the quiz, you'll get to proceed to completing the task.
I've done some tasks a little similar to this on another size, but they were things that had you checking if a certain person would show up in the first three listings of a Google search and what website that person would be on or what specific page of the website that person would show up under. Those kinds of tasks go relatively quickly and so they won't usually be around for long. They are replenished each day though so you'll always want to check them out if this is an area of Clixsense you really want to try out. As far as making a lot of money from it though, I would definitely say no as they pay out very little. You're honestly better off doing the surveys because if you do happen to qualify for one, it will definitely pay you more than the tasks section.
Cash Offers
This section of Clixsense allows you to sign up for different offers and free trials from different companies and you get paid for signing up and trying out whatever any of the companies are offering. It looks like the minimum amount you'll earn for trying out an offer is $1.00 to $1.50. There are some that can be worth more though as I've seen a Hulu Live offer that will earn you $14 if you sign up.
While you can earn money this way you'll want to be careful here. I've done these at other sites in the past and Vindale Research used to offer something like this. The thing you've got to remember is that a lot of these companies will require a credit card because once the free trial is over, you'll usually be charged for a subscription service. This is why I tell you to be careful here because if you sign up for a lot of these offers and forget to cancel before the trial period is up, you'll be charged and it can get pretty costly.
That's why I'm not really a fan of the cash offers anymore and this is a method that I prefer not to use in order to make money online. Now if the product a company is offering is something you like or have always been interested in, it may not be bad deal for you. I know I would be most interested in the Hulu Live trial as I do like subscription based TV services. Only you can decide if this section of Clixsense is right for you. I know for me, I prefer to avoid this area for earning money.
Referral Program and My Recommendation
Last but not least is the referral program at ClixSense where you can earn some money by getting others to sign up at ClixSense. Since I'm pretty new to the site, I haven't had a chance to utilize their referral or affiliate program, but it doesn't look too bad.
What's nice about it though is that you'll earn some money for each sign up which won't be a whole lot and ranges anywhere from ten to thirty cents. Once they earn their first $5.00 though, you'll earn $2.00. For any survey, task, and offer that is completed by your referrals, you'll earn a 20% commission. It also says there is a way to increase the commission level up to 30%, but that seems like it could be a difficult endeavor. You have to have a minimum of 100 referrals to reach the 30% commission rate and they each have to have at least one transaction within the past 30 days. They pretty much want the referrals to be active which is understandable.
Depending on how many referrals you get, it's quite possible you could earn at least a few hundred dollars each month and possibly more if they are an active part of ClixSense. There's no guarantee of that though and it may be hard for them to remain active especially if it's very difficult to qualify for a lot of the surveys there. I eventually did qualify for at least 2 surveys there and have earned a combined total of $2.37, but I have not been able to qualify for anymore since that time.
I can say without a shadow of a doubt that ClixSense is not a scam, but it is not a place where you can make a full time livable income. If you're good at getting referrals, a few hundred dollars a month is definitely not out of the question, but if it's something you really want to scale up and replace a full time job, it's not something I recommend for that. It's more for supplementing another form of income at the most.
What's My Recommendation For a Full Time Income?
If you're very serious of creating an online business, want the freedom to work on your own time, and want to spend more time doing the things you love, there is a place online that will teach you how to do that and then some. Wealthy Affiliate is one of the greatest places online to create an online business where you'll be able to replace a full time job.
Wealthy Affiliate is not a get-rich-quick program and never ever makes the claim that you can make tons of money with very little effort and time. You'll have to go through its extensive, but easy to follow and task oriented training and if you take consistent action, you will see results, but it will take time as you are getting established in the online world for your online business. If you stick with it though, I promise that it will payoff, you just have to stay the course and put in the time.
I've said a lot about Wealthy Affiliate before and I have full review of it and you can check it out by clicking the link below. If you're interested in checking out Clixsense for yourself, you certainly can. As I said earlier, it's not a scam, but don't expect to make a full time income from it. If you put in some time with it and can get active referrals, it will definitely a decent side income each month such as possibly a few hundred dollars a month or maybe even more, but anything well into the thousands I would say is unlikely.
What are your thoughts on Clixsense? Have you had experience with it before? If so, have you been successful on getting referrals? Have you found something better than Clixsense? Feel free to share your thoughts below.