If you're one who really loves pets and know which pet supplies and products work best for dogs or cats, you might be wondering how to sell pet supplies online. I can tell you that it is easier than you think, but you need to know where to start and how to get a foundation going.
I've been doing articles like this in different niches to show people just how profitable practically any niche can be if you know how to properly research the niche and what to do in order to get started. In the last article, I talked about how to sell fitness equipment online and you can read about that by clicking here.
The things I'll be looking at are choosing a niche or narrowing one down a bit, what problems need solving in the niche, how to tell if it will be profitable, what you need to do to start earning money, and the best place online that will teach you how to put all of that together in order to create a profitable online business. Without further ado, let's get right to it.
Choosing a Niche
Now I know I mentioned about how to sell pet supplies online and that is a good niche to get into, but it still can be a very broad one, meaning that it can be very competitive and a bit harder to get a website ranked in that niche. What needs to be done is to see if it can be narrowed down further.
Perhaps you're more of a dog person and you might know what collars and leashes work best for various dog breeds as well as dog sizes. Now that you've got something more specific and focused, it would definitely be easier to get content ranked in the search engines and I'll talk more about that here in a bit.
Perhaps dogs are not your thing, but you're instead a cat person and you might be very knowledgeable in what cat liter containers work best or cat liter in general or maybe you know what toys work best for cats. There's just a lot of different options you can choose from.
Maybe you're not a dog or cat person at all and know more about fish, or maybe birds, or hamsters. You could narrow down specific things for each one of those animals and create a website centered around them. I think you get the idea and you can definitely see that there are a lot of great things you can focus on when it comes to pet supplies.
What Problems Need Solving in This Niche?
When building an online business, especially one in Affiliate Marketing, your biggest focus is on helping people solve problems that they have in the niche you are targeting. Think about it, people are searching for answers or help for problems they may be experiencing in any given topic.
If you can solve their problems and recommend things that will help solve them, you'll be able to gain their trust and might be willing to purchase whatever you recommend as you are knowledgeable in the topic or niche that they need help with. So the question becomes, where do you go to find out what problems need solving in the pet supply niche?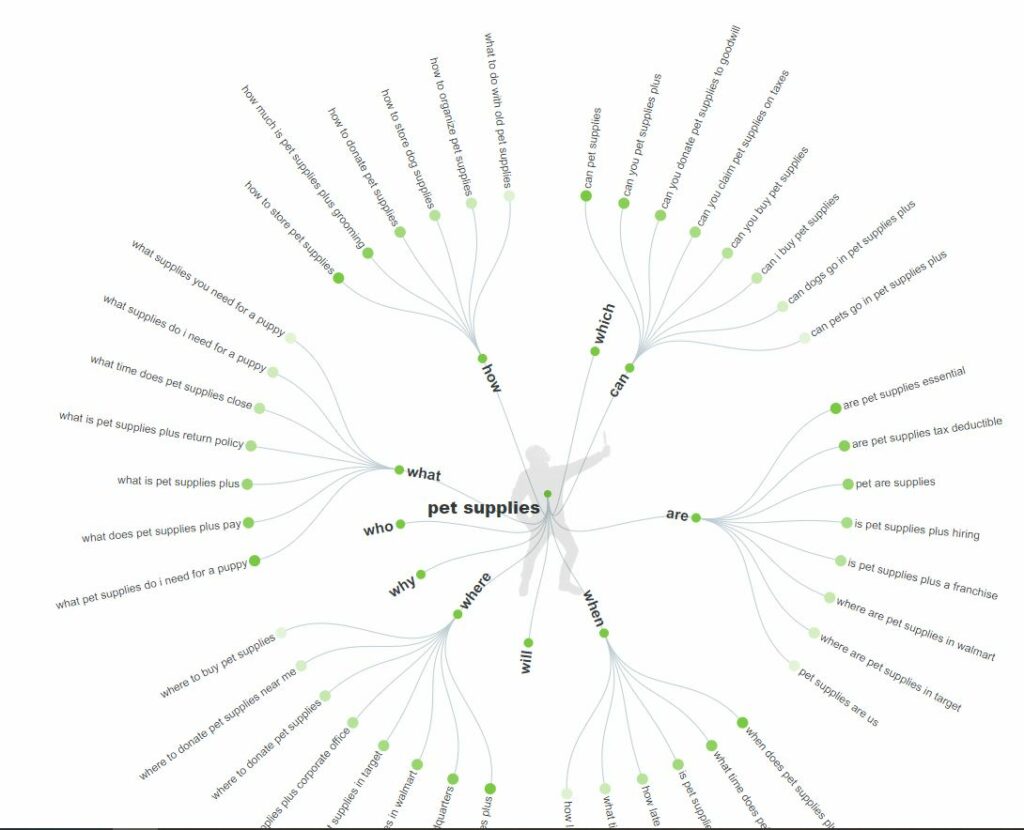 One of the best places online that I've talked quite a bit about in the past is a website called answerthepublic.com. When you first go to the site, you'll want to type in the niche you're wanting to see questions for and then hit enter. What will come up are a series of questions that people are searching for on the internet. Some questions that pop up are things like, are pet supplies essential? What supplies do you need for a puppy? Where can I buy pet supplies? Those are just some of the questions that come up.
Another great place to check out are question sites such as Quora. People are always asking all sorts of questions on there and a lot of times they'll get the answers on there that they need or they may still be waiting for someone to answer them. The nice thing about Quora is that you can see what answers may have already been given and you can add to them or suggest something that may not have been thought of.
When you go to Quora, type in pet supplies and hit enter. The questions that come up are things like is chewy.com a reputable vendor for pet supplies? What are the best online shipping places for pet accessories? Is it better to buy pet food supplies online or visit pet stores? Where can I get discounted pet supplies? As you can see, Quora is loaded with questions in this particular niche.
One final thing I want to take a look at is what's called the alphabet soup technique. What this means is that you'll go to google.com, type in pet supplies in the search engine, and then hit the space bar and type the letter a. What should come up is a list of pet supplies and anything that might be related to it that starts with an a or any letter of the alphabet. Some of the things on the list that first come up are pet supplies and more, pet supplies afterpay, pet supplies application, pet supplies around me, and more. You just go on through the alphabet and this will help you come up with content for your website.
How To Tell If It Will Be Profitable
You might be wondering what pet supplies are generally selling for online. The easiest way to see that is just type in pet supplies in Google and hit enter. What should come up are a series of picture ads with different prices for all kinds of pet supplies and products. Amazon is another great place to check out to see what pet supplies are selling for there.
The question though is how do you sell pet supply products without having to purchase them yourself and then having to turn around and sell them at a price where you can make a profit? Well this is where Affiliate Marketing comes into play.
Companies are always looking for help selling their products and so a lot of them will have what's called an affiliate program. It's usually a free program that you'll be able to sign up for and the company will allow you to promote their products on your website (specific to that niche) by providing you with special links. If someone clicks on that link and purchases a product from that link, you'll get a piece of that sale. You don't have to worry about inventory, returns, or customer support as that is handled all by the company.
How much money you get from that sale all depends on the company. All of them will give you a certain percentage of it. Some are higher than others, but on average, you can expect anywhere from 2% to 8%. If you do a little research though you might find some companies that offer a lot higher commission rate say 20% or higher.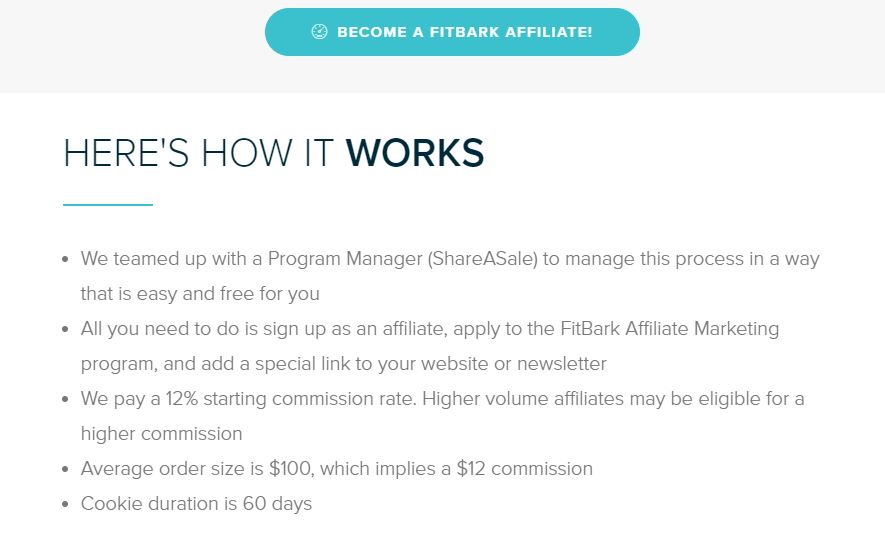 How much could you potentially make? That depends on a lot of things, but I can give you an example of what you could possibly earn. Let's say you're promoting dog beds and one you like very well sells for $149. Let's say the commission rate is 20%. You'll take 149 times .20 and you'll get $29.80 from that sale. That may not seem like a lot, but bare with me. Let's say you manage to start getting quite a bit of traffic to your site like say around 25,000 visiters a month.
Out of that, let's say about 275 of those who visit end up purchasing that particular dog bed. Now we've determined that you'll get $29.80 for each sale so if 275 people purchase that product through your site in a month, you'll take 275 x $29.80 and you will have made over $8100 that month. That's what you can potentially earn through Affiliate Marketing. If that excites you and it's something that you want to start doing, I'll show you what needs to be done next.
What You Need To Do To Start Earning Money
In order to get an online business going, you're going to want to get a website up and running. As I've mentioned in many of these type of articles, they are easier than ever to create and you don't need to be technical in order to create a website. There are website editors that make it incredibly easy to get one up, all you generally have to do is choose a template and then you'll be adding content and pages to it.
Before you get a website up though, you need to choose a domain name which would be the address of the website such as www.bestdogbeds.com, for example. You'll go to a domain hosting site in order to see if that domain name is available. If it is, you will have to purchase it, but it does not cost a lot. On average, a domain costs $13.99 a year which is doable for most people.
Once you've got a domain purchased, you'll pretty much be ready to start building a website as a lot of domain hosting sites will include a website editor. One of the best ones out there is called Word Press as they have so many great plugins and things that can be added to your website.
Let's say you've got all of that done, but you want to know how to go about creating great content for your website and more importantly, having it get ranked on the search engines so that you can start generating revenue. I will talk about a place online that will teach you how to do exactly that next.
Conclusion: Wealthy Affiliate
In order to build a profitable online business in Affiliate Marketing, you need to know what type of content is needed for your website, how to build up traffic with that content, and more importantly, using keywords to get your content ranked on the first page of search engines, especially Google.
There's something you'll need to learn in order to make all of that happen and it's called Search Engine Optimization or SEO for short. Where might you go to learn about SEO and all the other things I just said? The place that will teach you all of that and more is Wealthy Affiliate.
Wealthy Affiliate is easily one of the best places online to learn how to build a thriving online business. They will not make promises of thousands upon thousands of dollars with very little work or just a few clicks of the mouse. No, they tell you that this will take time to get a business up and running, but if you follow the training and put into action exactly what they teach you, you're going to see results.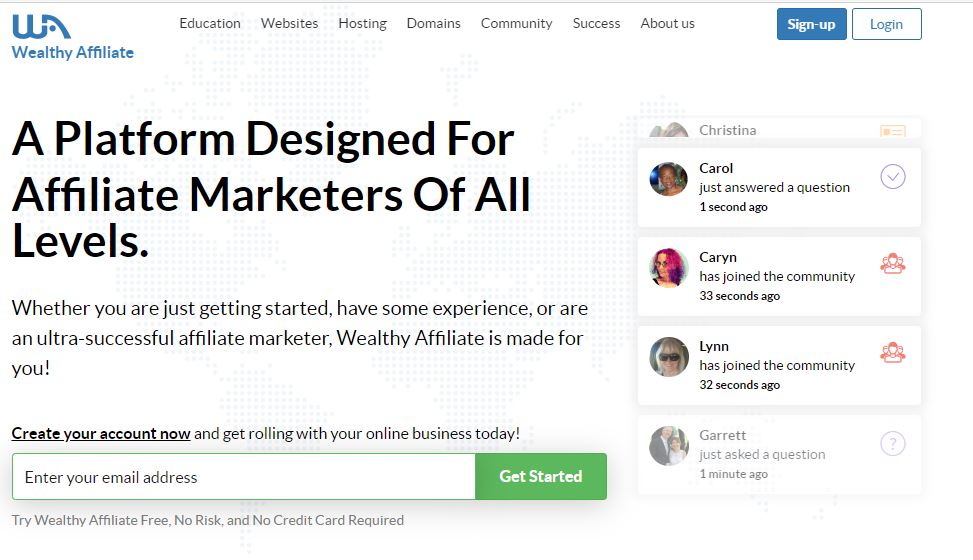 They have all the tools necessary in order for you to be successful such as writing tools to help you to create content, a Word Press editor to get your website up and running and they even have domain hosting so you don't have to go to a third party site in order to register a domain name. That can all be done under one roof now.
The training is very easy to follow and they usually have tasks at the end of them so that you can put into practice what is being taught. There are also live classes each week on different topics that can help you with your online business.
Wealthy Affiliate is free to sign up although they do have three different membership levels with the third being added towards the end of last year. If you want to know more about Wealthy Affiliate such as the ins and outs of all that is there, you can read my full review of it by clicking here. Now that you know a bit about how to sell pet supplies online, go ahead and give Wealthy Affiliate a try, you'll be glad you did.