Hi folks, I'm back with another article in my how to sell online series. Last time I talked about how to sell pet supplies online and I took a look at what needs to be done in order to create a profitable online business in that niche. In this article, I'll be taking a look at how to sell jewelry online.
I'll be taking a look at the choosing of this niche, questions people are asking online when it comes to the jewelry niche, how to tell if jewelry will be profitable, what needs to be done to start earning money, and where you can learn on how to build a profitable business online. Without further ado, let's get right to it.
Selling Jewelry Online
Jewelry is as popular today as it has been in the past. They can be packed with valuable gemstones and made of gold and silver. Jewelry can consist of rings, necklaces, pendants, bracelets and more. You can even get customized jewelry.
There are also lots of places that sell jewelry online. Now you might be someone who is very interested in jewelry and know certain things to look for when purchasing jewelry or you might know how to repair jewelry and might want to share tips and tricks on how people can do basic repairs.
A lot of times jewelry is purchased as gifts for birthdays, Christmas, and other occasions and so you might know what types of jewelry might do well for a birthday vs that of Christmas time. There could also be certain times of the year in which certain types of jewelry sell better than others.
Jewelry, especially jewelry with lots of gems or gold and silver can be quite expensive and so you may know some great places to buy them at much lower prices than at traditional jewelry stores.
Now there are things that people might be looking for online besides just looking to purchase jewelry and so then it becomes very important to know what kind of questions people are asking or problems that need solving when it comes to jewelry. We will take a look at that next.
What Questions Are People Asking?
Being knowledgeable in the niche that you choose as well as being able to solve problems that people are having in a niche are essential to having a successful online business. Do not focus on the money. It's important you help people first and foremost because if you can solve their problems, you will gain their trust and they may be willing to buy whatever it is you recommend.
There are different ways to find out what questions people are asking online or at least what they are searching for. There is what's called the alphabet soup technique and I have talked about that at times in the past. What this entails is using the search engine Google and then typing in the whatever your niche is in the search bar. Once you type that in, you press the space bar and type in the first letter of the alphabet which of course is A.
What then should pop up is a list that starts with your niche title and then followed by something else that starts with the letter A. I'll give you some examples. Some of the things that pop up from the list after using the technique are things such as jewelry appraisal, jewelry ads that work, jewelry auctions, jewelry anvil, and jewelry advent calendar.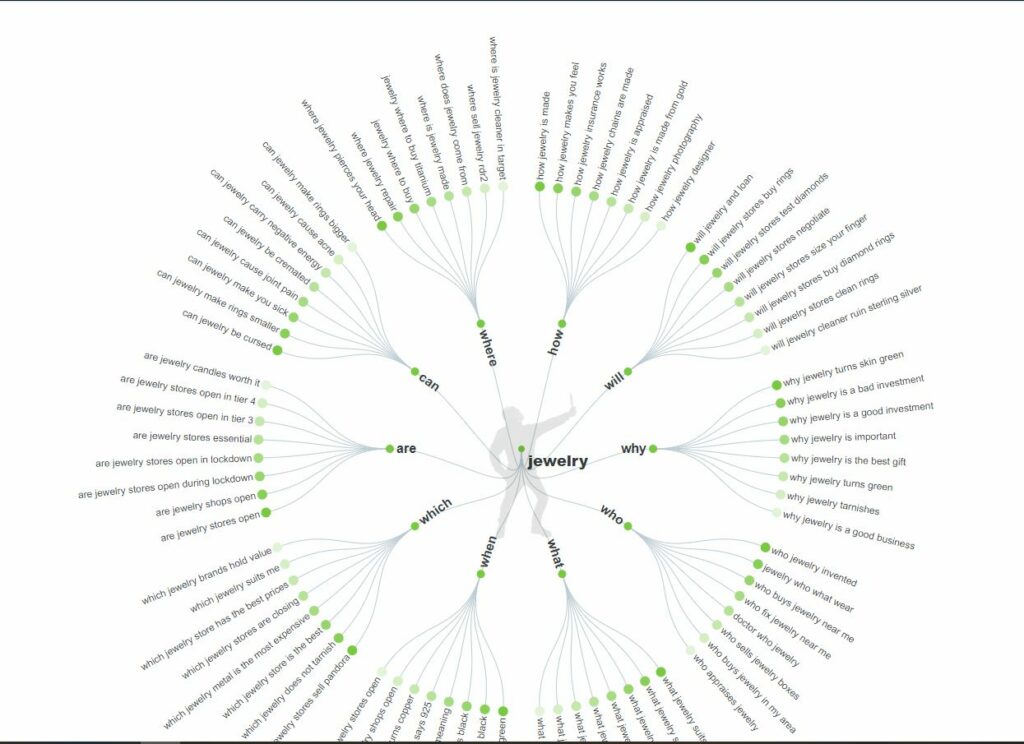 Now what comes up when I move to the letter B are topics such as jewelry box or jewelry box for girls and jewelry brands. For the letter C there's jewelry cleaner, jewelry candles, jewelry companies, jewelry case, jewelry cabinet and more. You probably get the idea now, but this is an excellent way to come up with content for a website centered around the jewelry niche should you go this route.
Another great place to go is what's called answerthepublic.com. It's a website designed to find questions people are asking online on practically any niche or topic. I use this site a lot and has always been very helpful for content creation.
Some of the questions that you'll be able to find here are questions such as how is jewelry made from gold? Where are the best jewelry repair shops? How is jewelry made? Will jewelry stores buy diamond rings? Can jewelry make you sick? There are over 80 different questions that come up when I typed in jewelry in the site's search bar.
Quroa is another place you'll want to go to in order to see what questions people are asking. The nice thing about Quora is that you can answer people's questions directly on that site and let them know about other resources that might be able to help them such as more information on your website. You might also gain a following on there which can help you bring traffic to your website.
Now that you know how to find questions and problems people have when it comes to jewelry, it's time to take a look to see if it can be a profitable niche to get into and to see what one can potentially make.
How To Tell If Jewelry Will Be Profitable
In order to know if a niche can be profitable is to first see what products in that niche are selling for. The easiest way to do this is to go to Google and just type in jewelry in the search bar and hit enter. What will come up at the top of the first page is a series of picture ads of products in that niche.
In this case, different types of jewelry. There's a blue heart sapphire pendant that sells for over $3,000. There are a few other pendants and necklaces that sell for over $300. There's even a women's emerald and diamond drop pendant in 18k white gold that sells for over $36,000!
A question that might have formed is how do you acquire such jewelry and then turn around and sell it at a profit without spending a fortune on them? The good news is that you DON'T have to purchase jewelry at all. This is where what's called Affiliate Marketing comes in.
With Affiliate Marketing, you don't have to worry about inventory, shipping, or customer invoices. Companies are always looking for ways to help get their products in front of people so that they can be sold and so many of them have developed what's called an affiliate program to make that happen.
If you sign up to a company's affiliate program, they'll give you special links to promote which link back to the products that they sell. If a person clicks on that link and ends up buying the product, you'll get a portion of that sale. Exactly how much of that sale you get all depends on the company as many of them have different commission rates.
Average commission percentages can range from 2% to 10%, but there are companies that definitely pay out more and with a little bit of research you can find some that might pay over 25%, 50%, 75%, and even in some rare cases, 100% in commissions. Let's say we found a jewelry company or retailer that offers a 12% commission rate. Let's also say that you've managed to attract a good bit of traffic to your website each month to the tune of 25,000 visitors a month. Out of those 25,000, let's say about 632 of those end up purchasing a product you're promoting.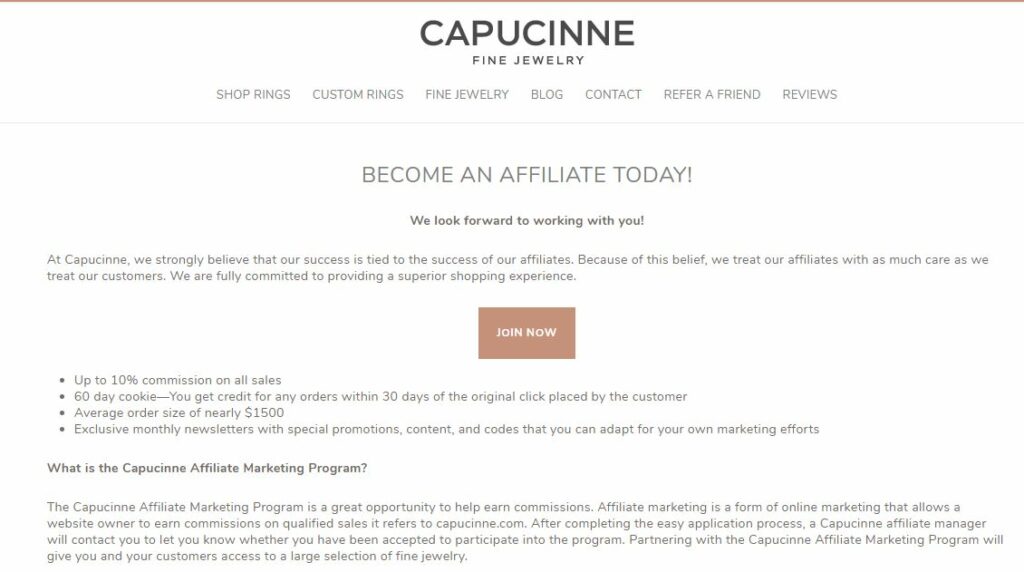 In this case, we'll say a necklace that sells for $3500. You'll take 0.12 x $3500 which will give you a total of $420 that you'll earn on each sale which isn't too shabby. Then you'll take $420 x 650 and that gives you a total of $273,000 that you can potentially earn in a month! There's no guarantee that will happen, but the potential is certainly there.
If that interests you and you want to know what needs to be done in order to start earning money in the jewelry niche, I will talk about how to do that next. It's actually easier than you think and costs MUCH less than a traditional brick and mortar business in a physical building.
What Needs To Be Done To Start Earning Money
In order to start building a business in Affiliate Marketing in whatever niche you choose, in this case the jewelry niche, you'll need to have a website. To get the process started for website creating, you need to choose a domain name. A domain name will generally be the title of your website, but more importantly, the address of your website such rubynecklaces.com.
You need to make sure that a domain name you choose is available and there are domain hosting sites that will allow you to check that. One of the more well-known domain name sites is godaddy.com, but there are other ones as well such as hostgator.com and bluehost.com.
If a domain name is available that you would like to use, then you need to purchase it so that no one else can use it. It does not cost very much and on average, domain names cost $13.99 a year. As you can see, that's very doable especially when you consider that a physical building of a traditional business can cost you hundreds or thousands a month in rent.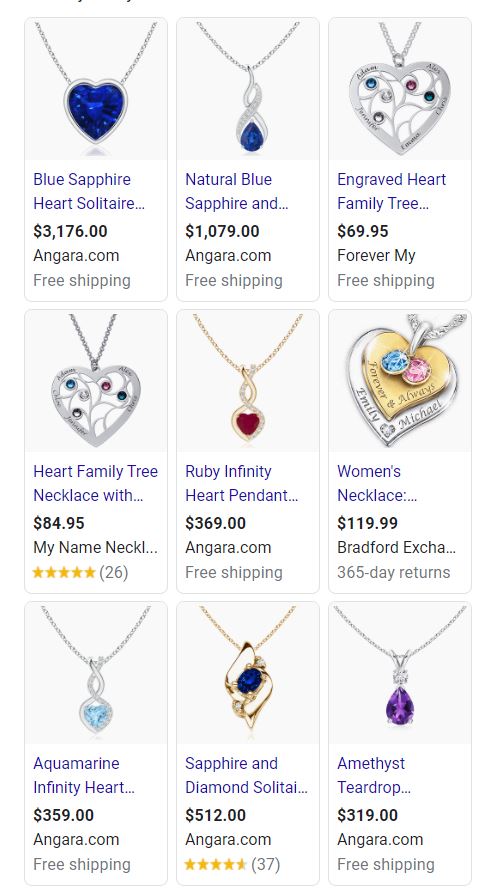 Once you've got all of that done, then it's time to get a website prepared with using a website editor. You don't have to be technical in order to get a website up and running as all that is done behind the scenes with a website editor. All you have to do is choose the type of template you want and add the content.
What needs to be done after that is to continuously build content for your website so that you can attract traffic. In order to get that traffic, you need to get your website and content ranked in the search engines with the biggest one being Google. You might be wondering how in the world do you learn to do all of that? Well I tell you about the best place online that will teach you how to build your website into a thriving online business.
Learn How To Build A Profitable Business Online
In order to build a profitable business online such as the jewelry niche, you need to learn the basics of what's called SEO (Search Engine Optimization), how to create quality content, how to leverage social media to attract traffic, and more.
Fortunately there's a place online that will teach you how to do all of that and more and it's called Wealthy Affiliate. It has all the training available so you can learn how to build an online business.
The great thing about Wealthy Affiliate these days is that you can register and purchase your domain name and create your website all under one roof. They have a number of great tools to help you with writing great content and searching for keywords that will help you to get your content ranked on the search engines.
There's just a lot more I could talk about when it comes to Wealthy Affiliate, but if you want to know more about it, please go and check out my full review of it by clicking here. It is free to sign up and you'll have a 7-day trial that will give you full access to everything inside Wealthy Affiliate. After that, you'll always have free access to the first 10 lessons of the training as well as a website of your own design should you decide to remain a free member.
Once you see what Wealthy Affiliate has to offer and you feel that this is something you can do, you'll be happy you made the choice to delve into something that can potentially change your financial future. So now that you know how to sell jewelry online, go ahead and give Wealthy Affiliate a try.