YouGov
Name: YouGov
Website: https://today.yougov.com/
Price: Free
Owners: YouGov PLC International
Overall Rank: 40 out of 100
YouGov Overview
So what is YouGov? YouGov is a research data and analytics group that has offices all over the world. They collect data through research by various surveys that they have you do especially when it comes to seeing how people are during current events that are happening around the world.
You do get points for completing their surveys which can then be redeemed for gift cards later. So far this seems to be a bit better than a lot of the other survey sites that I've tried and I'll get to why here in a bit. I want to talk about the sign up process, access to surveys, how much money you could earn from the surveys you take at this site, if there's a referral program, and how it compares to other survey sites.
The Sign Up Process
Signing up for YouGov is pretty easy and it is completely free. If you're at their homepage, you'll want to click on the button that says start. It'll take you to a welcome page and then wants you to get started with some basic questions. Based on your IP address, they can figure out what country you're from and will want you to confirm that.
If it's not the right country, there's a link you can click on that will allow you to choose the right country as well as your language. When you confirm each question, you'll start to generate some points. The next question asks you what year you were born. Just type in the year of your birth and click next.
You'll then be asked your gender and there are only two to choose from. Once you've made your selection, then click next. You should be at 100 points by this point. The zip code that you're in is the next question. After that, you'll be asked for your email address.
YouGov will then send you a code to that address in order to verify your email. You just need to check your inbox, find the email message from YouGov, get the code, and type it in. Once you've put in the code and hit next, you'll be taken to a page congratulating you on joining as well as saying that they've added extra points to your account. You can now go to your main account by clicking the Go to account button.
The Dashboard
Now that you've got an account fully created, you'll be taken to your dashboard which will show you your point balance as well as different things that you can do such as seeing if there are any paid surveys available, completing daily questions, answering your profile questions, seeing what rewards are available, and your opinions of certain things and people.
The first thing that you can do is customize your account. You can add a picture (not one of yourself) to give your account something unique and then you can add other things to your profile in certain categories such as Ratings, Opinions, Attitudes, and Responses. You'll also be able to see the number of surveys that you've participated in. So far, I've participated in 9 of them in the short amount of time that I've been a member.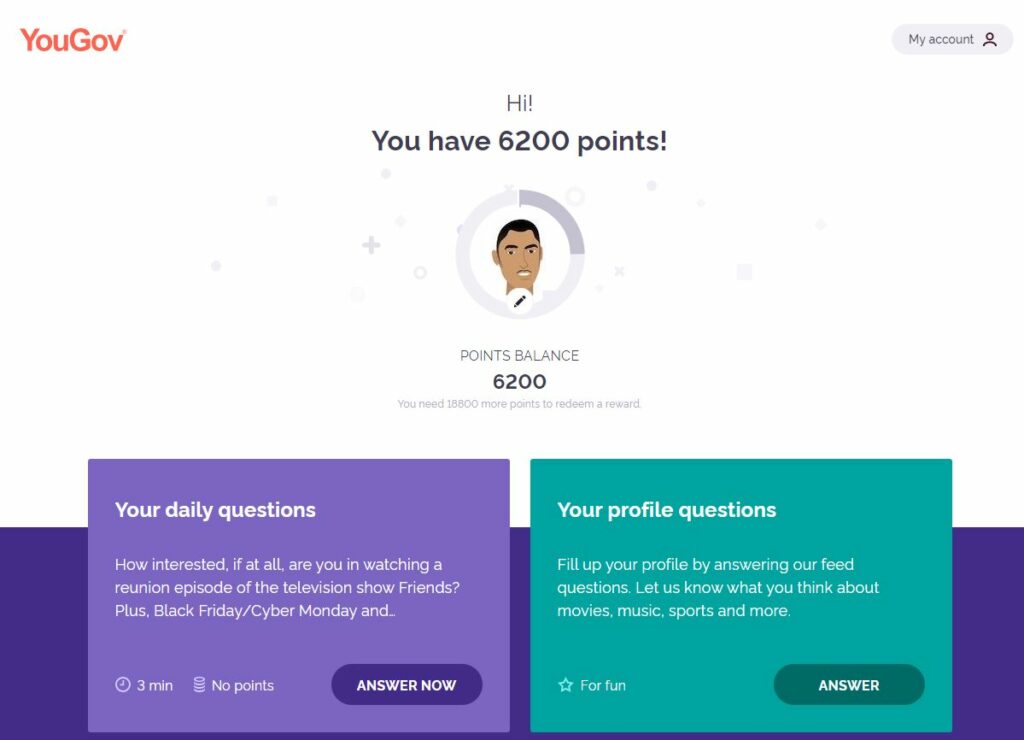 You might be wondering what these certain type of categories mean in the account section and I'll go over most of those. The Ratings section will have you rate certain things such as movies, famous celebrities, and even places. They basically allow you to rate them with emojis and most of the ones in my section have been rated with a green smiley emoji.
I've rated things such as Rockefeller Plaza, The Gateway Arch in Saint Louis, The National WW II Museum in New Orleans, The Brooklyn Bridge in New York, movies such as Cruel Intentions, John Wick, Jumani: Welcome To The Jungle, and more. You can add as many ratings as you like or that are available.
There's an Opinions section, but I haven't done anything with this yet. I'll try out soon and give you an update, but from what I can see from this particular section, you can rate as well as type out your opinion from many different topics such as food, celebrities, news, sports, companies, and more.
The next section is called Attitudes and this is where you can give your attitude towards something by agreeing or disagreeing with certain statements. There are four different options to choose from such as strongly disagree, mildly disagree, mildly agree and strongly agree. The only one I haven't chosen is strongly disagree, but that could change when I engage more in the Attitudes section in the future.
Moving on to one of the last sections is what's called Responses. This is very similar to Attitudes except here, you get to choose whether you agree or disagree more about certain things besides just statements. There might be a picture of a certain celebrity and you get to decide if you agree or disagree with what is said about that celebrity, whether you agree about a particular movie being good or not or maybe if a certain type of food is delicious or not. I've done more of these than I have in the Attitudes section. I might do move of these in the future.
We've finally arrived at the last section which is Surveys and this section just shows you how many surveys you've completed and you'll even get to see some of your responses to them which I think is a nice touch because the other survey sites I've reviewed, don't even allow you to see which surveys you've completed in the past. Now speaking of surveys, it's time to take a closer look at them and see how they compare to other surveys at other sites.
The Surveys at YouGov
I've reviewed a number of different survey sites and an overwhelming majority of them are pretty much the same in some way. For example, you might decide to participate in a survey and even get a ways into it, only to find out you don't meet the qualifications for it. This can be very frustrating as it can be a major time waster for people. There's only one survey site that I've encountered where you're never rejected from a survey. Well, until now that is (from what I've seen so far).
Now they don't offer a ton of surveys for you to do and they seem to be only available for a very limited time on any given day so if you log in and want to complete a survey, make sure you do it as soon as possible if there are any available. I will say that it seems these surveys are only from YouGov which is fine as they can control what they want to find out from their users as well as points and rewards to can be given out for survey completion.
I don't mind this at all as it ensures you won't be rejected from any surveys here and will receive points which will add up and then can be redeemed for gift cards or even cash. I do have to say though that surveys are super long to take and they do seem to be interesting.
I know one of them dealt with my use of current technology like how I use a smartphone and some of the apps on it such as social media apps. They wanted to know which social media apps I use the most and for what purpose do I tend to use social media apps.
Some of the other surveys may ask you questions about the current political stuff happening in the US or ask you if you voted in the Presidential election in the US. A few of the questions might ask you which of your state representatives you voted for in election this month or back a few years ago.
Sometimes you'll get a small bonus survey you can participate in after you complete the main survey. The bonus survey usually lasts no more than two minutes and you'll get around 100 extra points for completing it. I've completed a few these and they usually consist of rating politicians, actors, and maybe some entertainment such as movies and music.
Let's take a little closer look at the rewards section and see how many points it takes to unlock different rewards and gift cards.
Rewards
The rewards section of YouGov isn't too big, but they do have some nice options to choose from if you have the points for redemption. The first couple of options you'll see at the top of the redemption page is that you can redeem points for cash. You have two cash options to choose from, but I will warn you, the points needed to redeem them are pretty hefty. There's a $50 option as well as a $100 option. The $50 one will take 55,000 points to be redeemed and the $100 one takes 100,000 points. To give you an idea of how far away I am from that, I've only earned 6200 points so far.
If you sign up for YouGov and are able to earn enough points to redeem either one of those cash options, the money will be transferred to whatever bank account number that you provide. I honestly prefer it to be sent to PayPal and then I can transfer it to my bank that way, but this will do.
The next options available are gift cards and they do have a number of them to choose from. There's gift cards available from Amazon, Old Navy, Lowes, Macy's, GameStop, Regal, AMC, Applebees, Target, Nike, and a few more. It looks like all of them take tens of thousands of points to redeem for different cash values.
Amazon gift cards have three different options, You can choose from $15, $50, and $100. The $15 one seems like the easiest to accumulate points for as it requires 25,000 points to redeem. The rest of the other gift cards have $25 and $50 options which I think are pretty good. These are the rewards that are available. It's up to you to decide if it's worth your time or not.
Can You Make Money With YouGov?
It is possible to make some money with YouGov and it is not a scam, however, do not expect to make a lot of money with this particular survey site. It will take some time to get enough points to redeem them for the rewards that you may want. I do like the ease of using the site and it looks really good.
Like I said ealier, I have not been rejected from any of the surveys that I've tried out. That already makes it a lot better than most of the other survey sites I tried, but overall, there's still one survey site I prefer over this one especially since you won't make as much money with YouGov as you could with the other one.
Oh, I forgot to mention this! You can refer others to YouGov as they do refer a friend link that you can share with others. If they sign up and complete 4 surveys, you'll get 2,000 points. If you're good at referring others, this might help you to earn points quicker so that you redeem them for the stuff that you want.

As for the survey site I recommend above all others, it would have to be Paidviewpoint. You get paid actual money for each survey that you complete and you're also not rejected from any of the surveys that are available to take. Now you won't earn a ton from each survey you complete there as a lot of them are worth just ten cents especially when you first start out. You can earn more per survey if you keep doing the surveys as you have to build up what's a called a trait score in order to get surveys that are worth more.
I could go on and on about Paidviewpoint, but you can read my full review of it by clicking here. You know longer have to ask the question what is YouGov? YouGov isn't a bad alternative, but again, it'll take you awhile to accumulate enough points to redeem for any of the rewards that interest you. Give YouGov a try if you want to pass the time or try to earn some gift cards to some retailers or restaurants that you may like.