Survey To Earn
Name: Survey To Earn
Website: https://www.surveytoearn.com/
Price: Free
Overall Rank: 50 out of 100
Survey To Earn, Product Overview
You might have come across a particular website or even seen it advertised in a YouTube video and asked the question what is survey to earn about and can I earn money with it? I know I did when I first came across it or heard it mentioned so I decided to go to the source itself and check it out.
It's pretty easy to tell that Survey To Earn is a survey site. Can it make you some money? The short answer is yes, but I'm not ready to call this a great place to earn money. You can definitely forget about this particular survey site as a great place to scale and earn long term or passive income.
If you want to know more about it as well as what I think about the different aspects of this site such as surveys and rewards that you can earn, then read on.
Joining Survey To Earn
When you first come to the website, you'll see some snippets and descriptions of what it's about and how you can make money with surveys. It will say that it worth signing up and that it's popular due to fast payout and really fun surveys that you get to take.
As I mentioned earlier, it is free to join and you don't have to worry about ever needing to spend money later on for any other kind of membership there or have to worry about upsells. All you have to do to sign up is click where it says sign up and it will take you to another page where you choose your country's flag.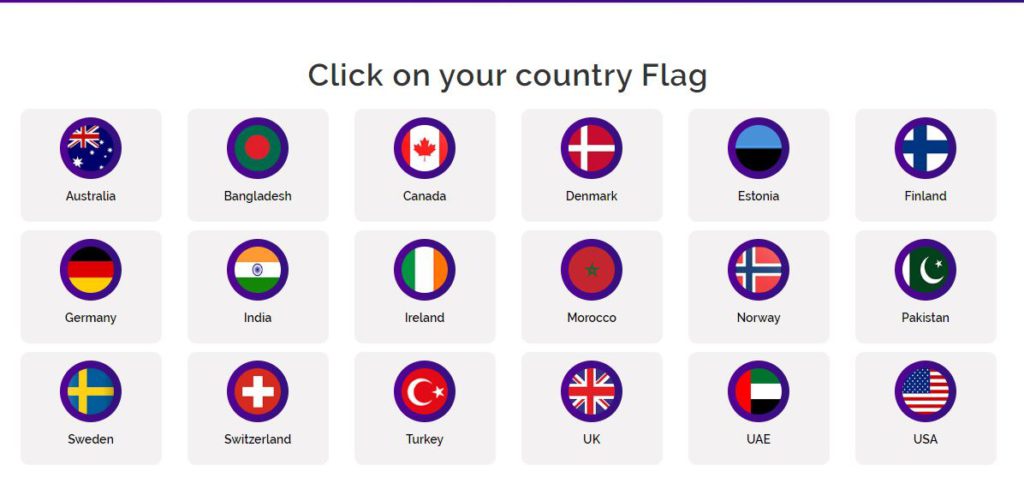 Since I reside in the US, it's pretty easy to find the American flag. Once you do that, you then choose the language that you want the surveys and everything else at the site to be in. English is the choice for me since that's the only one I know really well.
Now I will have to mention this. After you sign up and complete everything such as your profile, once you go to login, it requires you to choose your country's flag again. I thought this to be a bit odd since that is really more relevant when you first sign up. You'd think they'd remember that in the sign up process so that you wouldn't have to go through that again.
After you choose your language, then the next area is where you put in your information such as name and email address. You'll also want to start filling out your profile which I have to say is very similar to another survey site that I recently reviewed and you can read all about that here if you haven't already.
You'll want to fully complete your profile as it will help you somewhat to get paired with the right surveys so that you can complete them and then get paid for them. I've done this before at a different site, but to me, that one does a better job of pairing you with surveys that fit your profile than what Survey To Earn does.
The Surveys
The surveys at Survey To Earn are very similar to the ones offered at Crowdology. In fact, you'll find that a lot of them are the same ones you might've taken or attempted to at other survey sites. This can be problematic as there are only a certain amount of surveys to go around and only a certain amount of people can take them before they are no longer offered.
One thing that I've noticed though is that they are VERY hard to qualify for. It seems like it is harder to qualify for surveys at this particular site than others I've tried in the past so much so that it even gives Vindale Research a run for its money. This seems to be in contrary to what it says on its home page which is a site where you can make money easily and reach payouts very quickly.
I've tried Survey To Earn for a few weeks now and all I've got to show for it is one survey completed and $1.00 showing up in my rewards section. I've still got a ways to go before I can reach cash out status. Contrast that to Crowdology where I've completed over 160 surveys and have reached a total amount of nearly $200 in the few months I've been a member.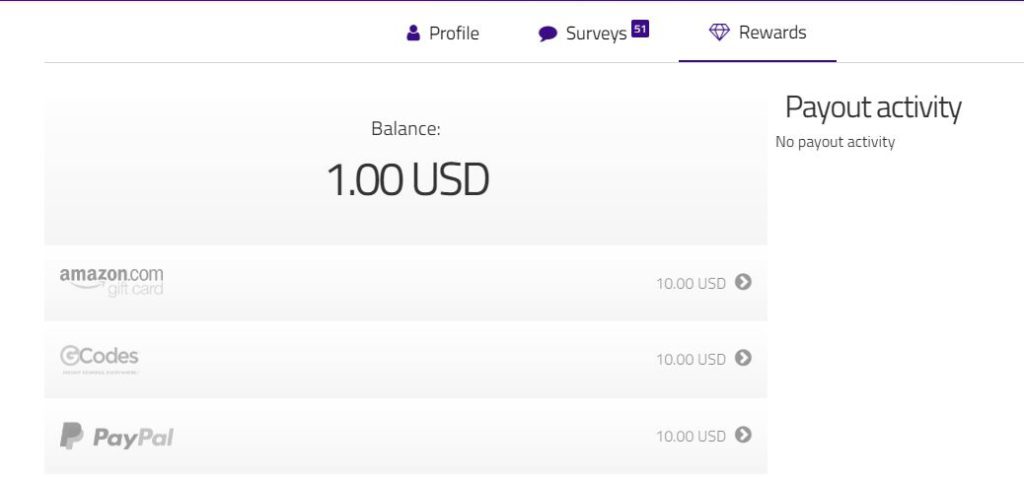 Once you log into the site, you can click on surveys and it'll show you the total number that are available and then it will list each one with the reward amount, the estimated time it will take to complete it and an option to decline taking it. Again, I've tried taking a lot of them, but nearly all of them, save for one, I've not qualified for or I've already taken at another survey site.
Surveys that are available to take can be in many categories from technology, to health, travel, tv viewing, grocery shopping, and more. The only survey that I managed to complete had to with my cell phone service and what type of phone that I use on that service.
Is Survey To Earn A Scam?
Survey To Earn is definitely not a scam, but their claim of it being easy to make money there and reaching its cash out status seems to be misleading based on my experience so far. I don't like wasting a lot of time especially for many surveys I won't end up qualifying for.
There might be others who have done much better than I have with Survey To Earn, but I'm just not ready to really recommend this survey site as a good way to earn some extra money. Maybe things will improve and I'll certainly give any updates here should that happen.
This survey site is definitely not a place to build up a long term full time income. They don't have any kind of affiliate program that would help with that so you're only stuck with trying to complete surveys. Survey To Earn is completely free so you don't have to worry about wasting money, but you'll end up wasting a lot of your time trying to qualify for the surveys.
You no longer have to ask "What is Survey To Earn About?" as you now know all about it and what to expect from it. It is certainly up to you if you want to give it a try and as I just mentioned, you don't have to spend any money to become a member, just be prepared to waste a little of time and get very little in return for that time wasted. There are definitely better survey sites out there that are worth your time.