MAJOR UPDATE!! (7/9/22)
Folks, there's been a major redesign of OLSP and has now been titled OLSP Academy. The $20 that they offered to get for free after completing Unit 1 is no more. The creator of OLSP (Wayne Crowe), had decided to get rid of that feature as a lot of people were only joining to receive that $20 and weren't really interested in pursing a full time online business that OLSP offered to teach on how to create one for free. He has now completely revamped OLSP as well as the training and wants those who are serious about learning to create an online business that can better people's lives. This does not change the fact that I highly recommend joining OLSP for free and learning exactly what they teach. If you want to change your financial situation, OLSP and Wealthy Affiliate are among the best places online to learn how to do just that.
I've talked about OLSP before and how it's a system designed to make you money through Affiliate Marketing. While the OLSP System uses Affiliate Marketing to make money, it does do it a bit differently than Wealthy Affiliate and it does make you commissions faster as well, provided you take action by what is taught there.
In my review of OLSP and some other information about it, I've mentioned that they have a bootcamp which comprises the beginning of the training and that if you complete it, you'll get paid $20 (as long as you're a new member and do it within 14 days of signing up).
Originally, the Bootcamp comprised of over 10+ videos and took around 2 hours to fully complete. There is a quiz at the end to make sure you paid attention to what was being taught and if you passed it, you would get a certificate and $20 if you completed it during the time allotted that I mentioned earlier.
Wayne Crowe, the creator of OLSP, and his team have now revamped the Bootcamp and made it even easier to go through and is more exciting at what potentially lies ahead of you should you decide to go even further with OLSP. Let's take a closer look now at what the revamped Bootcamp looks like.
The OLSP System and its new Bootcamp
The good news about the revamped Bootcamp is that it now only consists of 5 videos and they aren't too long. In total, it should take about 30 minutes to go through the entire Bootcamp now vs the 2 hours it originally did and you will get paid $20 still if you're a brand new member.
The title of the first video is "Getting Started". I must say that I do like the look of the new videos. When you first bring it up in the Bootcamp area, the first thing you'll see on video number one is what says "Warning! Watching this video may lead to making commissions, save you months of time and turn you into a super affiliate faster than you ever thought possible!". I think that's pretty clever as it gets you excited for starting this new journey and tries to get you into the mindset that you can do this and be successful faster than you ever thought possible.
Right underneath that, in red, it says "I Understand, PLAY VIDEO". The Getting Started video is four minutes and forty-six seconds long, but Wayne Crowe welcomes you to the free system and he gets you excited about making commissions online and tells you he will take you into a system that works and that you'll get $20 and a certificate for completing the Bootcamp.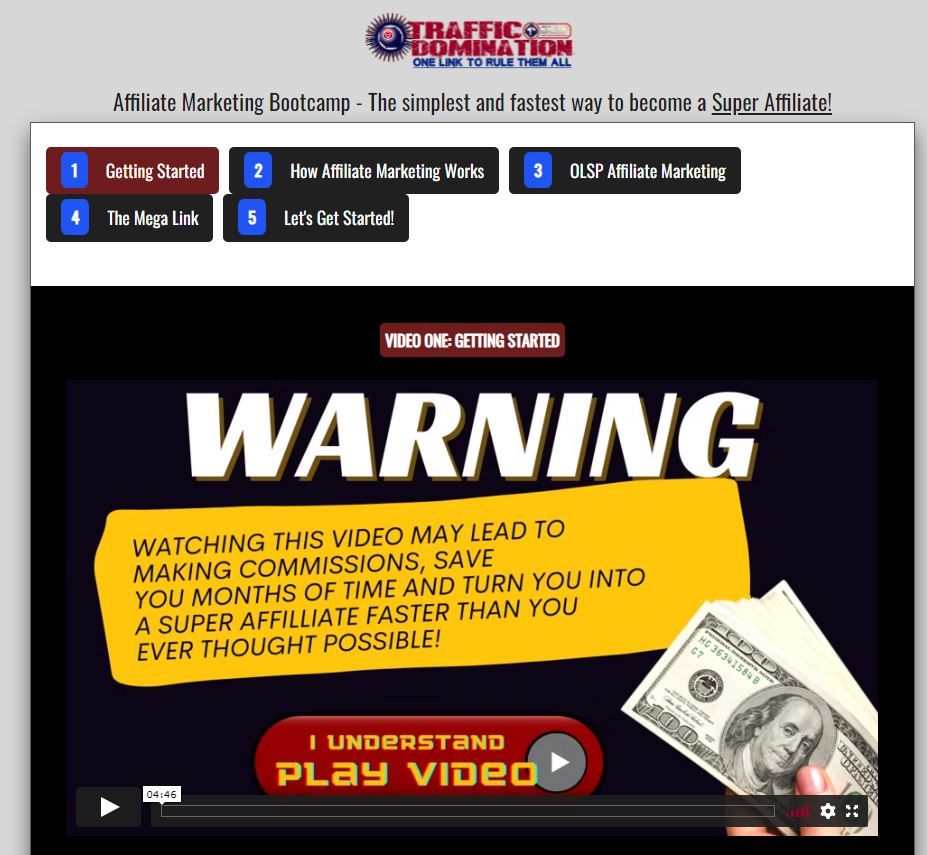 He talks about a trophy he received for being super affiliate of the year for 2021 and talks about how much money he's made since he's been online over the last 15 years. He wants to make people successful and even shares those who have joined OLSP and have been very successful.
Another thing that Wayne Crowe talks about is that in the Facebook Group, he posts the people using the system, earning commissions so that it can be shown that people are legitimately making money with this system. This is to motivate you and to keep pushing forward. He wants you to go through the Bootcamp so you can learn exactly what the others have learned so that you can be successful.
Video 2: How Affiliate Marketing Works
The second video talks about how Affiliate Marketing works. Now if you've followed my website, you probably already know how Affilate Marketing works. Another program that I speak highly of, which is Wealthy Affiliate, is geared to exactly that though it goes a bit of a different route for creating an Affiliate Marketing business which is through your own website. This method does work, but it does take a bit more time to become successful with it. I will say this though, the more you continue to work at, the sooner you will start to become successful.
Wayne Crowe talks about how Affiliate Marketing works by giving an example. He talks about how companies or owners of websites in which products are being sold, such as Amazon, offers an affiliate program. You sign up and are accepted for that program and then they give you special links to products you are interested in promoting say like video games, kitchen ware, or even books.
Typically, companies will want you to promote something or put these special links onto a blog/website and if someone comes to your site, likes what they read and decides to buy a specific product you're promoting, they'll click that link, be taken to Amazon's website, purchase the item and then you'll get a cut of that sale. This is exactly what Wealthy Affiliate teaches you and takes you step by step on how to create a website that will be successful in Affiliate Marketing. Wayne Crowe will take a different route, but just wants you to know the what the basics of Affiliate Marketing are.
Wayne talks about OLSP tailored to Affiliate Marketing, but they go far beyond what a lot of other Affilate Marketing programs provide as they provide you so many tools to be successful that even includes ways to build an email list, a website that's already created, and the most important thing, getting traffic which is essential in order to be successful. You need to have traffic, especially traffic that wants what you have to offer in order to be successful.
Wealthy Affiliate teaches you how to make a website, but you have to choose the niche that you want to be successful in and sometimes that can be tough for some people as they want to choose something that will make them successful, but fear they may end up choosing one that people just aren't interested in.
OLSP already has that niche chosen for you and they specifically target the make money online niche. Now one thing I will say is that the MMO (make money online, not the video game MMO) niche is extremely competitive, but they offer a lot of things that a lot of other programs in that niche simply do not.
I will tell you right now that I have not seen any other program offer the type of training you need to be successful, completely FREE! There are no hoops, no trial period, the training is completely free and you get $20 if you're brand new for completing this very short Boot Camp. You also have the option of spending money if you want on great products that they offer and actually work unlike so many things out there that simply don't.
What OLSP now offers as well is ways to earn money from what's called high ticket commissions. What that means is offering products where you'll get paid hundreds and even thousands of dollars instead of something that can earn you $1 to $20 for example. Another thing that OLSP offers are ways to get traffic as they teach you free methods as well as paying methods if you want to speed things up.
Video 3: OLSP Affiliate Marketing
Wayne Crowe officially unveils OLSP and what it stands for which is One Lead System Pixel. He talks about what the system can do for you. He mentions that when you finish the Bootcamp, you'll have access to the main members' area of the system which looks really good in my opinion.
He shows you how OLSP will generate commissions for you and goes into detail about it and how it used to work versus the way OLSP in Affiliate Marketing works now. He talks about squeeze pages which is quite important as you'll want to send traffic to those pages and they'll see your affiliate offer and hopefully sign up.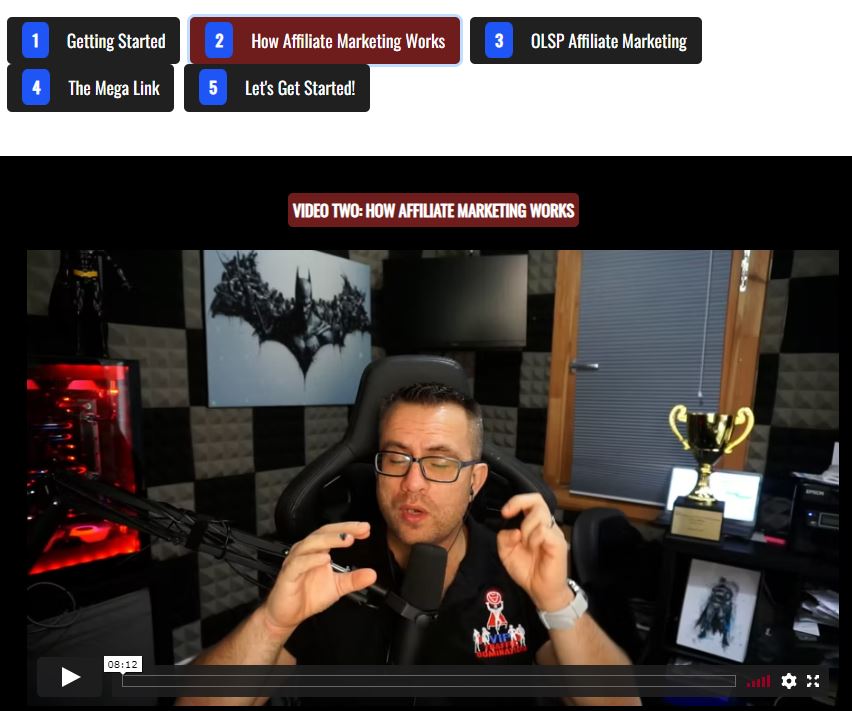 Wayne will also say that in the old way that this was done, is that you would build an email list and then once people were added to your list from the squeeze page, you'd have to find new offers to send your list every day and it became so much work and became tedious that a lot of people would end up quitting.
Wayne Crow will then show you how OLSP works and eliminates a lot of how things were done the old way, making it much easier for you and thus providing a much greater chance of making commissions. Wayne and his system will create all the emails, products, high ticket items and sales and more so that you don't have to spend a lot of time doing that.
It's a very well done video and shows why OLSP is so good at what it does and why there are a lot of people having success with the system. He mentions what is called the Mega Link which is something you'll get when you sign up to OLSP and in the next video, he'll talk more about it and how you can get your Mega Link and what that will lead to.
Video 4: The Mega Link
The Mega Link is very important as you want people to sign up to OLSP through this link and Wayne Crowe and his team within OLSP will send emails, product offers that work and more so that way if they are ever interested and end up creating an account and purchasing some of the products within OLSP, you will get commissions.
The great thing about that is that no matter what they purchase or when they purchase something, you'll ALWAYS get a commission. It is amazing stuff folks and when you log into OLSP at different times, it can be such a wonderful feeling to see you've earned some commissions when you least expect it.
Now Wayne will also showcase some of the other things that are inside OLSP and shows what are called the Training Units which will allow you to learn more methods to increase traffic to OLSP so that you can earn more commissions. The Training Units are completely free and are well worth going through, in fact, the original Bootcamp used to comprise the first two Training Units.
Another thing that Wayne talks about is the Facebook Group, which is important as you'll get to see what many of the members' are talking about, what questions are being asked, who is successful, when question and answer sessions will be held, access to live webinars and even more.
I will have to say that I like the Mega Link and how really that is only the real thing you need to promote or share with people because if they are really interested in what OLSP offers, when they join, you don't have to worry about sending follow up emails or telling them what products are worth their time in order to help them achieve success online as Wayne Crowe and team takes care of all of that.
Video 5: Let's Get Started
In this final video, Wayne Crowe tells you how to access everything, from the OLSP Dashboard, the Certificate of Completion, $20 (If your brand new), and where to go from there once you've fully completed the Bootcamp. He says that's where things start to get really exciting and you'll have access to even more training so that you can continue making commissions.
Wayne reiterates to make sure that your name and email is correct so that everything is correct on your Certificate of Completion and he says he would like you to join OLSP Dominators (this is optional, but you are GUARANTEED traffic each month). I've talked about OLSP Dominators in the past and I personally think that it's worth it since you need to have traffic in order to get any kind of commissions. You can read what I said about it by clicking here.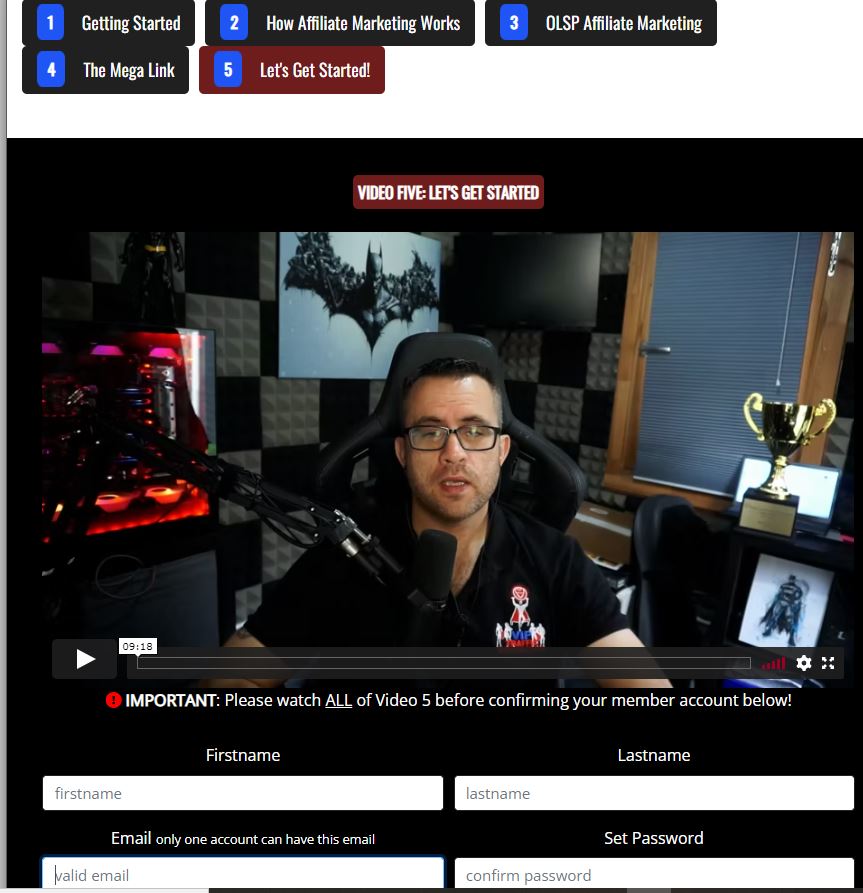 If you decide to sign up for OLSP Dominators, he offers you to join OLSP Dominators for $47 for the first month, but he makes it even more enticing because once you complete the Boot Camp and Unit 1 of the Training Units, you'll get $20. If you get all the way to Unit 3 and complete it, Wayne says in the video that you'll earn another $27 which essentially gives you that first month of OLSP Dominators completely free. That right there makes joining a no-brainer in my opinion.
Now there is something I do want mention here as this is important. While you do get monthly traffic from OLSP Dominators every month, not all of them are going to want to sign up to OLSP. That's just a reality, but do not let that discourage you. Since they are placed under you through your Mega Link, you can email them and let them know of the value of OLSP and how it has benefited you with the hopes of signing up and becoming an active member later on down the line, especially one that will earn you commissions. This is how a lot of people have become successful with OLSP.
I hope that this has been helpful to you as you now know what the revamped Bootcamp consists of and why you should watch all the videos from the updated Bootcamp in the OLSP System. As I mentioned earlier, it is completely free to join and go through the Bootcamp and you are under no obligation to join OLSP Dominators or purchase any other products inside OLSP and you'll always have access to do so at a later time if you so choose. You've got nothing to lose by signing up and going through the Bootcamp so go ahead and give it a try by clicking the link below.