Welcome back to my continuing series where I look at different products and niches to see whether or not they can truly be profitable online or not. I recently took a look at washing machines to see if it really was a profitable niche to get into. I looked at things such as the brands of washing machines, how much they generally sell for, affiliate programs you can sign up for to earn money from the sales of washing machines, and where to go to learn how to make it into a thriving online business.
I also talked about ways to find out the kinds of problems and questions people are having in that particular niche and how you might go about answering them if that is a niche you're really interested in.
I'm going to talk about a different niche today and whether or not it can be a profitable niche for you should you choose that route and I will be talking about some of the same things that I've talked about before in my past articles because these methods really do work.
Choosing a Niche: Speakers
People love listening to music and they generally want to listen to music pretty much whenever and wherever they can. With the technology we have today, it certainly is possible to do that thanks to speakers. Now speakers is pretty much a broad subject or niche so it can definitely be broken down further as there are all kinds of different speakers out there that you can focus on:
Car Speakers – People are very mobile today and cars are generally the main mode of transportation especially if you're in the US. I know whenever I'm driving especially if I'm on a road trip, I want to listen to music that I enjoy and I want speakers in my car that will provide the best sound quality.
Computer Speakers – Lots of people either have a desktop, laptop, or even tablets to watch videos, stream movies, and music or even play games and so they want speakers that would fit for those type of activities. There are all kinds of speakers such as wireless blue tooth speakers, speakers with sub woofers and more.
Speakers for a Home Theater System – Feel like watching a movie on that brand new 4K television you purchased and what the best sound system for it, there are plenty of choices to choose from here and there are a lot of sales from sites such as Amazon and Best Buy every day.
What Problems Need Solving in This Niche?
Now that we know some of the ways that you can break down speakers into something more specific, it's time to take a look at what kinds of problems and questions people are having when it comes to speakers.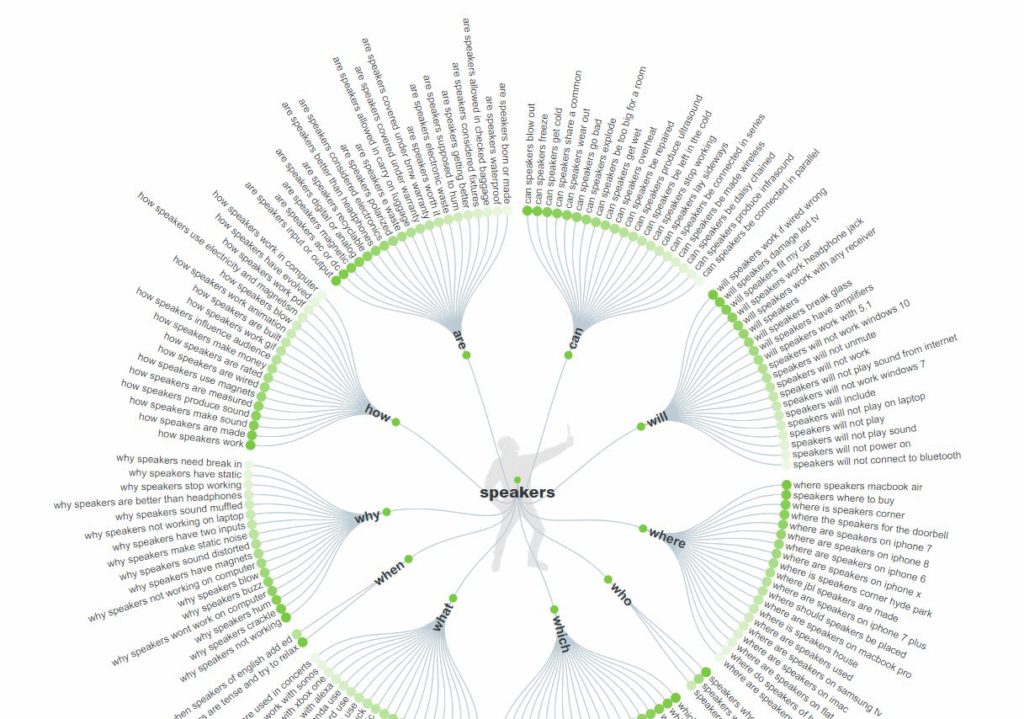 I've talked about in the about a few easy ways to find this out and my most favorite way to do that is by going to the site, answerthepublic.com. It is such a great place to find many different questions that people are needing answered online. You can type in practically any niche and it will generate questions for you. What kind of questions are people asking online for speakers? Let's take a look.
What speakers work with Google Home?
What speakers does Volkswagen use?
What speakers connect with Alexa?
Which speakers fit my car?
Can speakers be too big for a room?
Are speakers waterproof?
As you can see, there are definitely some good questions out there that people need help with for speakers. If you can answer those questions, you'll definitely be well on your way to a profitable online business in this particular niche.
You can also use Google to search for different topics regarding speakers by using what's called the alphabet soup technique in its search bar. It really does come in handy when you're needing to come up with content
How To Tell If It Will Be Profitable
We now know what kinds of questions people are asking when it comes to speakers, but what can you offer them as a solution especially when it comes to possibly the best kinds of speakers out there that you're familiar with?
Well the first thing we can do is type in speakers in Google and see what kinds of ads first pop up. When I typed it in, some of the first ones that I saw included Sony portable speakers that from Best Buy, Mackie CR4BT 4″ Multimedia Speakers with Bluetooth, and Edifer Bookshelf Speakers from Amazon.
The prices range anywhere from $60 on up close to $200, but of course it all depends on the type of speakers that you are promoting or are knowledgeable about that you want to share with others. You can break it down into more specific types of speakers like I mentioned above.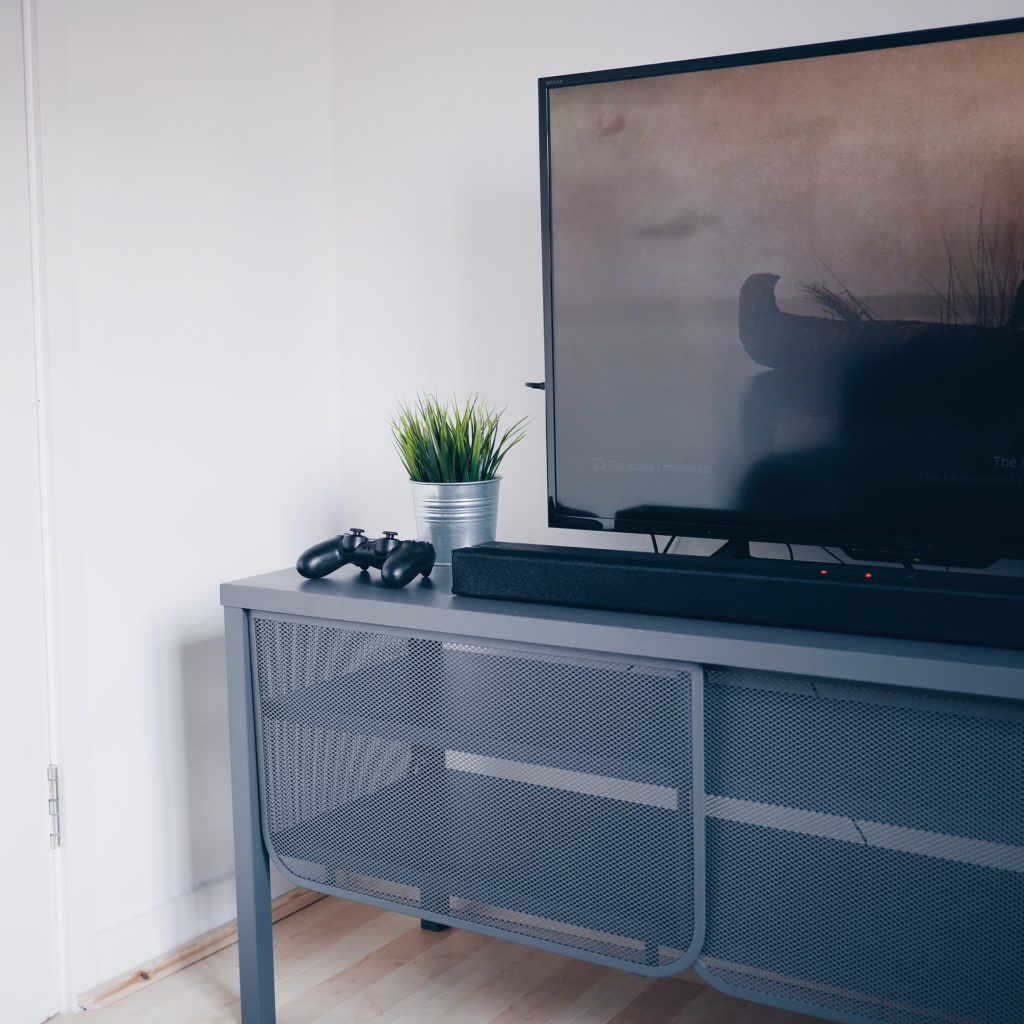 In order to earn money from the sales of speakers online, you need to join an affiliate program and there are many different ones out there. Amazon of course is probably the most well-known one out there and they generally offer anywhere from 4% to 8% commission, plus you can earn commissions on any other products that a person might choose to buy provided they clicked on your original affiliate link.
There are other affiliate programs out there where you can get paid for selling speakers and you can sign up to Best Buy, Wal Mart, Costco, and even in some cases you can sign up for an affiliate program with the speaker manufacturers themselves. There's no guarantee that the commissions will be higher, but at least that is another option for you.
I want to take a look at a little something different that I haven't talked about in some of my past articles. Speakers can go hand in hand with other products that you might also want to promote on your site. Let's say for example you have a soundbar or wireless speakers that go really well with a specific type of 4K television you have, you could promote that specific type of television on your site as well. The same could said about certain tablets, PCs, smartphones, etc. It's a good way to think outside the box!
What You Need To Do To Start Earning Money
Ok so now we know some price ranges that specific speakers are going for online, what kind of questions people are asking about them, how you can make money with them and even some related products that you could promote be asking is speakers.
The question you be might asking is how do you put all of that together to make it a profitable online business? The answer that is you need a website. You want to blog and produce quality content that people online will want to read and a website is the perfect place to do that. Placing affiliate links from the affiliate programs you've joined is how you'll earn money from your website. There are also a few other ways you can earn money on a website, but affiliate marketing is the best way to earn a full time income.
The first thing you'll want to do is register a domain name for your website and you can do at places such as goddady.com. An example of a domain name can be something like bestwirelessspeakers.com provided it isn't already taken. Once that is done you'll want to get a website editor to create and build out your website. WordPress is regarded as the best website editor out there because of its ease of use and the amount of plugins that are supported by it.
Once that is done, the next thing you'll need is a keyword tool to help you find what is known as low hanging fruit keywords. What that means is finding keywords relevant to your niche that do not have a lot of competition and are easier to rank for on the search engines.
There are of course other ways to promote your website and content on it such as ads or pay per click campaigns and you'll also want to take advantage of social media such as Facebook, Twitter, and Pinterest. Now that might seem like a lot of stuff even to the point of overwhelming and you might thinking of where you can go to learn how to do all of that. The good news is that there is a place online that teaches you how to do everything I mentioned above and even more and that's what I'll talk about next.
Wealthy Affiliate
If you've been following me throughout this series, then you know that I've talked about Wealthy Affiliate quite a bit. There's a good reason for that because it is like a one stop shop for everything that I mentioned above. It provides all the relevant training that is needed to make any niche you choose into a thriving online business for you.
One of the best things about Wealthy Affiliate is the always helpful community that is provided so if you ever get stuck on something, you can always ask for help and you'll get the answer or solution that you need.
Here are some of the things that are offered at Wealthy Affiliate:
Extensive, updated, and easy to follow training
A great keyword tool called Jaaxy that will get you those low hanging fruit keywords
Domain and website hosting
24/7 website security that will protect you from hacking as well as spam
A live weekly video class
An excellent writing tool to help you develop and publish your content
Multiple ways to earn some cash at Wealthy Affiliate
That's just some of the great features that are offered at Wealthy Affiliate. If this sounds real interesting, then you can sign up for free and your are never asked for a credit card unless you're ready to upgrade to their premium membership. The best thing about signing up for the free starer membership is that you can remain a free member for as long as you like after the main 7-day trial is over and you'll also always have access to 2 free websites and the first 10 lessons. Now that you know it is risk-free, you should definitely give it a try. If you're still not sure, click the link below to read my full review of Wealthy Affiliate. Also, comment below especially if this is a niche you're interested in or there are other niches you'd like to try out.