Survey Voices
Name: Survey Voices
Website: http://www.surveyvoices.com
Price: Free
Owners: N/A
Overall Rank: 10 out of 100
Survey Voices Overview
It has been awhile since I've done a review of a survey site. The last one I did was about Survey Sheep and you can read my review of it by clicking here. I will tell you that Survey Voices is very similar to Survey Sheep in that rather than have their own surveys for you to take, they instead have a general list of survey sites for you to join so you can earn some money.
Some of them I have reviewed before such as Survey Junkie and that particular survey site is actually pretty decent. I tend to like that one a bit more than others because if you ever get disqualified from taking a survey because you don't fit the criteria that they are looking for, Survey Junkie will compensate you for that. It's not a lot, but it's something and that's good because most other survey sites won't do that.
It's time to look further into my Survey Voices review and take a look at the sign up process of Survey Voices and what survey companies they have available for you to sign up for and start taking surveys.
The Sign Up Process
Signing up for Survey Voices is pretty easy as all you do is first type in your email address, confirm your name and zip code on the next page, confirm your address on the page after that, and then finally confirm your date of birth as well as your gender and then accept the terms and conditions.
Once you do all of that, there's a very brief survey asking things such as if you're a homeowner or not, whether or not you have children in the house and if you spend $100 or more on your monthly energy bill. They give you a few options to choose from, but I ended up choosing "No, I hate saving money" because this seems more like an offer type deal than anything else.

After that is completed, you'll come to a page that actually shows you your phone number and then wants you to conform that the phone number is accurate and that you consent to being called and texted as provided above. You DO NOT have to accept that at all and I sure didn't as I don't want to be contacted for any of that stuff. You can just hit the continue button and then it'll say that it's locating the top survey sites for you.
Inside Survey Voices
After you're completely done with the sign up process, you'll be taken to an area that shows you your top paid survey matches. In my case, I only received four of them which is Swagbucks, VIPVoice, I-Say, and Survey Junkie. That certainly isn't a lot to choose from and I'm sure it would've been probably a bit bigger had I chose different responses when I was signing up.
If you're disappointed in how many survey sites you were offered, you don't have to worry because I'm going to show how you can get ALL the survey sites available at Survey Voices without even signing up! I don't quite understand this because it really negates you even joining Survey Voices in the first place!
If you don't want to sign up (which I actually encourage that you don't and I'll explain why in a bit), you can actually go to their home page and click where it says Get Started. It will bring you to the page where you put in your email address, but that really isn't necessary.
When you scroll down to the bottom of that page, you'll see that there's a button titled "View All Surveys & Offers". If you click that, a page will open up where there's a bigger list of different survey sites you can join and try out. As you can see, it's not really necessary to sign up with your email address.
Is Survey Voices A Money Maker?
My short answer to that is no. You won't make any money from the site itself since they really aren't offering surveys that you can earn money with. The only way to truly earn money is to join the survey sites and start taking the surveys that are offered there, but there are drawbacks.
As I mentioned near the beginning, a majority of the survey sites that are out there will have surveys that you'll try and won't qualify for. A lot of times they are wanting people who fit a certain criteria and there are just times you won't meet that criteria and so when you get a good distance into a survey, you might suddenly get a message that you're disqualified. That can sometimes be frustrating since you may have spent some time trying to complete it only to find out you don't qualify for it.
Again, that's why I like Survey Junkie because at least you get a little bit of compensation should you not qualify for a survey. Now with that being said, overall, you just won't make a ton of money with survey sites. Survey sites are usually good for earning a little extra money such as trying to pay a bill or maybe some money for a special dinner each month, things like that. You won't earn a full time income from these type of sites, but if you enjoy doing surveys, then by all means, give them a try. There are a few survey sites that I like and I actually use everyday.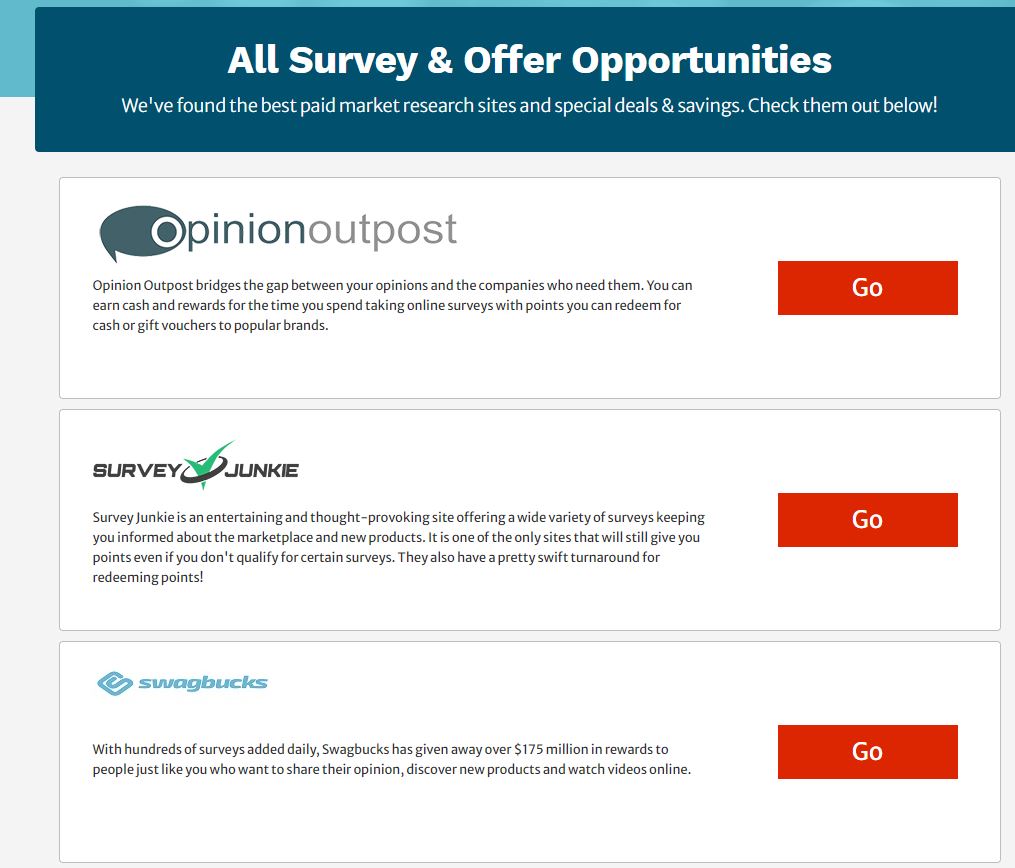 One thing that I've noticed about Survey Voices is that they claim there are surveys you can fill out at their own site, but these aren't true surveys. All they are is just question trying to find out information from you about certain things such as if you've got a mortgage, wanting to save money, enrolled in online classes, etc. They want to send you offers for these type of things so I avoid these because I don't want to be inundated with them which is why I refused to let them call or text my phone number.
In my honest opinion, there are better sites online that have much better lists of survey sites to choose from and that will be worth your time compared to what's offered here. The bad thing about some of the survey sites that are shown at Survey Voices is that some of them are no longer accepting new members or will shut down completely very soon.
Not sure why Survey Voices is not removing those sites that won't allow you to join, but that to me shows this site doesn't seem to care much about the people who really want to earn some money from survey sites or at least keep their list up to date. So then the question becomes are there really any survey sites out there worth signing up to? Read on to find out.
The Number One Survey Site I Recommend
Now that you've read my Survey Voices review, you'll be glad to know that there is a survey site out there I recommend above all others including Survey Junkie. That survey site is called Paidviewpoint and there's a good reason why I highly recommend it.
For starters, you're NEVER disqualified from a survey there. Let me repeat that! You're never disqualified from a survey there and every time one is available to you, you'll always have peace of mind to know that whatever survey you start there, you'll be able to finish it. They've got a decent referral program and the more surveys you complete, the greater the chance you'll be offered higher paying surveys down the road.
I do want to mention though, these surveys don't always pay a lot. There will be quite a few of them that you'll complete and you'll only earn $0.10. As I said though, the more surveys you complete, the greater the chance you'll be offered some higher paying surveys.
If you want to know more about Paidviewpoint.com, go on and head over to my review of it. I've earned over $200 since I've been a member of this particular survey site, but it did take me a bit of time to reach that.
Have any of you tried out Survey Voices before? If so, what are your thoughts about it? Did you sign up for any of the survey sites that they offered there? Did you allow them to contact you via your phone number and wished you didn't? Feel free to post your comments below.