Superpay.me
Name: Superpay.me
Website: http://www.superpay.me/
Price: Free
Owners: Prodege
Overall Rank: 65 out of 100
Superpay.me, Product Overview
For anyone who hasn't heard of Superpay.me, it is a free site that you can join to make a little bit of extra money a few different ways. There are surveys, offers, videos, contests, and more that you can do to make money. I'm going to be taking a look at all of it and determine if this is really a great way to make some money.
I've reviewed a number of different free money sites in the past, most of them survey sites, some that are worth your time and others that certainly were not as it was nearly impossible to get qualified for any surveys. I can say that with superpay.me, you'll get qualified for more surveys than not from what I've seen so far.
In the short time I've been a member with them, I've made over $2.00 just doing the surveys alone and also had a small bonus just for joining. It's not much as it was just $0.20, but any little bit does help. There is also a referral program that can help you make some money in the long term, but it also depends on what your referrals do. Well without further ado, let's take a closer look at the inner workings of superpay.me!
Signing up to Superpay.me
Joining the site is pretty easy. All you have to do once you get to the home page, is click the "Join Free Today" button and it will take you to another page where you fill out information. You'll need to put in your full name, email, username, password, mailing address and email address of your payment programs such as PayPal.
You can even get paid in Bitcoin (cryptocurrecy) if you so desire. My method of being paid will be through PayPal as I've been with them for quite awhile. I do like that there are different options of where you want your cash to go to once you're ready to cash out.
After you've done that, you need to click on the boxes besides the policy and privacy agreement, terms of conditions, acknowledging that you're over 18, and whether you want superpay.me to send you direct marketing emails. Some places I accept this, but others I do not. It's totally up to you whether you want to receive those kinds of emails or not.
Once you accept or don't accept some of those boxes, you'll then need to click the box beside what says "I'm not a robot". This is what's known as a Captcha verification making sure that you're actually a person creating this account and not some internet bot.
You'll then want to click the green box that says "Create Account" and then the final step will be an email verification that will be sent to the email address that you provided. Once you open it and click the link, your email will have been verified and you are now ready to begin earning some money at the site. Now let's take a closer look at what's in this particular site.
Inside Superpay.me
Now that your account is fully setup, it's time to take a look at what's inside. You'll immediately see your stats as well as the name you signed up under. You'll probably have a very small cash balance to the tune of $0.20 because of the sign up bonus, but there are definitely ways to increase that.
You'll also notice that there is a points balance as well and a Redeem button underneath it. Once you've accumulated enough points, you can redeem them for cash. In order to start redeeming points, you'll have to have cashed out one time. There is a cash out threshold, but it's easy to obtain and it's only $1.00.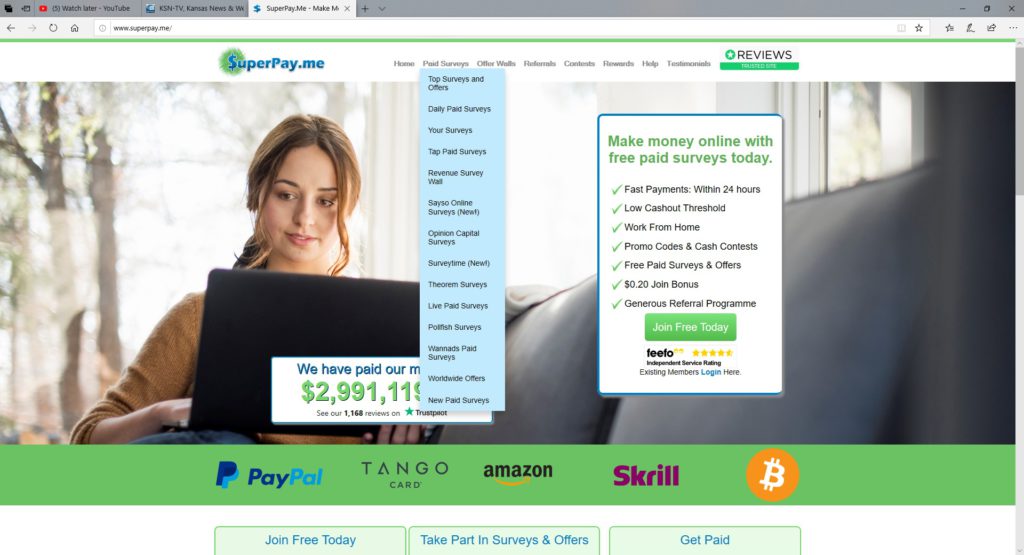 Another nice thing about the points you earn is that you can redeem them for gift cards if you so choose. There's $5.00 Amazon gift cards and Tango gift cards. You do have to accumulate 500 points for each though before you redeem the points for the gift cards.
The way you start earning points is by completing the offers from the Ad Wall or by watching videos. In order to watch videos though, you'll have to sign up on the partner's website for an account there so that you can get credited for watching the videos. Don't worry, it's free to sign up and takes even less time than signing up for Superpay.me itself. The videos aren't super long-lasting usually anywhere from 3 to 5 minutes, but there are ads that will pop up.
Since HideoutTV is partnered with Superpay, you'll automatically be credited the points to your account once you the video in its entirety. In my honest opinion, this is one of the easiest ways to make some money at the site because you're just watching videos and being credited points which can then converted to cash. There is a limit though on how many points can be converted in a day or how much you can earn from videos alone.
The Surveys
The one that I've done the most so far to make money are the surveys. I've earned over $2.50 from completing them and for the most part, I've been accepted into completing each survey that I've tried. In order to the surveys, you just click on the section that says "Top Paid Surveys".
A large drop down list will pop up and you'll have your choice of which places you want to give surveys a try. There're places to choose from such as Top Surveys and Offers, Daily Paid Surveys, Your Surveys, Tap Paid Surveys (I wonder if they meant Top), Revenue Survey Wall, Saso Online Surveys, Opinion Surveys, and more!
As you can see, there's a large selection of them. All you have to do is choose which one sounds the most interesting to you and click on and you'll be taken to a place where you can begin taking surveys. When I first tried it out, I was able to take a few surveys and most of them paid at least $0.80 or more. That's how I was able to get up to $2.50 so quickly.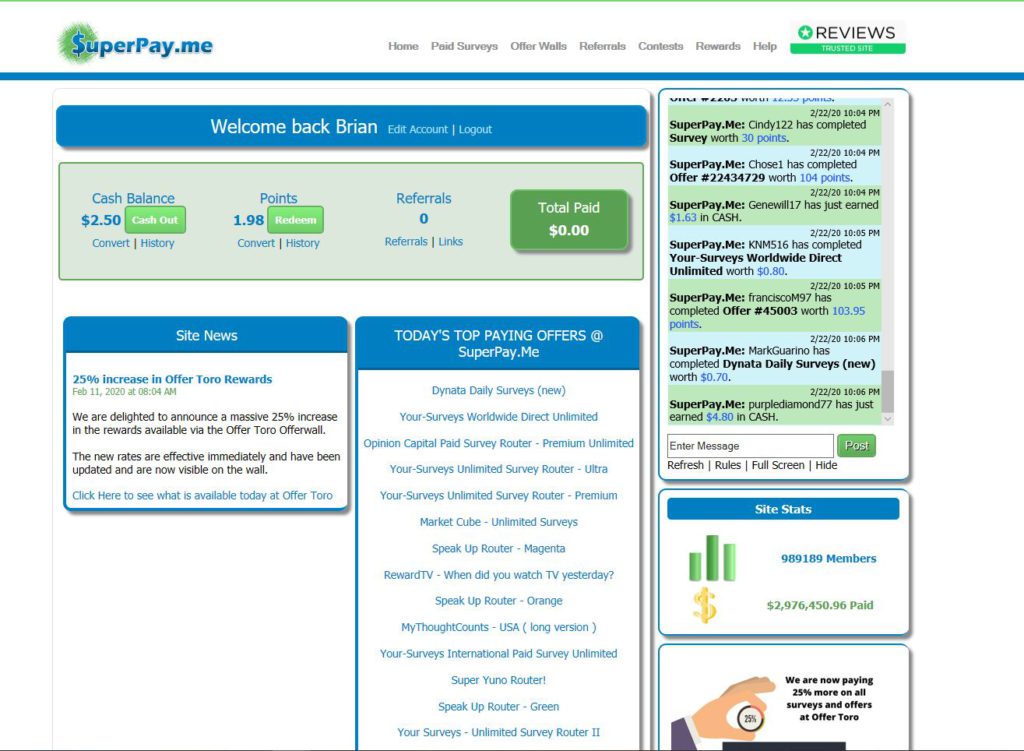 Now I will have to mention this as I've talked about it before at other survey sites I've reviewed (except one). You're not going to qualify for every survey you try. There's just been a couple of them that I didn't qualify for, but you have so many options to choose from, you should have no problem finding some that you can fully partake in. You'll definitely find multiple surveys that you can complete and get paid for.
Offer Wall
This particular way to earn some money is not one that I've really given a try yet. I'm going to be honest, I'm not really a big fan of using this method to earn some money. The reason I feel that way is because you have to sign up to a company's free trial a lot of times in order to make anything.
The bad thing about this is, if you forget to cancel in that trial period, you'll be charged for their main subscription service and those costs can add up very quickly. If this does sound something you want to try, there are some things you can do to help you avoid being charged when the trial period is over.
First of all, you'll want to make a list of all the offers you sign up for and write down the cost of trying it out (if it isn't free), plus the cost of what it will be once the trial period is over. You'll also want to write down how long the trial period will be. Some places offer a 7-day free trial period, other places offer a month long trial period, and some others might only offer a 3-day period. It's important to know how long each one lasts.
If that doesn't sound like something you want to do as far as a list, there is another option. What you want to do is have a gift that has used up all its funds or is pretty close to it, and sign up under those offers that require a debit or credit card and use the gift card instead. This way, once the trial period ends and you had forgotten that it did, it will try to charge the card the amount of the regular subscription, but nothing will happen because there aren't any funds on it. You'll probably get an email from that company saying that the charge failed to go through and to use a different payment method to continue your subscription, but if you don't want to go through it, then just simply ignore it.
Some of the offers are tailored specifically for smartphones such as different apps and games they want you to download and try out for a certain period of time so that you can earn points. You can earn anywhere from 55 points to over 1,000 depending on what requirements you have to fulfill.
Is Superpay.me a Scam?
The answer to the question of this particular site being a scam is a resounding no. You won't get paid a ton of money quickly doing all the different ways they offer to earn some extra cash, but there referral program can help you earn some long term money. The referral program though is also dependent on active the referral is as you'll be earning some cash based off of the activities they do there.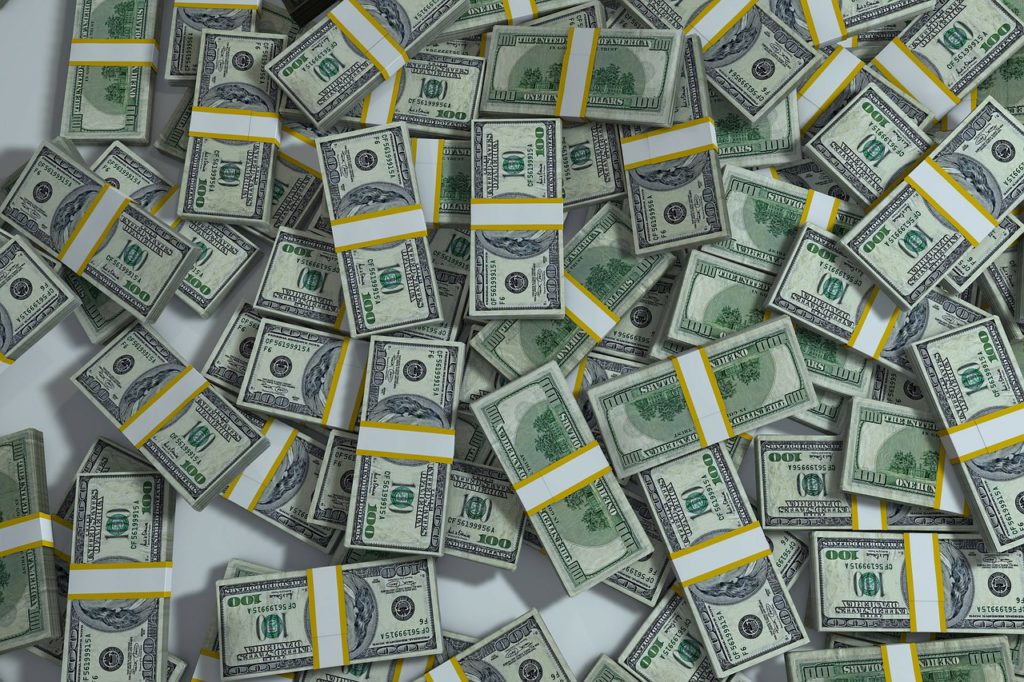 Superpay.me has a lot of positive reviews for it and it is used by a lot of people. What's nice about is that you can see users in a window on the right part of your account home, earning points, cash, cashing out, and more all in real time and that window can always be refreshed to see the latest users earning points and cash from their efforts. Check out my video below.
While you can certainly earn money with Superpay.me, there's one place I recommend above all others where you can truly learn to make a full time and scalable income online. They give you the tools, training, and a wonderful community to ensure your success, you just have to want it and take action from what you learn and you'll be well on your way to building a profitable online business.
What is this place I speak of? It's called Wealthy Affiliate and I can't stop talking about all the great things this place has to offer. They don't make bogus claims of earning thousands of dollars overnight with just a few clicks of the mouse. They give you realistic expectations of what you can truly earn provided you follow the training and take action. There are many success stories there from people who have worked hard and made a plan of action and are seeing wonderful results. If you're ready for a change and want to get out of the traditional job world, check out my full review of Wealthy Affiliate and then give it a try for free.