Going by the title, you definitely might be wondering what is Comment Dominator Pro? Many people probably have never heard of it, but I will tell you one thing. It's one of the easiest ways to make money online. Now, with that being said, you won't be making loads of money with this, but always making a little extra money is something many people, including myself, are always interested in.
Don't let the name Comment Dominator Pro intimidate you as it is super simple to use. Do you have a Facebook account and make comments and posts with it? If yes, then that's all you really need to do in order to make money here and I'll go over that here in a bit.
In order to get access to Comment Dominator Pro, you need to be a member of a particular make money online program and it is one of my most highly recommended programs to join. I've done a review of it towards the end of last year and other articles talking about different aspects of it. Just what am I talking about? It's Traffic Dominators or simply known as OLSP and if you haven't already, you can read my review of it by clicking here.
OLSP offers different ways to make money
I'm here to tell you that if you want to make an online business that can lead you to financial freedom and even quit your job one day, OLSP is one of the best ways to go in order to learn how to do just that. They teach you how to make money through Affiliate Marketing and open up different income streaming possibilities which is something you definitely want to have.
The best thing about OLSP is that they teach you how to do all of this absolutely free AND you'll get paid for completing the training! I don't know of any other place online that will do that and not even Wealthy Affiliate has something like that for its training (though it is still an EXCELLENT program to learn how to make money with Affiliate Marketing in a different method).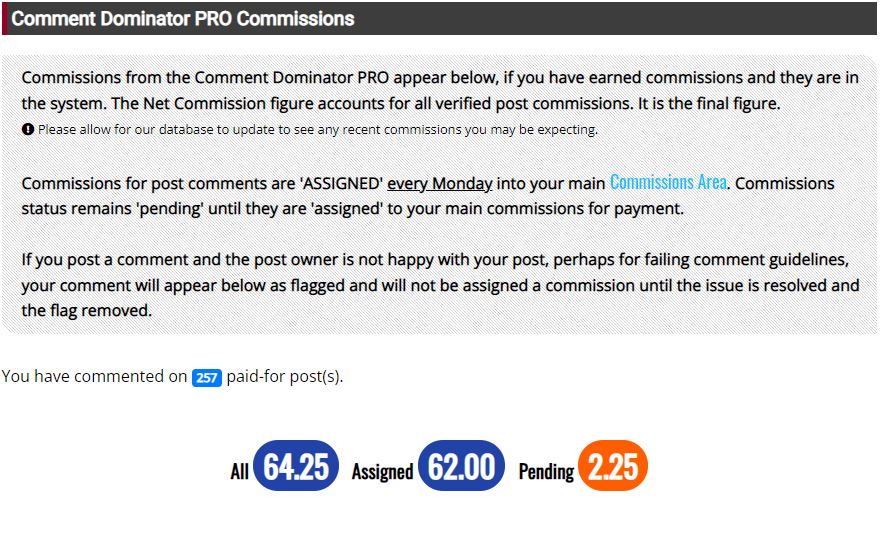 One of the things that OLSP pushes in order to help you succeed online in making money is the use of social media and it pushes heavily the use of Facebook. If you're a member of OLSP, one of the things you'll quickly notice is that the founder of the system, Wayne Crowe, makes A LOT of Facebook posts about what's going on inside OLSP and the almost weekly live webinars.
You'll see that he generates a lot of interest on Facebook because of the sheer number of comments on those posts from other people who are interested in what he's offering and in the training he teaches you how to get very similar results, but you're going to have to take action in order to make that happen.
Comment Dominator Pro and Facebook
It's time to get into what Comment Dominator Pro is. If you want to get a lot of engagement on a post of yours on Facebook or at least help others get engagement, Comment Dominator Pro is the answer for you. Inside OLSP, they give you the option of creating posts on Facebook that talk about or promote products within OLSP. You can also earn points by posting comments on other people's posts for free, but if you want to take it a little further, here's where Comment Dominator Pro comes in.
Let's say you create a post and you want to get engagement quickly, mainly because of an upcoming live webinar that you know will be very beneficial to people. Comment Dominator Pro allows you to purchase credits, which are worth $0.25 each and allows you to use those credits to get people to comment on your post.
Each time someone comments on your post, they will be paid $0.25. Now I know that may not seem like a lot, and you certainly won't get rich using this method, but it is a great and easy way to earn a little extra cash. I've earned over $60 thus far and I've been a member of it for a few months.
Now I did mention that there is a one time cost for Comment Dominator Pro and it is $99, but if you are consistent with commenting whenever they are available for you to comment, you can definitely make that back and then the rest of it is pure profit. I certainly think this was a brilliant idea by Wayne Crowe and it is the easiest way to earn money at OLSP so far. I know that $99 might seem steep, but think of what you're getting in return and you only have to pay this one time. It's not a monthly subscription fee, unlike OLSP Dominator.
What is the Ultimate Purpose of Comment Dominator Pro?
The ultimate purpose of Comment Dominator Pro is to get engagement as quickly as possible on a post relating to OLSP. In order for Comment Dominator Pro to be used properly, a post on your Facebook page has to be related to OLSP otherwise it won't be approved. This is not to hinder you, but you're at OLSP to learn how to build a thriving online business using their methods.
Now you might be wondering, could this get you banned by Facebook? The answer to that is no, because all you're doing is responding to a post someone created promoting OLSP or something within it. You're not posting any links or affiliate links which would get Facebook's attention, all you're doing is helping someone within OLSP get engagement so that others within Facebook who might be interested at what's being offered, might want to join in and see if they can get more information on what's being presented. This is to help you get free organic traffic and the method works well.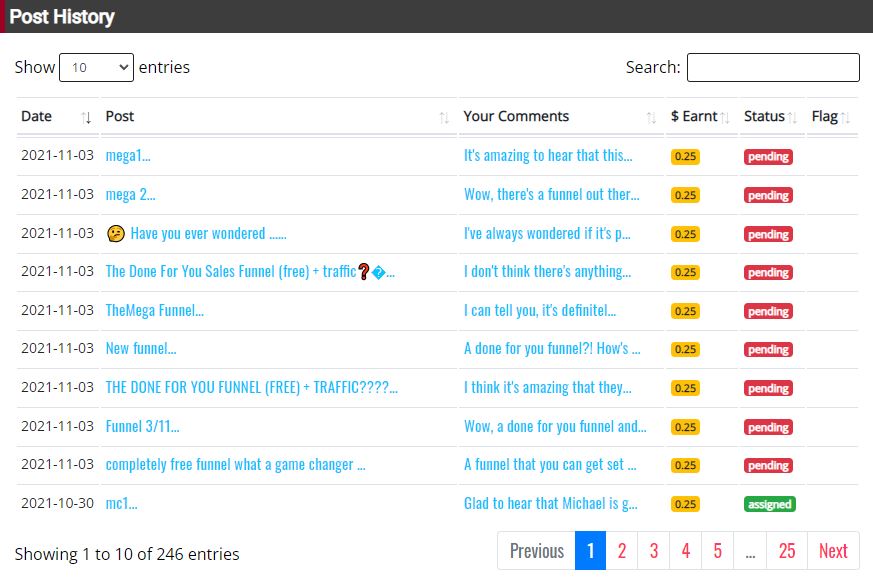 If you decide to become a member of OLSP, the training inside of it teaches you exactly how to create Facebook posts that will create engagement and generate interest from other people. This is what you ultimately want to do in order to get free traffic and if you go far enough inside the training, it gets even better and tells you how to get the most important type of traffic within Facebook which are known as buyers.
Who are buyers? Buyers are people who are used to buying other products within the MMO niche and are willing to purchase whatever it is your're promoting inside OLSP. This is how a lot of members within OLSP are generating a lot of commissions because this method works well. You'll find this out inside the training and you'll get to see in the training possibly the most successful member inside OLSP, doing some of this training. His name is Neil and he has generated over $30,000 in commissions with a combination of Comment Dominator Pro and another product on the inside that is used to help with attracting buyers and engaging with them. I will talk about that product in a future article as for now, I want to focus more on Comment Dominator Pro.
How often are there comments you can earn money from?
This is a very good question. I've found that the best time of there to be comments available that you can earn money from is whenever a live webinar is being promoted which is usually weekly. As I'm writing this article, there's a live webinar that is happening on November 22nd, 2021 that is about how to create extremely effective emails that will greatly increase your open and click rate.
It has definitely generated interest from me and I'll likely check out this webinar to learn about how this is done. The great thing about these webinars is that they are free to attend and they usually showcase products that can help you with whatever the webinar's topic is about, in this case, emails and email marketing.

The total number of comments available for these type of posts can vary for weekly webinars but they can be as high as 10 and as low as 2. You can usually always count on Wayne Crowe himself to create at least a couple of posts that you can comment on and earn some money. The best thing to do is check daily to see if any are available. Sometimes there just won't be any available and other times there will seem to be a lot available.
I once made $5.00 in a day just commenting on people's posts on Facebook which is pretty good for Comment Dominator Pro. That won't always be the case each day, but that's why you want to check in every day to see if any are available.
Give Comment Dominator Pro a try
The question of what is Comment Dominato Pro has now been answered and as I mentioned above, is probably the easiest way you can make money inside OLSP. This is not the first time a make money online program has done something like this, at least to where you can make money from comments.
Wealthy Affiliate had something a little similar to this though you could earn $0.50 a post if you commented on someones's article that was made to a person's website. They've altered it a bit and I believe have decreased it to around $0.25 every other comment.
I will say this though in regard to Comment Dominator Pro. Do NOT just make a simple comment, saying something like yes, no, or more info. The purpose of Comment Dominator Pro is to help others with engagement on their Facebook posts and so you want to give a quality comment. Each comment will have to be approved anyway and if you don't meet their requirements on commenting, you will be banned so it is imperative that you write something of quality instead of something with just a couple of words.
You should definitely give Comment Dominator Pro a try and if you're ready to do that and you're not yet a member of OLSP, click the link below, sign up for OLSP (it's completely free to do so) and then look in the products section and sign up for Comment Dominator Pro. Like I said earlier, it's a one time cost of $99 and then you're all set for the easiest commissions inside OLSP!